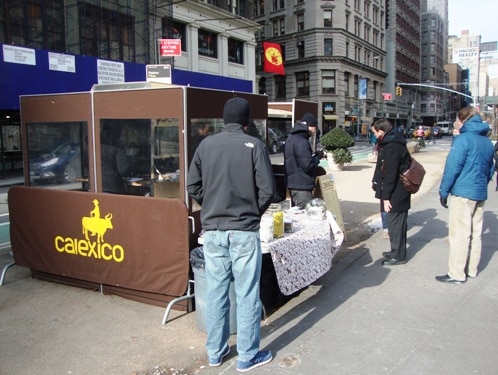 We LOVE Chorizo Hash, so we got excited last week when we saw Calexico Carne Asada's Daily Special was hash. Next week we're going to Amsterdam, and figured this lunch would get us in the proper mood for visiting time in that great city.
When we got down to the cart, it turned out the daily special was chorizo hash, and didn't include any of that other kind. Looks like we'll have to wait until next week. 🙁
It was brutally cold (last week), and we needed to order quick, so we went for the special, which cost $8. Given the choice between tacos, burritos, quesadillas or a burrito bowl, we went for the burrito bowl.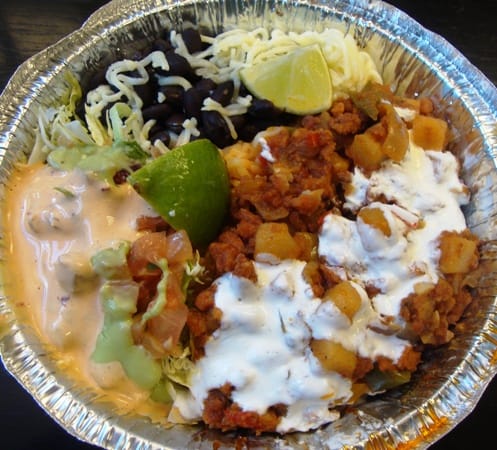 Hope you can tell we're just kidding. We know what the culinary type of hash is. Corned beef hash is probably the most famous type of hash, and we were definitely looking forward to trying it with chorizo.
The chorizo was chopped up and  cooked with onions, peppers and potatoes, but there was still plenty of chorizo taste coming through. It's not unusual to mix chorizo with onions and peppers, but the addition of potatoes gives the hash that "stick to your ribs" quality that you need when the temperature is cold. That heartiness also accounts for it's popularity as a breakfast or brunch dish.
In addition to chorizo hash, the burrito bowl had black beans, pico de gallo, jack cheese, and it was all served over rice.
The beans were nice and firm, but in what has become a common refrain on New York Street Food, we would have liked more cheese, but that's getting a bit picky.
Topping the festivities were some crema on the hash and Calexico's chipotle "crack" sauce, which is aptly named. It is quite addictive, and better than most of the other chipotle mayo-type sauces around.
Calexico Carne Asada parks their cart in Worth Square, at the intersection of 25th St, Broadway and 5th Ave. You can follow them on twitter here or on our Mobile Munchies twitter feed.
A stop at Calexico is always worthwhile. They didn't win the 2008 Vendy Cup for nothing.