We were in Hudson River Park over the weekend and stopped at the Takumi Taco stand, on Pier 57 at 15th St. We've been wanting to try Takumi Taco for a while, but it's impossible for us to get to the Starrett-Lehigh Building during the week. (They have a stand at Smorgasburg too.)
Pier 57 is a new little market, with a few food stands and a few artisan stands along the Hudson River Park bike path.
Takumi Taco make what they call Japanese-inspired tacos. There was ginger miso chicken, curry beef, and a few other choices for $5, but we went for the Spicy Tuna taco for $6.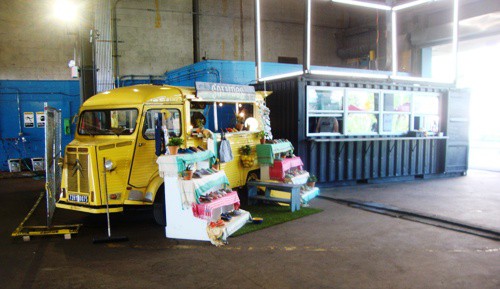 All the tacos are served atop a bed of crispy corn tortilla chips, with wedges of lime on the side.
Instead of serving the tacos in flour or corn tortillas, they use fried gyoza skins as the taco shell. The gyoza skins are thin and crispy. They are more fragile than tortillas, but held together just fine in this case.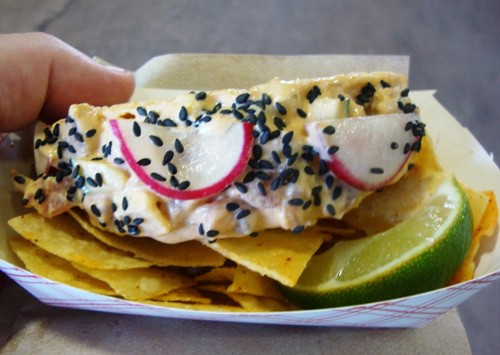 The spicy tuna taco was filled with plenty of pieces of raw tuna in a creamy mayo sauce. We could have done with a little less of the sauce in this hot weather, but that's a quibble.
We're not sure where the "spicy" comes from. We didn't find it particularly spicy, but it was tasty.
Not only were there radish slices like traditional Mexican tacos, but the black sesame seeds added to the taco, in taste but especially visually.
While the "spicy" tuna taco was good, we do have an issue with the price. $6, or even $5 for a taco, is too high. You need two for lunch, putting it into $10-$11 range without a drink.
There is a 2 tacos and a side dish special for $12, but we're not sure what the side dishes are. We didn't see them listed. Two tacos and a drink for $10 would be a good special.
Takumi Taco can be found on twitter here or on our  Mobile Munchies twitter feed.
We do want to try some of the other tacos on the menu. They look pretty good.