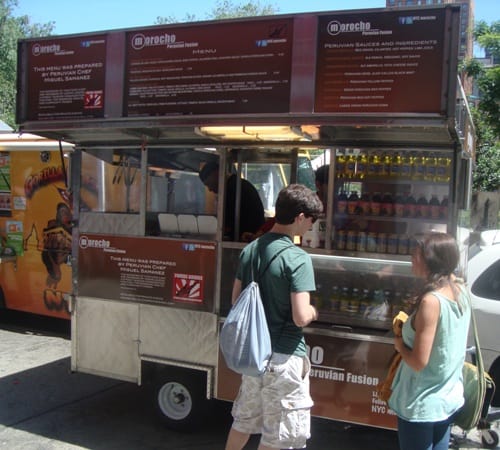 Feel like Peruvian Cuisine? Last weekend I went out for some street food, and ended up in Union Square.  One vendor that caught my eye was a new food cart called Morocho.  They were parked on the sidewalk on Union Square West between 14-15 St, and the sign said Peruvian Fusion.
I spoke with the chef, Miguel Samanez, who told me this was their first month on the street.  Miguel was born in Brazil to Brazilian and Peruvian parents, but actually grew up in the Midwest from age 9.  Someone must have taught this guy how to cook Peruvian food though, because it was delicious.
As I usually do at a new place, I asked for the chef's recommendation.  He suggested Aji de Gallina, a chicken, egg and potato dish that cost $7.  The menu looked really interesting and I wanted to try a 2nd item, so he then suggested a lomo saltado taco, which cost $5.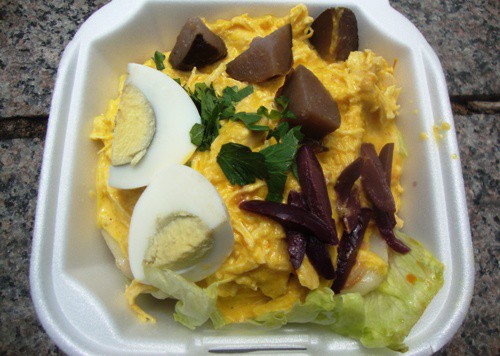 I started with the lomo saltado taco, Peruvian Cuisine style, which had strips of rib-eye steak, red onions, tomatoes, cilantro, scallions, soy sauce, garlic and a touch of oyster sauce.
The lomo saltado came on two soft corn tortillas in a container.  I'm glad it was in a container because I had to eat some of it with a fork before I could pick up the taco.  Not only was it too hot to pick up, but there was a bunch of sauce on the bottom, and too much food to lift it without making a mess.  The fork helped get things down to a manageable level.
Wow, this was an excellent taco!  The strips of beef were thick, marinated and tender, and each item could be tasted in the mix, especially the red onions and sauce.  Even the tortilla had a pronounced corn taste.  It wasn't just a vehicle for the fillings.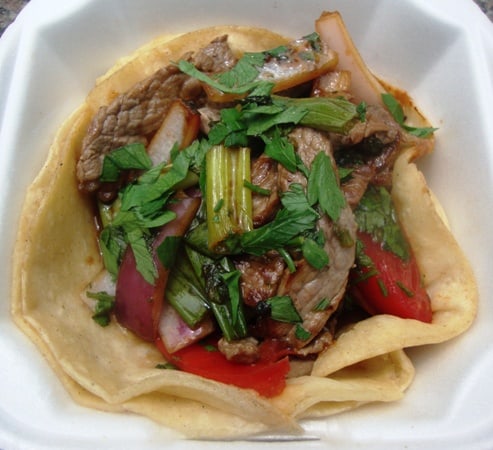 With the soy sauce, oyster sauce and garlic, I can see where the "fusion" comes from.  There was definitely an Asian influence in this dish, but it was nothing at all like the Korean tacos we've had.  It was more of a Japanese influence, which isn't surprising considering Peru has a large Japanese population.  Peru even had a president of Japanese descent (Alberto Fujimori) for most of the 1990's.
When I first ordered, I thought $5 for a taco was kind of pricey, but this was a substantial dish…and I still had the aji de gallina to eat!
Opening up the 2nd container, which was significantly heavier than the first, there were two quarters of a hard-boiled egg and slices of olives over a shredded chicken dish in a bright yellow sauce.
I'm not familiar with Peruvian cuisine, but the sauce was aji amarillo, a creamy (sweet) yellow pepper sauce with parmesan cheese in it.  A large amount of saucy pulled chicken was served over a bed of sliced potatoes and lettuce, which gave the dish some heft.
I know it's spring heading into summer, but this dish would have kept you warm during a cold winter.  Did I mention it tasted amazing too?  Eggy, cheesy, saucy chicken served over potatoes – what's not to love?  The olives even added some tang to a few bites.
The menu is pretty meaty, but there are at least two dishes for vegetarians that looked good too.  I wasn't familiar with Peruvian dishes or sauces, and if you're not, you can check out the menu below and the various sauces here.
You can follow Morocho on twitter here or on our Mobile Munchies twitter feed, although they park on Union Square West between 14-15 St for lunch and dinner.  No website yet, but their facebook is here.
I must say Morocho was one of my favorite new street food vendors of the year.  I will definitely be going back to try the rest of the menu over time, although I'm not sure about the veal heart anticuchos.