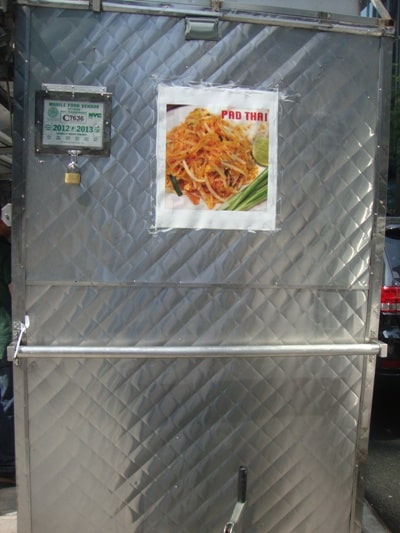 Feel like Shrimp Pad Thai? Well, the things you find just walking around at lunch are amazing. Man, we love this city!
On Friday, we were heading over to Park Ave in the 50's for lunch, but hadn't decided where to go. King of Falafel, Uncle Gussy's, Eggs Travaganza or someone else…so many choices.
Coming out of the 53rd-Lex station, we crossed Lexington and saw a new cart on the sidewalk of 53rd St, by the empty lot. There were no markings on the cart other than a large Pad Thai poster on each side, and a chalkboard menu on the front under the window. OK, let's get some pad thai!
After placing my order for shrimp pad thai and paying $8, I asked the guy taking orders and handling money a few questions. His name was Arthur, this was only their 2nd day out (!), and they didn't have a name yet for the cart.
Arthur then asked what we would name the cart. It took a minute, but we came up with a few ideas, and Arthur came up with an even better one during our brainstorming session while my lunch was being cooked.
"Thai" is a pretty easy word to use in a name. Bangkok is even easier, but we won't go there.
Off the top of my head, I said Thai Me Up, Thai Me Down, or Thai One On. Arthur said how about Muy Thai, and the more I thought about it, the more I liked it.
Not only is Muy Thai the sport of Thai kickboxing, but muy is the Spanish word for "very", which would make the name "Very Thai" in Spanish. They could decorate the cart with pictures of Muy Thai fighters, which would be pretty badass.
Muy Thai is a great name for this new cart, and it even works in 2 languages.
We would also love to hear your ideas for a cart name in the comments. Maybe Arthur will pick one of them.
After reading all of this, you probably saying to yourself – but how was the food? In two words, very good.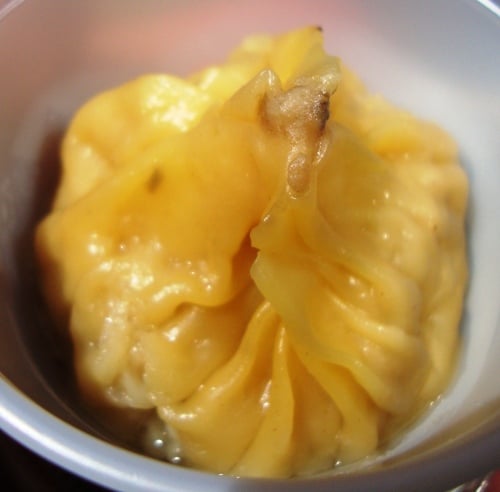 While we were waiting for our shrimp pad thai lunch, Arthur offered us a Thai dumpling to taste. He said an order of 5 dumplings cost $4. That's a good deal, as some people could probably survive on 5 dumplings for lunch. Not us, but some people.
We don't generally like chicken in dumplings, but this one was tasty. The wrapper was steamed just right, and the dipping sauce added a lot to the taste. There was also a nice sesame flavor that came through on our first bite, before we even put dipping sauce on the dumpling.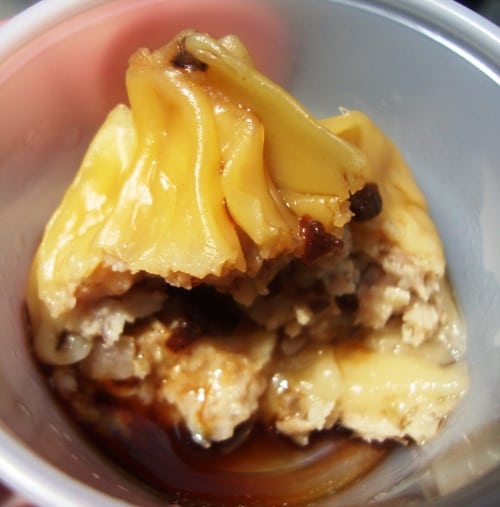 Digging into the pad thai, it was loaded with goodies.
There turned out to be 8 juicy shrimp, bean sprouts, scrambled egg, red onion, tofu and scallions, with a wedge of lime on the side. I was surprised there were no crushed peanuts on top, but there were some peanuts mixed into the dish.
The shrimp pad thai had a sweet and tangy sauce that was very tasty. After a couple of bites, I squeezed on fresh lime juice, which added some tartness to the dish. Sweet, tangy and tart…yum!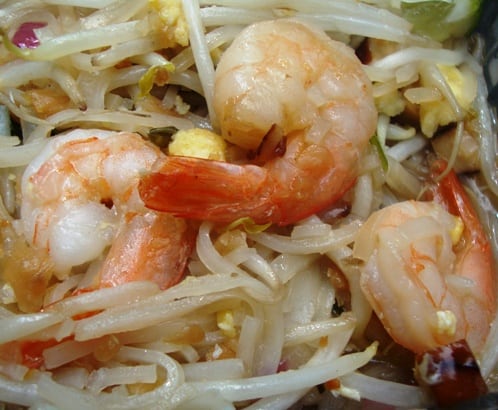 The flat rice noodles in the pad thai were done right. Some places overcook the noodles, and they end up sticking together. Not here. None of the noodles stuck together, and the noodles were soft, but not overcooked.
They don't have a big menu here, with just chicken or shrimp pad thai, and a couple of appetizers, dumplings and chicken satay.
The nice thing about a small menu is they can make sure each item is done well. Based on the two items we had, this was definitely the case here.
Please help Arthur come up with a name for his cart by putting your suggestions in the comments. We plan on stopping by the Pad Thai Cart That Needs A Name again real soon, on the SW corner of 53rd St & Lexington Ave. We will tell him your suggestions.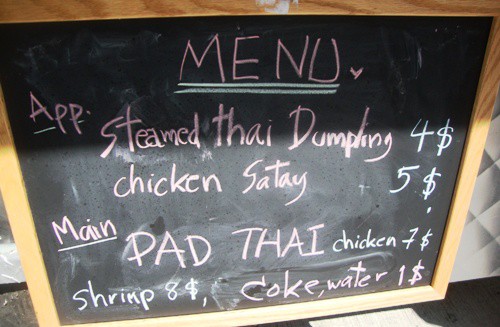 UPDATE – 9/10/12: Stopped by the same spot today, and the pad thai cart was not there. We'll check back again soon, but let us know if you've seen this cart at another location.