As the summer season approaches, it's the perfect time to ramp up your marketing efforts for your food truck and attract hungry customers looking for delicious meals on the go. 
Food trucks are a growing industry, and with a revenue of $3 billion and around 5,500 individual establishments, they're outpacing the growth of traditional restaurants. With the rise of food trucks, customers no longer need to settle for fast food chains or expensive restaurants when they want a quick bite. They are also a great opportunity for entrepreneurs looking to start their businesses without having to invest in an expensive restaurant lease. With their low overhead costs and flexibility, food trucks are becoming an increasingly popular option for entrepreneurs and customers alike.
However, food truck operators face a challenge as this is an increasingly competitive market – especially during the summer when everyone is out there. To appeal to customers' evolving flavor profiles, they must get very creative with the marketing side of the business.
Below we share the best tips on how to market your food truck business during the summer and keep people lining up.
Build a Strong Social Media Presence
A social media presence will help you gain street cred with the younger people who frequently visit food trucks. Create an account, and update it often with information about your food truck, your locations, schedules, and daily specials.
Share mouthwatering photos of your dishes, post updates about your location and operating hours, and engage with your followers by responding to comments and messages. Consider running summer contests or offering exclusive discounts for customers who follow your social media pages or share your posts, helping to generate buzz and reach a wider audience.
Facebook and Instagram are some of the most important platforms to tell your story, drive brand awareness, boost sales, and build and track audience engagement. They can also be used for more entertaining content like cooking demos, behind-the-scenes videos, or Q&As. These are all important to enhance your brand's visibility and gain the trust of food truck enthusiasts. However, before you start promoting your food truck on Instagram, for example, make sure to get Instagram followers organically by using relevant hashtags, creating an aesthetic feed, and posting content that followers want to see.
Participate in Local Events
Summer is the season for outdoor festivals, concerts, and community gatherings. Take advantage of these events by securing a spot for your food truck. Attend local farmers' markets, food truck festivals, and other outdoor events where you can showcase your unique offerings to a large crowd. Be sure to have eye-catching signage and banners to attract attention, and provide promotional materials such as flyers or business cards to create lasting impressions.
Offer Seasonal Specials and Promotions
Take advantage of the summer season by creating special menu items that align with popular summer flavors and ingredients. Consider incorporating fresh fruits, refreshing beverages, or themed dishes that evoke the spirit of summer. Introduce limited-time promotions, such as loyalty programs, happy hour discounts, or "buy one, get one free" deals, to entice customers and encourage repeat visits.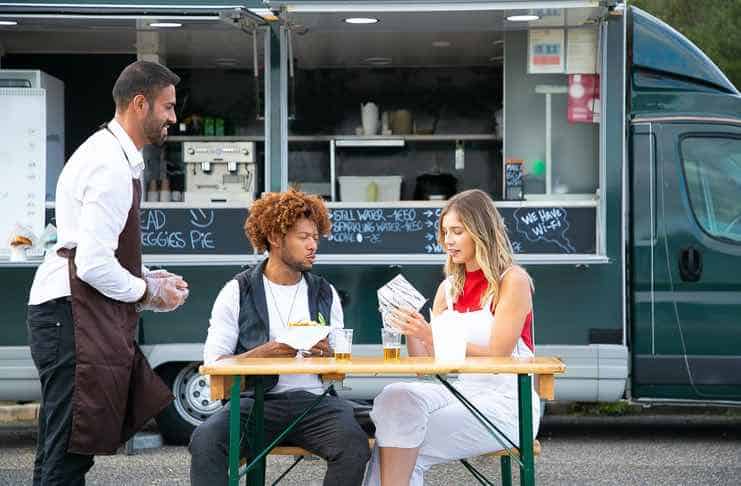 Engage with Your Local Community
It is impossible to stand out and cultivate a strong relationship with a community without supporting its businesses and residents through local sourcing. Giving back to those you serve is a win-win situation. 
Sponsoring a little league team in your neighborhood will help you offset the costs of players and coaches, while also gaining valuable exposure. Plan dedicated days to treat frontline workers with a free meal. Volunteer at a local charity that is either aligned with the story of your truck or close to your heart. 
In addition, participate in fundraisers by becoming a featured vendor and then donating a percentage for a particular cause. Choose wisely and build your budget accordingly. Highlight your efforts on social media and your website to demonstrate that you are a company with a conscience.
Collaborate with Other Businesses
Partnering with complementary businesses can help you reach new customers and create mutually beneficial relationships. For example, team up with a nearby coffee shop to offer a combo deal where customers can grab a coffee and a snack from your food truck. You can also collaborate with local breweries or wineries to provide food pairings for their tasting events. These partnerships not only increase your visibility but also expand your customer base.
Come Up with Unique Branding
Running a food truck business is an exciting journey, and one of the most important steps is creating a unique brand. Your branding should be creative, eye-catching, and memorable. It should make customers think of your business when they're looking for delicious food on the go. With careful planning and by taking into consideration the type of food you serve, your target audience, and your location, you can come up with a unique branding strategy to help your business stand out from the competition.
You should remember to invest in your truck accessories and signage as this is the first thing people will see, and it could make them choose your truck over another. Make sure that anyone who passes your food truck on the street can immediately tell what type of food you are selling. Post a large sign with the specials written on it in chalkboard format, draw something fun or cute on the board, and give your specials an interesting name.
As people approach, your brand should be more recognizable. Everything from packaging with your brand name on it to cards or the food you sell should be unique-looking.
Organize Events Featuring Local Performers
Summer is great for outdoor events. Contacting local performers can be a great way to market your food truck business. You can attract more customers to your food truck and make more money if you provide live entertainment. You don't even need to attend a festival to make an impression, you can create your right in the middle of town.
Final Thoughts
You can ensure the success of your food truck business during the summer season by organizing outdoor events, engaging with your local community, creating a strategic social media message, designing an eye-catching logo, offering promotions and discounts, and giving back to the community. With the above marketing ideas, you'll be sure to get some inspiration on how to attract people to your food truck and expand its exposure and presence.
Charles Vallena is the founder and managing editor of Cuppabean.com, a coffee blog that helps people make better coffee by providing expert insights, recipes, and in-depth reviews on coffee makers. Follow Cuppabean on Facebook here.