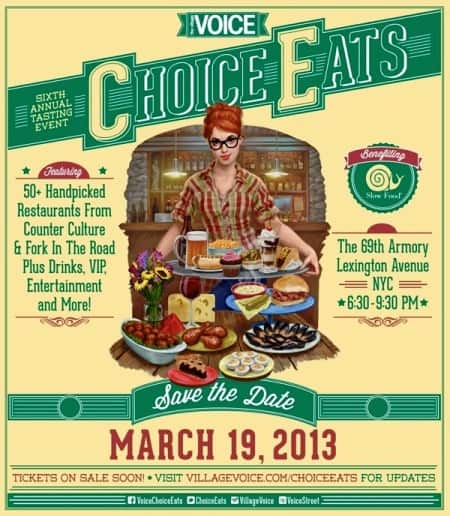 Tickets for the Big Kahuna of tasting events – Choice Eats – go on sale today (1/16) at noon. We went a couple of years ago, and it was an amazing experience.
There were tastings from over 50 restaurants, tons of craft breweries and small wineries (including our friends at Wines That Rock). You can see our review of the event here and here. We ate so much, the review had to be in 2 parts.
The first set of restaurants for Choice Eats 2013 has already been announced. Click through to see who is included.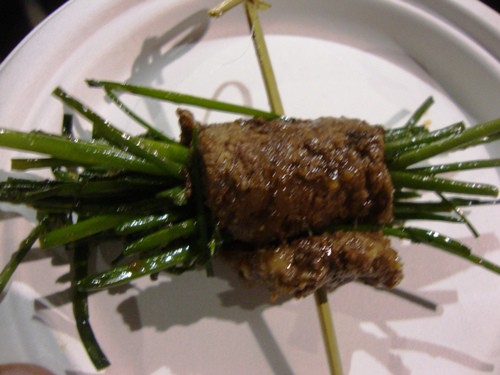 Kicking off the 2013 line up, the first round of restaurants announced are: Bobwhite Lunch and Supper Counter, Black Shack Burger, Brooklyn Kolache, Buka, Dirt Candy, John Brown Smokehouse, Kaia Wine Bar, Littleneck, Luke's Lobster, Mable's Smokehouse & Banquet Hall, Mooncake Foods, No. 7., Parish Hall, Txikito, and Zenon Taverna. Many more will be announced.
Ticket prices for this year's "Choice Eats" event feature a VIP ($80) and General Admission ($50) Ticket.
The Village Voice will once again partner with the non-profit organization Slow Food NYC for the event and plan to donate a portion of ticket sales.
Choice Eats 2013 will be held  on Tuesday, March 19th from 6:30pm-9:30pm.
The event is held at the same place we went, the 69th Armory at 68 Lexington Ave (26th St), and only guests ages 21 and over will be admitted.
You can buy tickets here, and the linked ticketfly page explains the differences between regular and VIP tickets.
Of course, the event we're really looking forward to is Choice Streets, where over 20 food trucks were parked alongside the Intrepid Museum, and guests were given access to the Concorde and the Intrepid Museum as part of the ticket price.
We were told last year that Choice Streets was a success, and there would be a second one in 2013. We're waiting with bated breath for that announcement.
Another thing that was a success last year was our photo below of Choice Streets, taken from the ladder leading down from the Concorde's cockpit. The Village Voice loved the picture so much, they asked us to use it in their Thank You ad after the event.