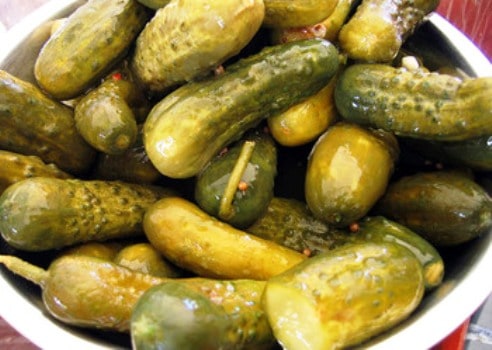 There are a few food events this weekend, but the crown jewel has to be the 11th Annual Lower East Side Pickle Day on Sunday. It's our favorite as the Best Weekend Food Event.
Yes, there are a dozen different pickle purveyors including Arirang Kimchee, Brooklyn Brine, Guss' Pickles and Horman's Best Pickles.
But there are also a ton of activities such as ping pong, face painting, ballroom dancing, DJ lessons, street hoops and more.
Where we were sucked in was the list of other food vendors, including some Vendy Award Winners and Finalists.
This year's Best Dessert Vendy Award Winner, Melt Bakery, will be there, as will past Vendy Winner and Finalists Souvlaki GR and Mexicue.
Asia Dog, Brooklyn Taco, Blue Ribbon Sushi Izakaya, Mac Truck, Meatball Shop, Mission Chinese, Saxelby Cheesemongers and many more will be there too.
Our Best Weekend Food Event takes place Sunday, October 28th from 12-5pm. It runs along Orchard St from East Houston to Delancey St.
Check out the full event list and list of participating vendors, here.