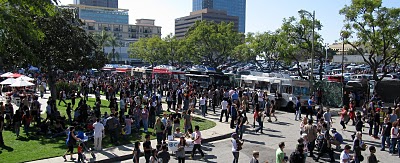 When we do interviews with foreign press, we always talk about how you can get food from so many different countries on the streets of New York.  Now all these international food truck vendors will be in one place…and they will be paired with our second favorite thing – beer!
Yes, it's the International Food Truck & Beer Festival.
Click through to find our more, including how to get food and drink tickets at a 50% discount!
On Sunday August 12th, you can enjoy international bites and brews at the International Food Truck & Beer Festival at the South Street Seaport.
Local Seaport restaurants and the city's best food trucks will each represent different countries, featuring international bites and brews from their designated regions.
There will be crisp lagers, flavorful ales, robust stouts, porters, and everything in between!
The Five Oceans Ticket includes 6 vouchers and is usually $40, but you can get a 50% discount by clicking here and using the code "streetfood". That's 6 vouchers (cough, drinks) for $20!
Please note that vouchers are redeemable for merchandise, beer, wines and non-food truck food items at all participating festival venues. Food trucks are pay-as-you-go.
So here's the plan: Use the vouchers for beer and wine, and pay for food from your favorite food trucks. 6 drinks for $20 (after the discount) is a damn good deal. You can also use the vouchers for beer at participating Seaport restaurants and bars.