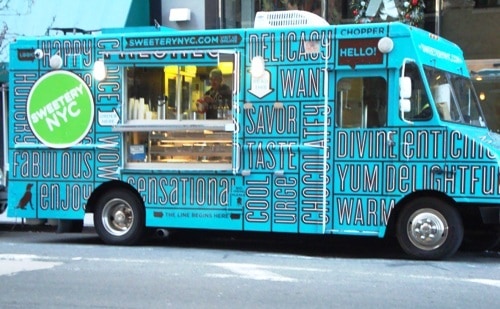 It gonna be a very busy week for Sweetery NYC.  Today they will be giving away 2,000 FREE cookies, courtesy of Maker's Mark.
Click through for the times and 3 different locations where the promotion will be taking place.
 The Sweetery/Maker's Mark giveaway will be at:
Condé Nast Publishing (4 Times Square): 10:00am – 12:00pm
Hearst Publishing  (300 W. 57th Street): 12:30pm – 2:30pm
Time Inc. and Wenner Media: (50th Street btwn 6th & 7th Ave.) 3:00pm – 5:00pm
Things with food trucks don't always go as planned, so check the Sweetery NYC twitter here or our Mobile Munchies twitter feed.
Later this week, Sweetery will have another free promotion, but we'll tell you about that in a day or two.