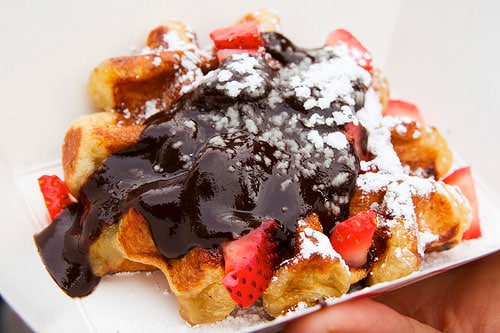 Saturday, Aug 24th is National Waffle Day a/k/a the Crowning of Mister and Miss Wafel 2013.
This year there's even more to celebrate, with the opening of the Wafels & Dinges Café in the East Village, where all the festivities will be taking place.
There are A LOT of festivities, and you can get a FREE wafel too!
The Annual Wafel Pageant features Wafel-Decorating and Wafel-Eating Competitions at the new brick-and-mortar location in the East Village.
You can also get a FREE wafel in exchange for 'Wafel Cart Art'.
The festivites start at 9am and go all day until 4pm at the new Wafels & Dinges Café, 15 Avenue B at 2nd St.
Events include:
9:00 am – close: Wafel Cart Art. Bring a picture or a three-dimensional sculpture of a wafel-truck for a free wafel with one topping. (Artwork accepted at the cafe and at Wafels & Dinges trucks and kiosks) – Location: all W&D trucks, carts & café
3:00 – 4:00 pm: Café only (15 Avenue B at 2nd St.) The 4th annual Miss Wafel and Mister Wafel Pageant, where contestants will be judged on:
1. A Dinges Skills Competition: A trial to professionally apply toppings to wafels.
2. Eat a Wafel Blindfolded: Devour a wafel with help from volunteers from the audience.
3. Miniature Bicycle Building: Contestants build a small bicycle using two clothes hangers in less than 2 minutes.
Miss Wafel and Mister Wafel winners will receive a Belgian Wafel Passport (good for a year of free wafels), and will perform their duties as "Wafel Ambassador" for one year.
WOW, FREE wafels for a year! Now that's a Grand Prize.