Searching for the best Party Food Ideas you can find? You reached the right post. Receiving praise and compliments for a great party and great food are the top things party hosts would want to hear from their guests. Hosting a party is no easy feat because you have different people to accommodate, and you don't know their food preferences. 
That is why getting praised for the great food or party gives a sense of accomplishment for the hosts. The good thing about hosting your parties is the informal and casual setting, where you don't have to restrict your party theme and foo options. Read on as we share some helpful party food ideas that will surely wow your guests.
4 of the Best Party Food Ideas For Your Next Event:
1. Street Food Station
If you're hosting a party with your family, friends, co-workers, or neighbors, you can't go wrong with having a street food station for your party. Most of your guests have their favorite street food or a comfort food they frequently eat, so why not let them have a fill of the delicious street foods they like? 
A station setting gives a feeling of visiting a street food stand, which many guests can appreciate. For our followers in Brisbane for example, if you want to make a greater impact, you can hire a street food truck catering service to impress your guests. It would bring back the good old days where mobile street carts and trailers would make regular trips around the neighborhood. 
Your guests will love to have a taste of the most loved street foods like hot dogs, pizza, burritos, crêpes, churros, gyros, and many others. The more varieties you have in your station or food truck, the better.
2. Burger Bar
Give your party a homey atmosphere by making a burger food bar for them. It's a good crowd-pleaser for any type of party. 
A Burger Bar is also a good choice for happy gatherings like birthdays, cookouts, or barbecues, where you want everybody to have a little something they like. The burger is a versatile party food as you can let your guests make their mix of toppings. 
Even vegetarians can make their veggie burger toppings. You can mix the toppings and serve your guests, or you can prepare the buns and toppings and have them help themselves.
3. Taco Bar
If it's a help-yourself or self-service party style you want, serving tacos is a great idea. It's one party food that guests will love. 
Just like a burger, the taco is also a versatile party food where you can have a variety of ingredients for fillings or toppings. You don't have to worry about serving a separate dish for your vegetarian guests, as there are also veggie taco mixes they can make from the available ingredients.
4. Dessert Bar
You can always indulge your guests and satisfy their sweet tooth by having a dessert bar ready at the party. Desserts are the perfect complement to a good meal or dinner.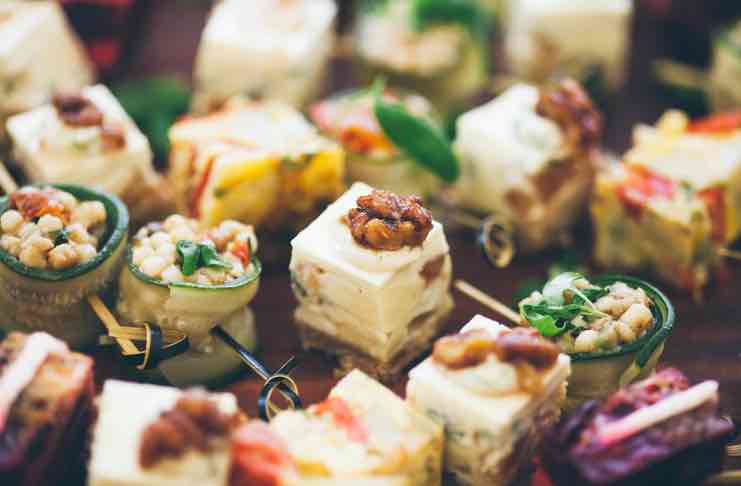 It also livens up the mood of your guests and will keep the conversations and the celebration longer and more enjoyable. Give your guests plenty of dessert options by placing various sizes ranging from finger foods, cupcakes to large, round or rectangular cakes. 
When it comes to party food ideas, you can always let your creativity flow freely. Having an idea of who your guests are can also help you conceptualize your party theme, the type of food to serve, and how to present them. 
Don't worry too much about pleasing every one of your guests. Your guests are there to eat and have a good time with you, so prepare the best food that you can offer and creatively present them. You'll most likely receive great comments and compliments at the end of the party. 
If you're looking for some authentic NYC restaurant reviews – check out our page here.