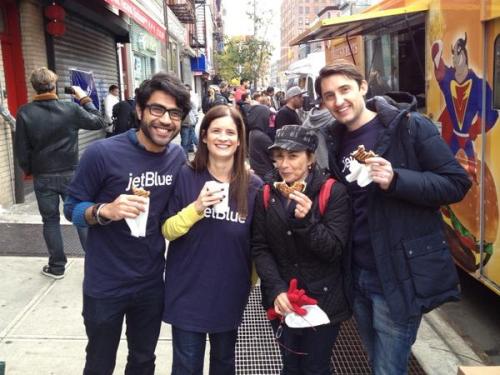 Updated Sunday Afternoon 11/4
With food trucks under attack from municipalities nationwide, one silver lining of Hurricane Sandy may be demonstrating just how vital food trucks can be during a major emergency.
We are among "the powerless" (as those without electricity have been dubbed by the press), not having electricity in our building since Monday night around 8:30pm. While we have tap water and a gas stove, there are no running toilets, showers or heat. The refrigerator and freezer were good for 2-3 days of food, and we're on Day 4. But we'll survive.  There are those less fortunate than us who didn't even have food in a freezer to cook.
Our power was finally restored at 4:30am Sat morning, after more than 4 days without.
The question is how have food trucks proven their worth during this state of emergency? The answer is BIG TIME!
See below for Saturday Sunday updates.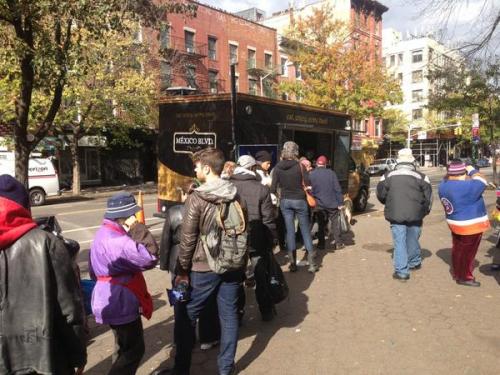 Food trucks are essentially mobile kitchens on wheels, so they can go right to affected areas and start serving the locals hot food and water. Most food trucks are small businesses working on thin margins, but a partnership between food trucks and big business or government can be very effective.
The most high-profile example of this is Jet Blue (New York's hometown airline) working with the NYC Food Truck Association to bring food to the powerless. On Friday, twelve food trucks at seven different locations have distributed 11,000 meals to those without food, water and electricity.
Another example of food trucks helping the locals was in Hoboken. Last year Hoboken had a thriving food truck scene, but at the behest of local restaurateurs, an ordinance was pushed through last spring basically keeping food trucks out of Hoboken. On Thursday, Hoboken's official Facebook page posted the message "Have a food truck? Come to Hoboken and help us feed our community."
Not ones for sour grapes, Molly's Milk Truck hit Hoboken on Friday tweeting: TODAY'S MENU: FREE MAC'n'CHEESE, FREE HOT COFFEE, FREE CHICKEN & VEGGIE FRIED RICE, FREE MINI BAGELS WITH PB&J, & FREE WATER. #Hoboken #WHOLEFOODS IN #EDGEWATER HAS ALSO GENEROUSLY DONATED SOME ITEMS WE WILL BE GIVING OUT, SOPHIA PEPPAS ALSO DONATED BOTTLED WATER.
Back in NYC, several food trucks including Gorilla Cheese and Big D's Grub Truck set up charging stations for cell phones. Big D's also donated their tip jar to relief efforts.
Early on (Wed night), Nuchas Empanadas fed 400 people at a shelter at Baruch College. Way to go guys.
Nearly every food truck who could get gas has been parking and serving among the powerless, whether it's Union Square, Astor Place, Tompkins Square Park or elsewhere.
One problem has been in the poorer areas of Manhattan and in the most affected outer boroughs. We received a call from Congresswoman Nydia Velazquez asking if we could get any food trucks to stop by the housing projects on the Lower East Side. We put out the word, but it's up to the vendors themselves who choose where to go.
We received desperate pleas for help from parts of Staten Island and the Rockaways, two of the most devastated areas. We're not sure about Staten Island, but Eddie's Pizza Truck and Cupcake Crew were in the Rockaways giving out free pizza, cupcakes, water and other supplies courtesy of Jet Blue.
Update – Sat 11/3
On Saturday, Jet Blue and the NYC Food Truck Association teamed up again to bring 10,000 free, hot meals to some of the harder hit places in the tri-state area.
Gorilla Cheese, Valducci's, Toum and Coolhaus were on Staten Island giving out food to local residents.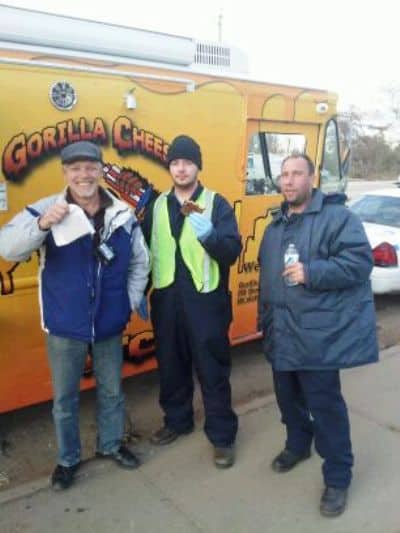 The Mac Truck was also on Staten Island, although not as part of the Jet Blue fleet. This means they went out-of-pocket giving away their food. We know Dom from Mac Truck is a Staten Island resident and native. Hope you and your family are well my friend.
In Hoboken, Big D's Grub Truck, Sweetery NYC and Nuchas gave out thousands of free meals. Local vendor The Taco Truck was serving in Hoboken as well.
Over in the Rockaways, Phil's Steaks, Milk Truck, Eddie's Pizza and Cupcake Crew were giving away free hot food, water and coffee, courtesy of Jet Blue. Chinese Mirch was in another Rockaways location donating hot meals to the local residents.
Update – Sun 11/4
Jet Blue, the NYC Food Truck Association and its members are coming through yet again, helping those who need it most.
They have four trucks to two different locations in the Rockaways, distributing another 4,000 free lunches to the heavily impacted Rockaways. Eddie's Pizza & Cupcake Crew are at Beach 50th and Beach Channel Drive and Gorilla Cheese and Valducci's are in the Waldbaum's parking lot – Beach 113 and Beach Channel Drive.
Sweetery NYC was on Beach 130th & Newport Av w/ FREE hot soup, coffee, & treats! Thanks to @ChaseNews, the official communications arm of Chase Bank.
Mausam NYC also went to Staten Island to help people in need with some curries.
HOW YOU CAN HELP!
If you want to help, there are a couple of ways we can tell you about:
The NYC Food Truck Association is accepting donations here. So far, over $13,000 has been raised. This enabled Rickshaw Dumpling Truck to go to the American Legion HQ in the Rockaways and give away free dumplings. It also sent Coolhaus to Red Hook to give away free hot coffee to the residents there. Keep the donations coming.
Christine Quinn, Speaker of the NYC Council suggests checking nycservice.org or serve.gov/sandy if you can volunteer.
When we're all back to our regular routines remember this – food trucks played a vital role in bringing hot food, water and power to the powerless during this extreme state of emergency.
Jet Blue, the NYC Food Truck Association, Whole Foods, Chase News, and every food truck and person who helped out deserve our deepest thanks.
But food trucks aren't looking for our thanks. They just want to be able to serve legally in NYC and Hoboken, and to be good corporate citizens. After Hurricane Sandy relief efforts, we believe they have earned that right.