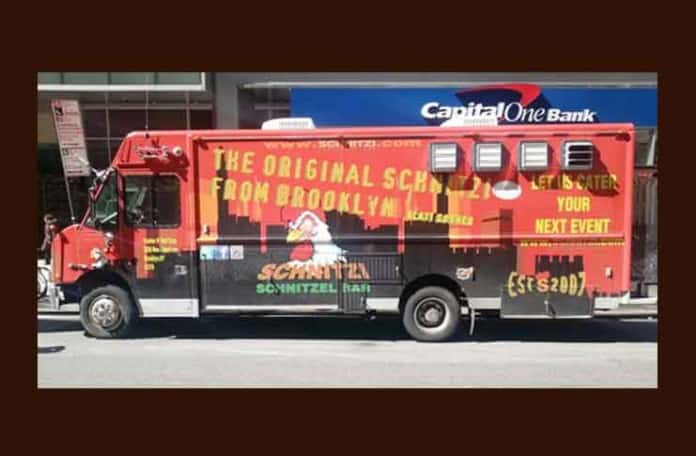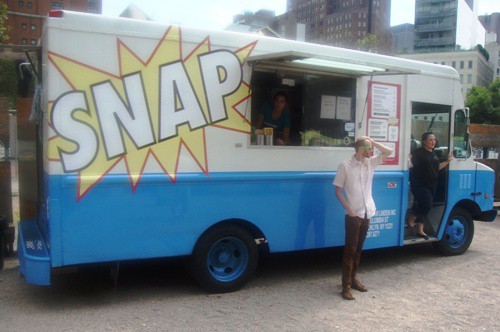 UPDATE – THE TRUCK HAS BEEN SOLD. PLEASE DO NOT CONTACT LIZ.
Are you in the market for a fully outfitted food truck? We have just the vehicle for you.
The Snap Truck, which debuted last July 4th weekend and ceased operations in late 2012, is looking for a new home.
The owners of Snap did not want to go into the black market for a street permit, and tried a new approach of only serving at food truck lots, on private property, and at events. They even tried to open a new food truck lot, but unfortunately, this was not enough.
Also, Hurricane Sandy didn't help.  They lost power at their prep kitchen in Red Hook for 10 days, and nearly all inventory was spoiled.  It was weeks before they got heat or hot water back, and it was just too much to overcome.
They are selling the truck, but Snap isn't going away. It continues as a catering and mobile food operation, and they will be popping up again this summer at outdoor markets and festivals.
As for the truck, it's a 2003 Chevy Workhorse diesel stepvan with 161K miles. According to their Craigslist post, the engine runs great, the fuel gauge was recently fixed, and it passed road inspection in October. It's also equipped with a brand new Cummins Onan diesel generator with just over 500 hours on it. There's a lot more info on the truck's specific features on the Craigslist post.
UPDATE – THE TRUCK HAS BEEN SOLD. PLEASE DO NOT CONTACT LIZ.
Anyone interested in buying the Snap Truck should call her at (sorry, the truck has been sold).
If you are looking to browse food trucks for sale, please check out FoodTrucksandMore.com