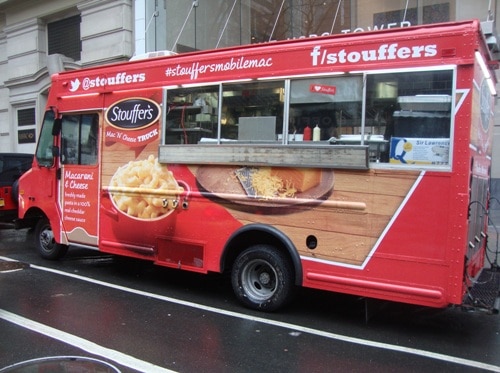 As we've mentioned, the Stouffer's Mac and Cheese Truck is in town for 3 weeks, serving 5 different toppings over their macaroni & cheese for $4 a bowl. They are also raising money for Hurricane Sandy Relief, which Congress has been very slow to act upon.
Before leaving the office, we had our mind made up – BBQ Pork Mac & Cheese – but the best laid plans of mice and men, etc, etc. When we arrived at the truck, the Veggie Mac & Cheese looked much more interesting on the menu.
We're trying to be more open-minded lately, including eating more vegetarian meals, so that we changed our mind and got the Veggie Mac & Cheese for $4.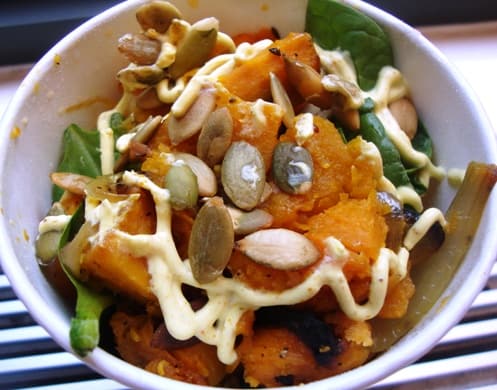 Opening the lid, it was a very nice display that Stouffer's Mac and Cheese Truck provides. You could see sweet potatoes, roasted squash, grilled onions, leaves of baby spinach, pumpkin seeds, and a sauce. From the smell, you could tell it was a curried yogurt sauce. The curry odor was unmistakable, but not overpowering.
We had to eat through the veggies on top before getting to the mac & cheese, which was a pleasant experience. The veggies were fresh, and the curried yogurt sauce was a good accompaniment with starchy vegetables like sweet potato and squash.
Under the veggies was the mac and cheese. The menu said the pasta was "freshly made", but it was way too soft for our taste.  We would suggest a few minutes less for the cooking time.
The cheese sauce was made with a fairly mild cheddar, and wasn't anything distinctive.
Once we finished, it seemed like lunch was like 2 separate meals. The veggie topping was fresh and tasty, but once you got past the veggies, the mac & cheese underneath was not of the same quality.
For $4, it's an inexpensive meal, and Stouffer's Mac and Cheese will be donating a lot of money to Hurricane Sandy Relief, which is a great cause to support.
With the fresh toppings, and celebrity chefs bringing their own take to the menu on certain days, there is enough to go to the Stouffer's truck and support this worthy cause.
Locations and service times will be on facebook here and on twitter here. We will also include them in our Mobile Munchies twitter feed for the next 3 weeks.