For the past few years, artisanal food markets have been at the forefront of the NYC street food scene. They have become so popular that the Vendy Awards has had a Best Market Vendor category for the past two years.
Weekend markets such as Brooklyn Flea and Smorgasburg are enormously popular, but Madison Square Eats and Broadway Bites have brought these vendors into Manhattan business districts to break up the monontony of office lunches. We recently went to Broadway Bites, which runs until August 1st between 32nd & 34th St.
Ever since the ramen burger achieved massive popularity at Smorgasburg, vendors have been trying different mash-ups. The Pork Doughnut Slider ($7.50, or 2 for $12 if you're a true glutton) from Jicama NYC is the latest.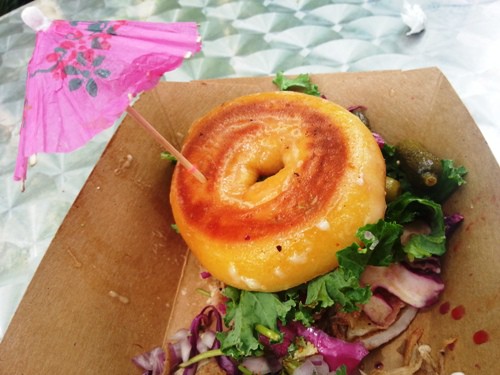 Jicama NYC describes itself as California Street Food, and all its tacos are gluten-free.
The Pork Doughnut Slider is as advertised – pulled pork on a glazed maple doughnut. In addition to pulled pork, the "slider" includes kale, red cabbage, a slice of beet, cornichons, and a little drink umbrella stuck into the top of the donut.
It was difficult to pick up and eat. The heat from the food made the glazed doughnut stick to the cardboard box, but once we got it up (so to speak), we were hit with a sweet and savory slider. It is a bit strange eating pulled pork on a glazed doughnut, but there are worse things in life 🙂
The kale and beets added additional tastes and textures to the sandwich besides pulled pork.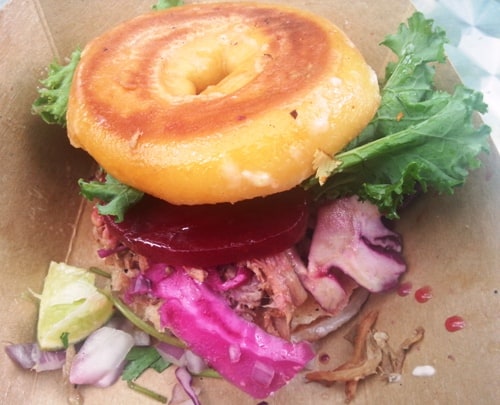 Doughnuts do not make the optimum bread for a sandwich or slider. It's too soft and breaks apart too easily.
BTW, the size of lunch was larger than a slider, but smaller than a sandwich. The doughnut was about the size of a small bagel.
We don't expect the Pulled Pork Doughnut to hit the peaks of food market superstardom like the ramen burger, but it was certainly different from anything else we've had for lunch.
If you want something a little more straighforward, there are 3 kinds of summer tacos, tlacoyos (like Mexican personal pizzas), and their signature dish, jicama tacos. The jicama tacos are not served on tortillas, but on slices of jicama. That sounds really good to try next time!