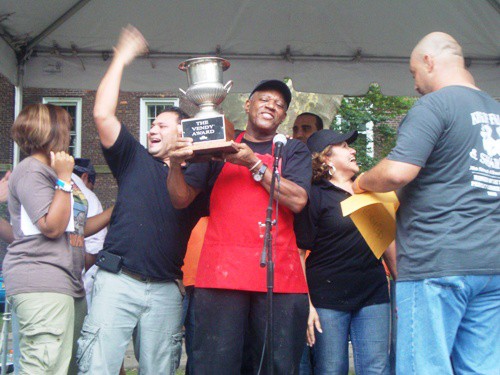 The Vendy Awards NYC are our High Holy Days, New Years Eve and Thanksgiving all rolled into one. We've been going since 2009, sponsoring since 2010, and it's always our favorite day of the year.
Now people in 6 cities around the US will be able to enjoy this great event. Damn, these guys are growing faster than my waistline at last year's Vendy Awards NYC.
Click through for the cities and dates of all 6 Vendy Award events this year, including how to get tickets for the first one, which is already on sale.
In partnership with the Brooklyn Brewery, several of this year's Vendy Awards will be part of the Brooklyn Brewery Mash, a series of cultural events including comedy shows, concerts, and pop-up supper clubs and readings.
Street Vendor Project and Vendy Awards NYC poobah Sean Basinski put it this way:
"The Street Vendor Project is thrilled to recognize the men and women who serve some of the best street food in the country. The Vendys started as a small fundraiser, raising money to support hard-working street vendors who are working toward their American Dream – now, we are thrilled to take our dream to the national stage and celebrate six cities-worth of talented sidewalk chefs."
2013 VENDY AWARD SCHEDULE
New Orleans, LA – March 13 (tickets currently on sale here)
Boston, MA – April 25 – 28
New York, NY – September 7
Chicago, IL – October 3-6
Philadelphia, PA – November 7 – 10|
Los Angeles, CA – November date forthcoming
For the latest news and announcements, follow the Vendy Awards on Twitter at @vendyawards, or on Facebook at Facebook.com/VendyAwards.