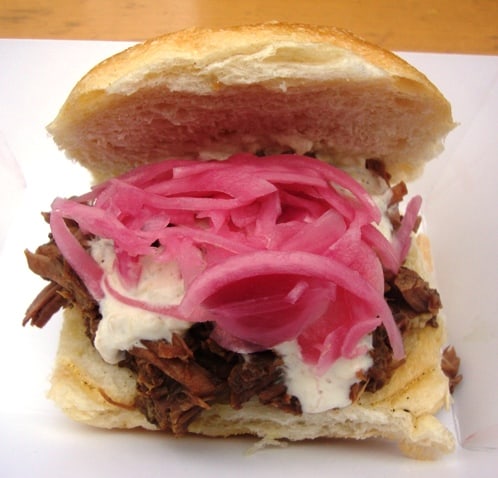 Ever had a short Beef Brisket Sandwich during the Holiday season? Well, the Columbus Circle Holiday Market has really upped its quotient of excellent food vendors this year. There were a few good ones last year, but the food options seems to have nearly doubled this year…and they added seating.
As we previously mentioned in this column, market vendors have become big business. Brooklyn Flea was probably the first market in the NYC area with artisanal food vendors that attracted attention just for the food. Smorgasburg later took things to another level entirely in terms of the sheer number of high-quality food vendors in one place, on the Williamsburg waterfront.
Artisanal market food vendors have become so ubiquitous that the Vendy Awards added a Best Market Vendor category in 2012. One of the finalists in that category was Mayhem & Stout, who specialize in slow-braised meats. That's where we went for lunch, with a Beef Brisket Sandwich costing $10 and a half sandwich costing $6.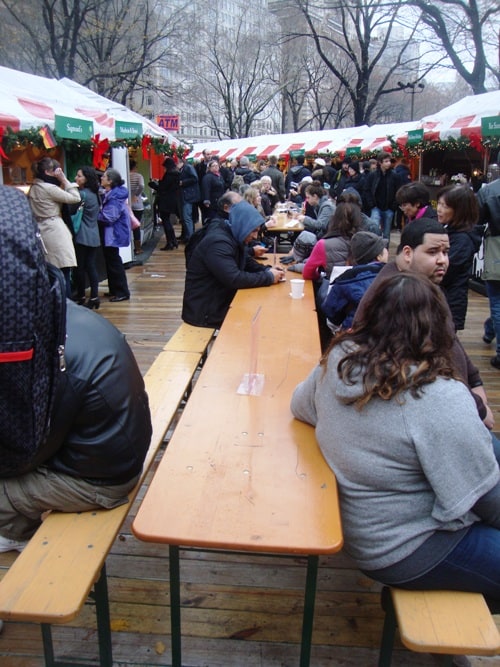 There were three choices of meat: short rib brisket, pulled chicken and organic lamb. Keeping with the theme of mix-and-match, you choose one of four sauces and one of three toppings.
Our order was short Beef Brisket Sandwich with horseradish creme sauce and pickled onions on top. With all the great vendors here, we went for a half-sandwich for two reasons: it looked large enough to satisfy, and we could also get dessert without going into a food coma by 3pm.
Unlike our previous holiday market lunch at Mighty Balls, this time we ordered correctly in matching meats and sauces.
The beef was unbelievably tender and juicy, but the bottom of the roll kept it together throughout most of the meal. Only on the last two bites was the roll a little soggy.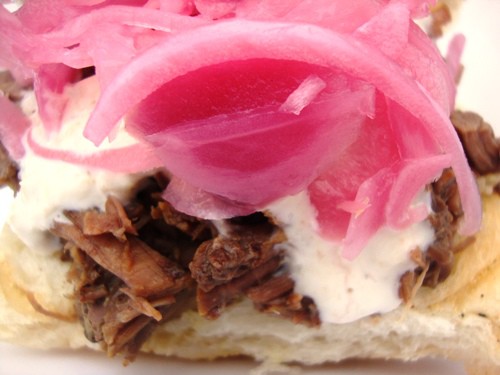 Horseradish creme was perfect for Beef Brisket Sandwich, adding a bite of creamy spiciness, but not in the chili pepper sense. Horseradish is a different type of spicy than chilies.
The pickled onions brought in a little vinegary tang, but not overwhelmingly so.
This was a delicious Beef Brisket Sandwich which we would heartily recommend to anyone who's not a vegetarian.
For dessert, we ambled over to the Sigmund Pretzels. Most of the pretzels were savory, with flavors like gruyere paprika and truffle cheddar, but they also had cinnamon raisin, our favorite bagel flavor.
It's tough to tell size from a photo, but each pretzel was about 6 inches across, costs $4, and comes with a choice of topping. The person working suggested raspberry jam on cinnamon raisin, which sold us. They also had honey mustard, which was designed more for the savory pretzels.
The pretzel was soft and warm to eat. It wan't the prettiest pretzel at the dance, and it could have used more cinnamon, but it was an enjoyable snack.
The raspberry jam was tasty, if a bit on the sweet side. The jam was thick, and worked well as a dipping sauce with the pretzel.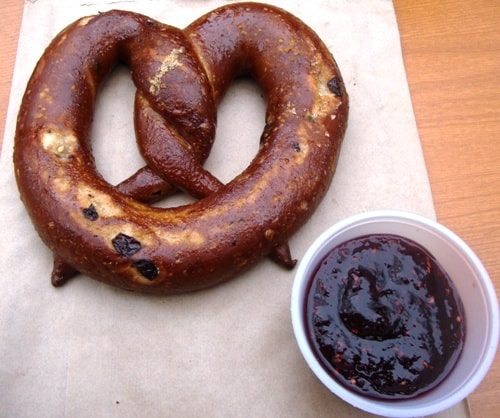 If you're in the Columbus Circle area, the Holiday Market is a good way to enjoy excellent food vendors without breaking the bank. The market is open until 8pm, so you can go after work, shop, and have a nice, inexpensive dinner too if you're too far away for lunch.
For more details on the Columbus Circle Holiday Market, including exact hours, click here. They are open every day, and until 4pm on Christmas Eve, for the procrastinators out there. You know who you are!