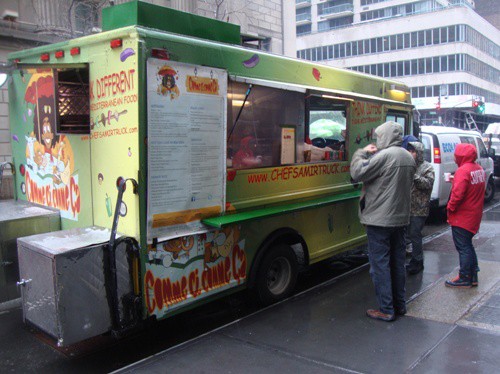 Ever had Kofta Beef with couscous? Chef Samir may have been away in Morocco last week (he was due back yesterday), but his people know how to take care of their customers.
On Friday, it was snowy, rainy, windy and cold, and the guys at Comme Ci Comme Ca were giving away free vegetable soup to any hardy souls that made it to the truck.
We're hardy souls, and wanted to check out their veggie soup. We also realized that we've never ordered the kofta from Comme Ci Comme Ca.
That's two good reasons to visit the Comme Ci Comme Ca truck.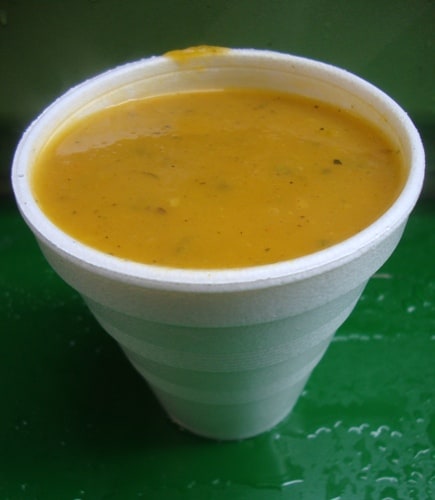 The vegetable soup was handed out after placing your order. That was great for warming up while waiting for lunch. They didn't have any spoons or lids, so the soup was an "of the moment" treat, but it was a treat.
The thick soup tasted like creamy, pureed vegetables, with a few tiny pieces still in the soup. It was well spiced too, and even had a small kick. Good way to warm up and start the meal while waiting for lunch.
Lunch was a platter with 7 pieces of Kofta Beef, fresh veggies, couscous, and three different sauces.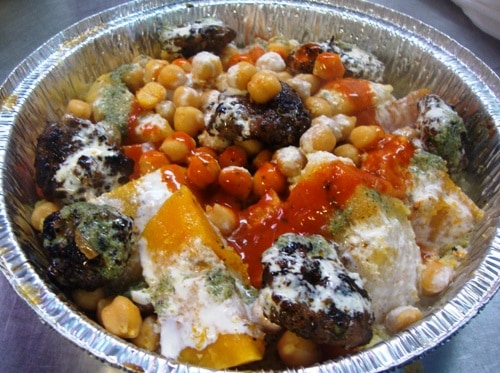 Kofta is spiced ground beef, made into small patties. These were like Moroccan sliders without the bun. The Kofta Beef at Comme Ci Comme Ca is spicy and grilled over flames, for that char-broiled taste.
The veggies were cut into large pieces and included soft, sweet squash, potatoes, carrots and chickpeas. The veggies were all soft, but firm enough to enjoy.
One of our favorite things at Comme Ci Comme Ca is the couscous. Everyone serves rice, but only a few (like Bistro Truck) serve couscous. By the way, we love pearl couscous which is similar to regular couscous, it's small, whole grain-like food made from semolina. Check out how to cook pearl couscous.
Here, it's light and delicate, and is a nice change of pace from rice.
Most vendors have white sauce and hot sauce, but Comme Ci Comme Ca also has a green olive sauce that we got too. White sauce, hot sauce and green olive sauce is the way to go here.
We've never had anything but delicious meals at Comme Ci Comme Ca. Their grilled meats are wonderful, but if you're a vegetarian, there are several excellent vegetarian options too.