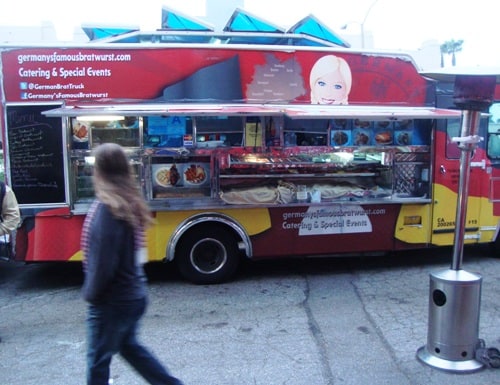 Our final NYSF In LA review from our trip last week is weisswurst from Germany's Famous Bratwurst in Los Angels.
We know that when a vendor puts the name of a dish in their name, we should order that dish – but how often do you see wiesswurst at a street vendor? The only one we know of in NYC is Hallo Berlin, winner of the very first Vendy Award in 2005.
Weisswurst it is, and it cost $7 at Germany's Famous Bratwurst truck.
As you can see, the sausage was pretty damn long. We have large hands, and this was probably around 10″ long. A good 2″ extended over the roll on each end.
The wurst was topped with sauerkraut and a smooth, spicy mustard. This was a better mustard with weisswurst than a grainy mustard would have been.
Bratwurst is made with pork, but weisswurst is made with veal. Weisswurst means "white sausage" in German, and this wurst has a lighter color and taste than most other wurst. It's not as heavily spiced as bratwurst or garlicky like knockwurst.
The weisswurst was a good way to end our trip to LA. You can find Germany's Famous Bratwurst on twitter here, their website is here, and their menu is here.
Those garlic parmesan fries looked really good too, but we just couldn't eat any more that day.
So if you still haven't tasted Bratwurst in Los Angeles, you should…:-)