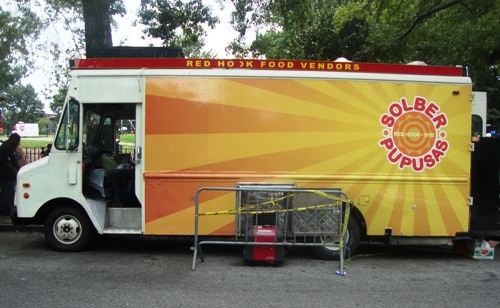 Over the long weekend, we went out to the Red Hook Ballfields to check out the 2012 Vendy Cup finalist, Piaztlan Authentic Mexican Cuisine.  While we were there, we checked out some of the other vendors too, including 2011 Vendy Cup Winner, Solber Pupusas.
We've already told you about Solber's great pupusas, so this time we tried two of their tamales, chicken and sweet chicken for $2.50 each. In retrospect, we probably should have gotten a pork or bean tamale, but both of these were solid tamales.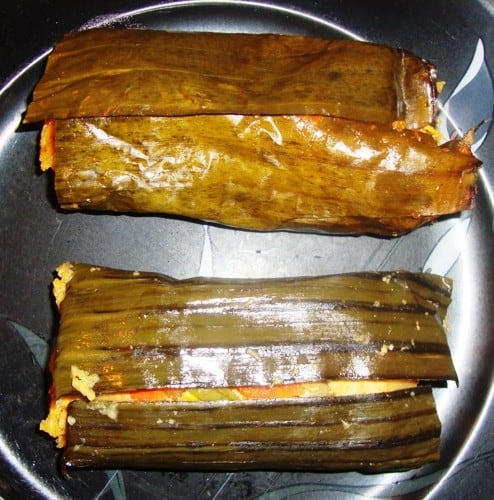 Both tamales were steamed in what looked like different types of leaves, but we can't tell you exactly what type.
Inside the leaves were corn masa with two different fillings, chicken and veggies and sweet chicken.
Steaming the tamales in the leaves kept them nice and moist. That's good, cause there's nothing worse than a dry tamale.
We started with the chicken and veggie tamale, which had various veggies such as carrots, corn, string beans and lima beans.
In the middle of the tamale was shredded white-meat chicken, which you can barely see in the photo, but it was good.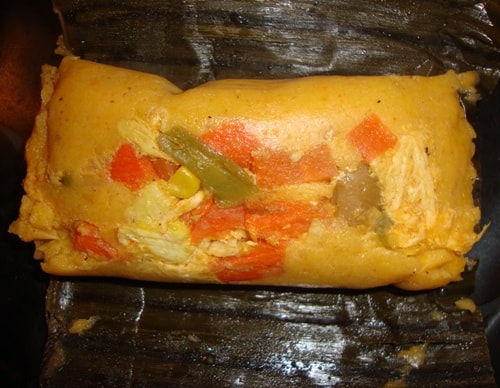 We weren't sure exactly what to expect with the sweet chicken tamale, so first it was unwrapped. You couldn't see much besides the corn, but there were a few dark objects just inside. Hmmm, what could they be?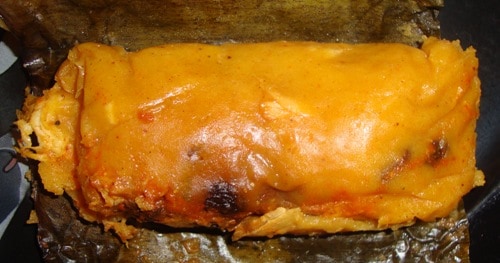 The sweet chicken tamale was nice and toasty around some of the edges. Digging in, the dark objects turned out to be raisins, which we always like.
The tamale stuffing was well-spiced, with cinnamon readily apparent, and probably cloves too.
Sweet chicken was an apt description for this tamale, which we really enjoyed. It wasn't exactly a dessert tamale, but it came pretty close.
Solber Pupusas are at the Red Hook Ballfields every Sat & Sun from April through October. You can also catch them at various special events and festivals. Check their twitter here to be sure.