Searching for delicious halal dessert recipes? You've reached the right place. One of the finest joys of traveling is the opportunity to experience local cuisine – and for those with a sweet tooth, there's nothing better than enjoying some of the best desserts other nations have to offer. Since traveling is no longer an option, why not make delectable delights like Italian doughnuts, English scones, and more at home? That's correct! You'll be baking up a storm in your kitchen in no time with this handy list of simple halal sweets from across the world. 
4 Halal Dessert Recipes You Should Try:
1. Bomboloni
When it comes to bomboloni, one of Italy's most famous sweets, there's no stopping you! Instead of the traditional hole in the center, this extremely fluffy doughnut is filled with a delectable Italian pastry cream that is just divine. It just takes one mouthful to fall in love and leave you on cloud nine. So, if you want to treat yourself to something special this weekend, try this halal bomboloni dish.
Ingredients 
¼ cup + 3 tbsp milk, room temperature 

1 ¼ tsp active dry yeast 

2 ½ tbsp granulated sugar 

½ cup unsalted butter, room temperature 

3 tbsp vegetable oil 

1 large egg 

1 tsp vanilla essence 

2 cups all-purpose flour 

1 pinch of salt 

1 cup pastry cream of choice 
Method 
Add milk to a stand mixer bowl and sprinkle yeast on top. Allow it to activate for 5 minutes before combining it with the other ingredients. Whisk together the sugar, oil, egg, and vanilla extract.

Slowly mix the flour, butter, and sprinkle salt into the mixture. Mix the dough at speed 2 with the dough hook attachment until everything is fully combined. Knead the dough for about 7 minutes or until the dough is smooth and elastic.

Knead the dough several times on a clean work area before forming it into a ball. Roll the dough around in a lightly oiled bowl to coat it with oil. Wrap it in plastic wrap and leave it away at room temperature for 2 to 3 hours, or until it has tripled in size.

Knead the dough several times before rolling it out to 14 – 13-inch thickness and cutting out around 6 rounds of dough with a cookie cutter.

Place the sliced dough on a baking sheet coated with parchment paper, cover with plastic wrap, and leave aside for 1 hour.

Fill a pan with about 2 inches of vegetable oil and heat to 170 to 175 degrees Fahrenheit. Drop the doughnuts in carefully and begin cooking. Flip them a few times and cook for 2 to 3 minutes on each side, or until golden brown.

Remove the cooked doughnuts and place them on a plate lined with a paper towel. Then quickly roll them in a bowl of sugar. Make sure to cover the whole doughnut.

Allow the doughnuts to cool slightly before creating a hole on the side with a spoon. Fill the doughnut with your favorite pastry cream using a piping bag, serve, and enjoy!
2. Mango Sticky Rice
This is among the most popular Halal Dessert Recipes. Mango sticky rice is a famous Thai dessert! The combination of sweet mango and rice pudding is nothing short of wonderful and is often offered as one of the most popular street food desserts not only in Thailand but also in Thai restaurants all over the world. This dish is simple to create at home, as it only requires a few ingredients. With this halal mango sticky rice dish, you're already one step closer to a tropical treat.
Ingredients 
1 ½ cup glutinous rice 

1 ⅓ cup canned unsweetened coconut milk, well-stirred 

⅓ cup + 3 tbsp sugar 

¼ tsp salt 

1 tbsp sesame seeds 

1 large mango, cut into 24 slices 
Method 
Wash the rice in a bowl with cold water until it's clear.

Drain the rice and place it in a strainer over a pot of boiling water. Cover the sieve with a kitchen towel and a cover and steam the rice for 30 to 40 minutes, or until it reaches tenderness.

In a pot, add 1 cup of coconut milk, 13 cups of sugar, and salt to a boil while the rice is cooking. Remove the pan from the heat and set it aside after the sugar is completely dissolved.

Place the cooked rice in a mixing bowl and top with the coconut milk mixture. Allow 30 minutes for the ingredients to soak into the rice.

Boil the remaining coconut milk with the remaining sugar in a separate pan for 1 minute, stirring constantly. Place the sauce in a medium serving bowl to cool and thicken.

When you're ready to serve, spoon some sticky rice onto a platter. Then drizzle with sauce and sprinkle with sesame seeds. Enjoy the mango slices in the appropriate proportions!
For more tips check out these homemade rice pudding ideas.
3. Chocolate Chip Cookies
We've all had chocolate chip cookies at some time in our lives. But have you ever had ones the size of your fists? We're here to tell you that they do exist! Levain Bakery, which has multiple branches across New York City, is famed for its massive cookies that are perfectly crispy on the surface and have a wonderfully melted chocolate-filled inside. So, the next best thing is to create these enormous cookies!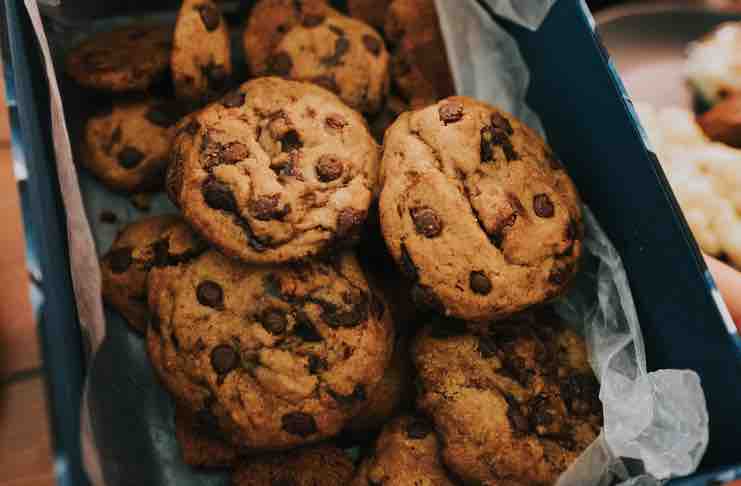 Ingredients 
½ cup cold butter, cut into small cubes 

½ cup + 1 tbsp brown sugar 

¼ cup white granulated sugar 

1 egg 

1 ½ cup all-purpose flour 

½ cup cornstarch 

¼ tsp baking soda 

¼ tsp salt 

1 bar of Cadbury Chocolate 

1 cup walnuts, toasted and roughly chopped 
Method 
In a mixing bowl, whisk together the butter, brown sugar, and white granulated sugar until smooth.

Mix in the egg and stir together in the sifted flour, cornstarch, baking soda, and salt until everything is perfectly mixed but make sure not to overmix. Finally, fold in the

Cadbury Chocolate

and walnuts.

Put the dough in the refrigerator for about 20 minutes. After that, take the dough from the fridge, divide it into 5 equal parts, and place it in the freezer.

Preheat the oven to 210 degrees Celsius. Place the cookies in the oven for 15 to 20 minutes, or until the tops are golden brown and slightly cracked.

Leave them to cool for about 10 minutes on the baking sheet before serving. This is essential if you want cookies that are crisp on the surface yet mushy on the inside. 

 With a glass of cool milk, enjoy your cookies!
4. Hotteok
I leave the best for last, or at least my favorite. This is definitely one of my favorite Halal Dessert Recipes. Hotteok is a Korean pancake that is loaded with brown sugar and almonds before being pan-fried; however, there are many alternative flavors available nowadays! Eating a warm hotteok right from the pan is a truly lovely experience that everyone should have tried. And, thankfully, you don't even have to travel to South Korea to taste it. Preparing hotteok at home is simple! All you must do is create the basic dough, and once it's done, you'll be able to fry up these delectable treats in no time!
Ingredients 
For the dough: 
250ml (1 cup) lukewarm water (you can also use milk!) 

2 tbsp sugar 

2 tsp instant yeast 

½ tsp salt 

1 tbsp vegetable oil 

2 cups flour, sifted 
For the brown sugar filling: 
¼ cup brown sugar 

½ tsp cinnamon 

2 tbsp chopped nuts of your choice 
Method 
In a large mixing basin, pour in the lukewarm water. Mix sugar, yeast, salt, and vegetable oil together until smooth.

Add the flour and stir everything until fully mixed and molded into a dough – the dough will be rather sticky. 

Cover the bowl with a cover or cling wrap and set aside at room temperature for 1 hour, or until it has doubled in size.

Punch the dough several times with your hands to eliminate the gas bubbles. Cover the dough once again and set it aside for 10 to 20 minutes.

Meanwhile, prepare your filling. In a small mixing bowl, add all the filling ingredients and stir well to mix.

Lightly grease your hands (to make it easier to handle the sticky dough), then divide it into 8 equal-sized pieces.

Take a piece of dough and flatten it in the palm of your hand using your hands. Pour a tablespoon of filling in the center. Bring the dough's edges together, pinching to seal. Repeat with the remaining dough pieces.

In a frying pan, heat some oil (approximately 2 teaspoons) over medium heat. Place 1 hotteok ball in the pan and cook for about 30 seconds, or until the bottom is a light golden brown.

Flip the ball over. Press down on the dough with your frying spatula or other flat heavy tool you must flatten it out into a disc form (you can flatten it a lot for a thinner pancake or flatten it less for a thicker pancake). Allow it to cook for a minute.

Flip the hotteok over once more. Reduce the heat to very low and cover the frying pan to help cook and melt the filling. 

Cook the remaining dough balls. It's best to serve it right away once it's been cooked.
I hope you'll enjoy these Halal Dessert Recipes, and if so – don't forget to leave a comment!
Charles Vallena is the founder and managing editor of Cuppabean.com, a coffee blog that helps people make better coffee by providing expert insights, recipes, and in-depth reviews on coffee makers. Follow Cuppabean on Facebook here.