Starting from the moment Thanksgiving dinner hits the table until every morsel of New Year's Eve's leftover snacks are consumed, indulgence is the theme. Maybe every day doesn't start with cheesecake but generally we think less about a balanced meal and more about how many treats are left in the cookie tin. 
There comes a time, like January, when you need a break from all the butter, sugar and the complete lack of green (green icing doesn't count), but that doesn't mean that you can't look forward to what you eat and drink! That's where Juicery Harlem fits in – a place where you can get a bellyful of nutrition but not skip out on the indulgence.
Located in the bustling center of Harlem, after seeing a show at the Apollo Theater or shopping at any of the numerous stores a few blocks away, you might find yourself a tad hungry. Juicery Harlem is the ideal spot for a light bite, the kind you want when you can't wait for the dinner plans you have with friends in two hours but you also don't want to spoil your appetite. 
You may have guessed it already but Juicery Harlem specializes in deliciously nutritious juices and smoothies. As soon as you step inside you'll notice the spacious interior accented with art from local artists and a few vibrant plants dotting a long counter for ordering your healthy tonic of choice. 
Look straight back and you'll find a bright open kitchen where all the house-made refreshments are quickly crafted. You might be tempted to grab a 12 ounce Mangonana and race out to continue your busy day but they also have a short menu of in-house food offerings that I highly suggest you consider.
What to get Juicery Harlem
Queen of the Green
The most verdant shade of smoothie possible due to the heaping portion of kale and baby spinach. I normally shy away from smoothies that aren't berry-forward because, honestly, I'm afraid they'll be bitter and nasty. Let's just say, I've been burnt in the past by green smoothies at lesser juice dealers. Queen of the Green is sweet, ultra-smooth, bright and banana-y, this smoothie was decidedly tasty.
Mangonana
This is my ideal smoothie concoction– Mango, pineapple and banana build up the fruity base with plenty of flavor and fiber while greek yogurt adds a delightfully creamy texture with the added benefit of probiotics. While fiber is good for digestive support it also allows the mixture to hold onto a fair bit of air bubbles during the blending process. More bubbles means a light and fluffy mouthfeel, so believe me when I say this smoothie is like drinking luxurious whipped fruit.
Golden Goodness 
When you don't want the filling effect of a smoothie but you do want all of the nutritional benefits of fruits and veggies in a quick drink, turn to a juice. Golden Goodness is sweet, lively and bright orange, owing its hue to all of the carrots involved. It has a concentrated flavor and although it is sweet the zesty sting of ginger cuts through before it begins to feel cloying. I don't suggest getting anything bigger than the 8 ounce serving because the flavor is rather intense.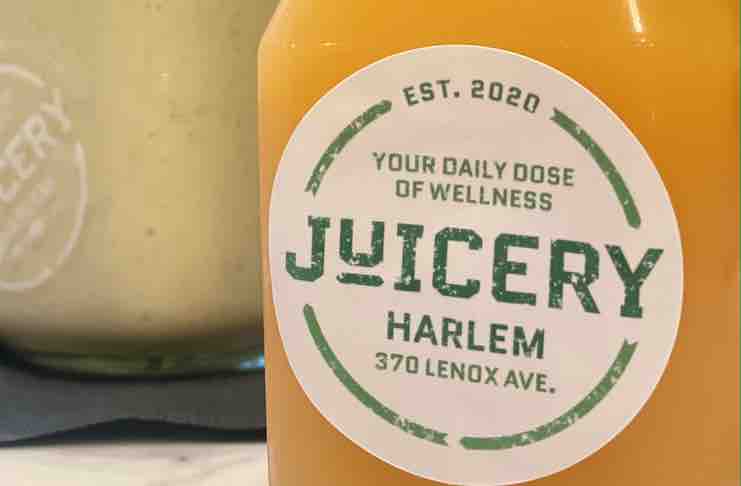 The Avo Toast
It's hard for me to turn down an avocado toast but it's also a gamble. You hope for a flavorful, sturdy piece of bread piled high with that silky, buttery, green fruit, yet often we run into a $15 plate of thin bread and a smear of pre-packaged guacamole. At Juicery Harlem you get exactly what you hope for plus a little unexpected bonus.  
They use country bread to start, which is substantial enough to pick up if you eat it right away, but I worry the moisture will make the toast soggy if you decide to bring it home. The avocado is absolutely perfect– soft, ripe and there is plenty of it. 
They season it with little more than a sprinkle of salt and a splash of lime and garnish it with thin slices of watermelon radish. The unexpected hero of the dish is the side salad of baby greens and cherry tomatoes tossed with a vegan coconut ranch dressing. The dressing is incredibly creamy and instantly elevates every leaf of raw greens it touches. 
I wouldn't have pegged it as a ranch dressing initially but, frankly, call it what you want, it's delicious. With the ranch dressing's coconut base, this entire dish is the kind of vegan that you didn't even know you were eating.
Juicery Harlem (follow them on Instagram) is not yet a year old, so it seems likely that they will be trying different menu items from smoothies to toasts. Why not stop by and see what flavor combinations you like before they explore different ones? You can find them on 370 Lenox Avenue just before the corner of 129th street. After a season of giving, it's the perfect place to spoil yourself with a nutritious boost.
Want to read more of our latest posts? Check out these trendy food and wine pairings you should try this year.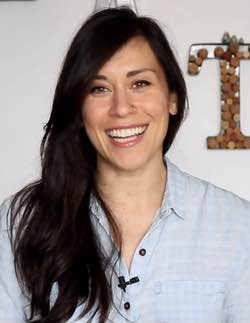 Allie has over a decade of experience as a personal chef, pastry chef and cake decorator. As a first generation Thai-American, she is deeply passionate about exploring cultural cuisines and sharing her own with others. She is a New Jersey native but she has called Brooklyn home for the last 13 years. You can follow her food photography and latest finds on Instagram @thainybites. Check out her delicious recipes and video tutorials on the Thainybites channel on YouTube. You can read more of her food writing on thainybites.com as she finds every possible way to inspire you to be curious about food!