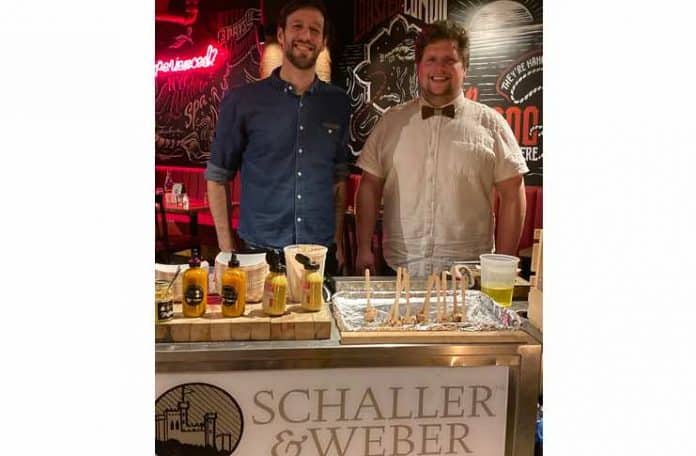 This is the story of three guys from NY bringing joy and flavor to NY one Sausage, truffles, burgers and lobster at a time.
The All-American dream.
One of the best NY stories I have heard all year. 
This is their story:
A German sausage maker for generations established in Yorkville had continued to feed NY'ers one amazing sausage after another. 
The upper east side had been my home for almost a decade. Living there amid the many changes that occur in NY. I was not your typical UES girl. What drew me in was the history and authentic little shops around the corner. 
Schaller and Weber are a family business since 1957 that thrived. 
The Schaller and Weber story begins nearly one hundred years ago with Ferdinand Schaller as an apprentice butcher and sausage maker in Stuttgart, Germany. Fast forward through years of experience and adventure and you'll find Ferdinand operating his butcher shop in the Yorkville neighborhood of New York's Upper East Side. That shop became the city's go-to for authentic German meat and sausages. 
Young Ferdinand Schaller spent his early years working and honing his skills throughout Germany and the Alsace region until he found himself apprenticing in Hamburg. From there he would soon set sail for New York. In Manhattan, Schaller met Tony Weber and in 1937 the two opened their butcher shop in the Yorkville neighborhood, on the Upper East Side. From the beginning, Ferdinand was determined to bring the sausages and charcuterie he had mastered to his new home. In a short time, the quality and unmistakable style of their sausages and smoked meats made Schaller & Weber the city's meat market of choice.
For decades, New Yorkers passed through the doors of the Schaller & Weber store, coming for the best meats the city had to offer. The reputation of the Yorkville butcher shop grew, and soon people across the country and around the globe seeking out the classic, European-style delicacies and sausages from this master charcutier. 
Today, Schaller & Weber remains a New York City institution with Ferdinand's grandson, Jeremy Schaller, at the helm. Nearly a century after first opening their doors, the Schaller family still produces the one-of-a-kind products and old-world delicacies they have become known for, and their meats are still found on plates in discerning homes and restaurants around the country. While the times have changed, the techniques and craftsmanship remain the same, making Schaller & Weber truly classic charcuterie for the modern meal.
Schaller & Weber began that way and still provide us with the best sausages you never imagined. 
Opening 82 years ago as a little shop on the UES then growing to have mass amount of shops throughout Manhattan. Once holding their kitchens in Astoria, they stayed true to who they are yet expanding and reinventing as time went on. 
Schaller & Weber opened a shop downtown in Manhattan's Lower East Side at The Market Line at Essex Crossing.
An exciting new venture.
Perhaps it was noticing that healthy eating habits were sweeping the country since trends start in NY, they worked on creating and marketing the healthier meats. Let's be clear – healthy is good. This is not a trend but has become a way of life for many of us. 
But flavor is always the priority.
Against the advice of the medical professionals I know, I still love meat. I love sausages. I love Schaller & Weber.
Butter is my best friend. Let me introduce you to truffleist.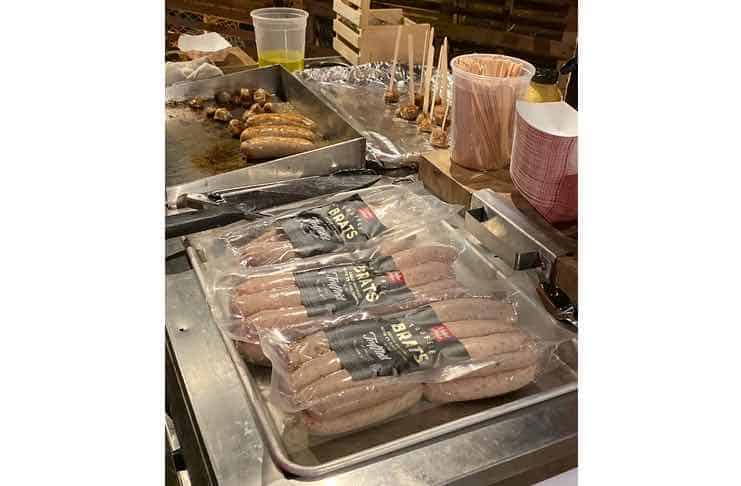 Speaking these words make me smile. 
Truffle's is decadence that average people can indulge. Too much can be too much, or can it?
A man named Jim met a man named Colter. Colter just happens to work for Schaller & Weber.
Jim made truffle butter for fun. Family and friends loved it. They said Jim you need to sell this stuff. So, he did. A family business was created again. 
Jim's Mom came and helped as every good mamma would. 
Selling Truffle butter on a bicycle around town they started a buzz. 
Colter said to Jim, we should do something together. Jim said yes.
The Truffle Brat was born. 
Sitting with these two adorable men you could feel the compassion and excitement like 2 proud papas. 
Truffle Brat…another favorite word to say. The Brat is flavorful yet delicate. The snappy casing that wraps around this beautiful pork with truffle and a few other bits of goodness. 
I love a good sausage I always have and always will. Pork is perhaps the most perfect meat and according to great marketing, it is the other white meat…so it's healthy. If healthy means good. I like broccoli but my mouth doesn't salivate with the thought of a nice juicy piece of broccoli with a dollop of mustard.
So, when I heard that this tasting was sausage and truffle at Burgers and Lobster…. what??? Early Christmas?
Mike was in for all of this and more. He loves meat. He loves brats. 
We frequent a lovely German Hofbrau in Astoria but can only do that now and then. 
Remember in our mind we want to be healthy. 
My first bite of the Truffle Brat prepared by Dan Lee, chef at Burger & Lobster on 19th Street was another level of amazing taste.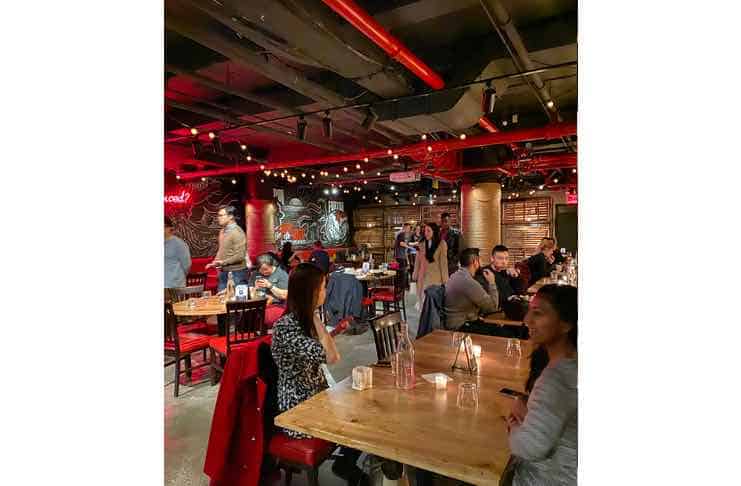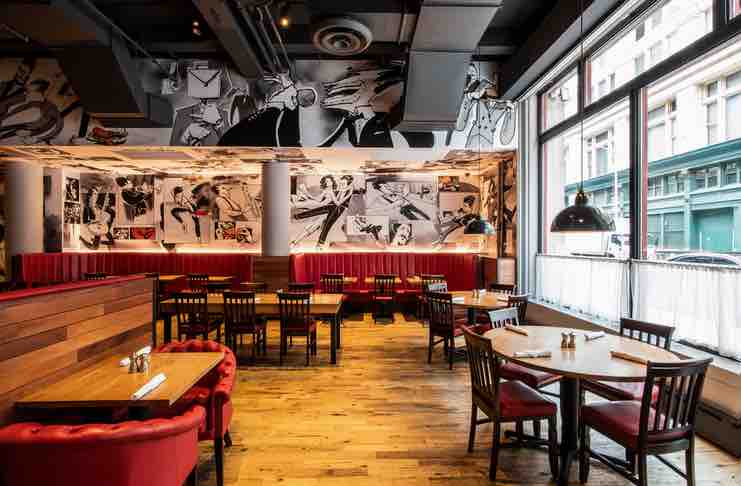 Food is sensory and emotional. 
They look – adorable. This mini brat wrapped in this roll. More about the roll later. A drop of mustard and in-house-made slaw. 
It was the baby in a swaddle. I had to take a bite; it had a slight crunch we look for. Then the flavor hit me like chocolate. Smooth and delicate but flavorful. Subtle but not needing anything more. The slaw was perfect. Not overdressed and a light sweetness that blended well with the hearty mustard, the little kick of spice that was the only bit of heat to enhance the truffle brat. That baby was the star.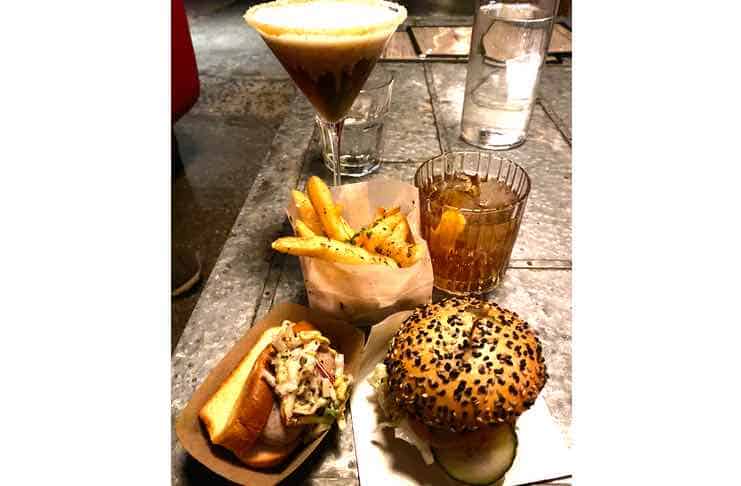 Now the swaddle was the roll. Potato, sourdough brioche.
The 3's that created my favorite bread. Chef Lee's recipe and made locally and brought in daily. 
I love that…they constantly build the food community and partner with the NY food industry. 
Isn't this how an empire begins?
Chef Dan Lee was the first that came to sit with me with food in hand and an engaging personality.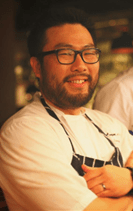 I love speaking with the chefs. What I love more is when the chef wants to speak with me. This is a tough job. Long hours, an overwhelming amount of pressure and hoping people love what you love.
Dan won the Thrillist award last year and met Schaller & Weber. Impressed with Dan's approach to cooking Schaller & Weber said…we must work with you. 
This was the third piece of this puzzle.
This is a chef that loves what he does but more than that, the time I spent with him I discovered he is also super nice. 
Kind and passionate all of this and more shows in Burger & Lobster's menu. As the Executive Chef of Burger & Lobster USA, Korean born, and Brooklyn raised Danny Lee serves as the brand's culinary director in the U.S. He currently oversees an Executive Chef at each of the Flatiron and Bryant Park restaurants, supported by sous chefs and full kitchen staff.
More about Chef Dan Lee:
Prior to joining Burger & Lobster, Chef Lee honed his culinary skills during a decade long commitment with B R Guest Hospitality, working his way up through the kitchen ranks after graduating from the French Culinary Institute.  Much of his tenure was spent at Blue Water Grill and Blue Fin, two of New York City's most popular seafood restaurants, which cultivated his affinity for understanding and mastering the cooking of seafood. He started his culinary career at Blue Water Grill as a line cook, where hand-cracking lobsters were his specialty and certainly contributed to the passion and expertise he brings to his team at Burger & Lobster.
Chef Lee is a devotee of "no fuss" dishes that deliver robust flavors coaxed out of top-quality ingredients.  He brings his philosophy of simple, quality ingredients and preparation to his dishes, favoring traditional plates with a degree of rustic simplicity balanced by a sophisticated understanding of how textures and flavors work well together.
Married with one young daughter, he resides with his family in Bay Ridge, Brooklyn. In addition to the culinary arts, Chef Lee is also passionate about family and the Mets! 
How could I not love Chef Lee…amazing food and a Mets Fan.
We ate in the underground which is downstairs or rather the basement of Burger & Lobster. A huge space with the bar against the back wall. Wood crate Lobster pot wall running throughout the room. 
A bit of a speakeasy feels but warm and welcoming space. 
My travels through New England always makes me feel somewhat sheeshe. The lobster was that fancy dish you had on special occasions or when your rich Uncle would take you to dinner. 
A more expensive meal than most and if you were lucky enough to do surf and turf, well fuggeaboit. 
This night was special beginning with the lovely invite to the introduction of Schaller & Weber, Truffleist and Burgers & Lobster collaboration. 
It's a lot I know. 
Immediately we were warmly greeted by Laura who put this event beautifully together. 
What did I learn from this evening? 
Newport RI isn't the only place to get an amazing lobster roll. Chef's Lee recipe for his rolls and bread is genius. Like if a Brioche met a potato and they had a friend called sourdough and became a boy band. This was a winning combo. 
I learned I love truffles. OK, that isn't anything new, but the truffle brat is, and I would marry it. 
I met three amazing men that are THE 3's to watch. They are doing everything right and in my opinion, this all comes easy to them. It's not. We all know how hard it is to launch new products. The creation of this collaboration is new but years in the dream making. 
The team with Burger & Lobster was perfect. 
The personalities of this Trifecta are a winning combo. 
Now I can't complete this article without mentioning more about Burger & Lobster. 
Dan Lee put a beautiful menu together. The Lobster roll as I mentioned is all over New England and a must-have. The bun, remember the bread? It's the same dough used throughout his menu. The lobster was cooked to perfection chunks of lobster and not overly dressed but with a light dressing. I could have had a dozen of these. Then we had the burger. This was I think supposed to be a slider. The biggest mini burger I ever had. Yet it all stayed together like magic. Bun…yup same dough but this time with a generous amount of black sesame seeds blanketing on top. Pickles…I asked how these were made. He could tell me but then he would have to kill me. 
This just might be the best burger in NYC but that will be most likely be challenged. 
Living and loving in NYC, food has been a passion of hers. East Coast to West, Faith's goal is to explore and learn with the contribution of other like-minded foodies. Faith Rein has written for 2Girlsfromabar@blogspot.com. Youtube channel – faith.rein, love food love faith. You can find her @: Faith.rein/facebook (always looking to add friends) / faith rein@twitter / faith.rein@instagram / faith.rein@gmail.com