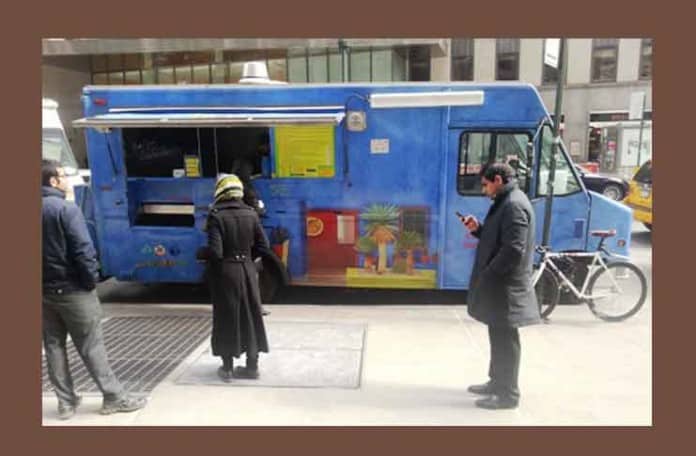 Beautiful day again today.  For those of you in midtown, Frites n Meats is making their first foray into midtown at 52nd St and 6th Ave.  I'll be there. Also, Rickshaw Truck is not out today, but will be back to Columbus Circle area next Wed.
CupcakeStop – 60th and Lexington: Red Velvet, Pineapple Crumb, Vanilla Chocolate, Chocolate Red Wine and Cookie Dough! & Gluten Free cupcakes
RickshawTruck – Good news or bad news? Spoiler Alert! Being a New Yorker you probably want bad news first anyway: no dumpling truck today boo!  Good news: we still love you Wednesday Dumpling Eaters and we will be back next week!
fritesnmeats – Good morning Midtown! Burger Love is only 90 mins away! We're on 52nd & 6th. Love is now being served!! No more preorders
StreetSweets – U asked & here we r! New location alert. Today St. Sweets will b on 52st & Lexington (SE corner) from 10a until 3:30 then to 9av & 59st @4p.
VLAIC – Panda & Roo in their usual spots today. Iced Espresso Drinks Are back. Cold brew single origins coming back in april.
waffletruck – Happy Wednesday! We're on Hanover Sq and Pearl St til about 4:30pm. Howl like a wolf for 1 free dinges today. Ahooooooo!
schnitzeltruck –
nyccravings – State btw Pearl & Bridge: Ready by 11:30!
schnitzeltruck – Eyyyy park ave bet 26th & 27th… Can you believe this weather… You know a schnitz will make your day even better.. Be there @ 11:30 🙂 Don't forget guys, if you want to preorder, there is now a 2 order minimum.. Thanks for understanding… 346-772-7341… Let's have some fun
CalexicoCart – Both carts are out and the special today is braised pork ribs in a chili guava sauce. Enjoy
fritesnmeats
New Jersey Food Trucks
TheTacoTruck – Lunch in Hoboken today @ Sinatra Dr and 1st St from 11:30-2:15. Call ahead 201.577.4214 http://fb.me/6bqjnsq
As always, check the pink Mobile Munchies twitter feed on our homepage for the latest information.