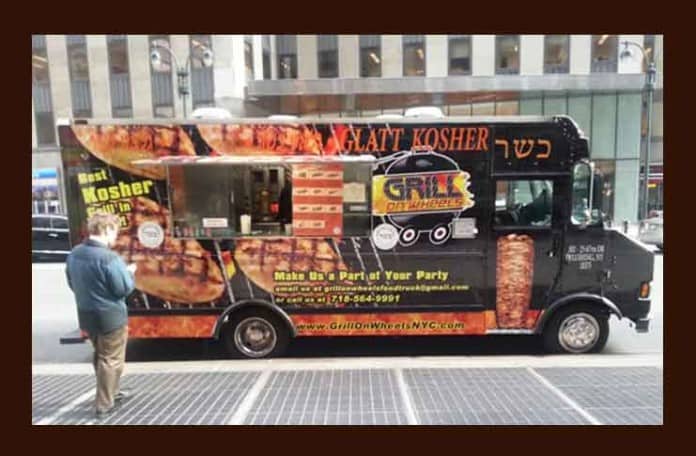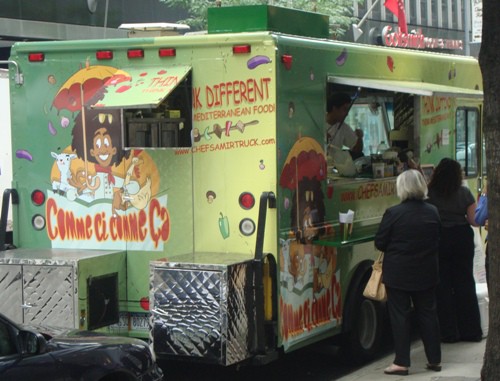 It's not a nice day out weather-wise, but you can still enjoy some great New York Street Food from the vendors on the right and below.
As always, check the pink Mobile Munchies twitter feed before heading out in case any of the vendors had to move at the last minute.
waffletruck – Belgian Wafels & Belgian weather on Hanover St btwn Water & Pearl until 4:28 today! Sing the Sesame St rubber duckie song for 1 free dinges.
schnitzeltruck – Park Ave b/w 26th & 27th 11:30-2:00. Don't wait in this rain. Call in your order @ 347-772-7341. Schnitz will bring the sun back into your life. Mucho traffico peeps. Will likely open round 11:45 or so.  C u soon
2 new tweets.
Mexicue – We're on 40th and 6th today… Open at 11!
1 new tweet.
nyccravings – Argh! This rain needs to stop! Broad st. btwn Pearl st. & Water st. Ready by 11:30!
VLAIC – La tortuga from Honduras being brewed at both coffee trucks : 5th &. 15th, 5th & 23rd. All day long
StreetSweets – Gd morning NYC! Beat the morning blahs with some coffee and delicious croissants from our mobile bake shop @ 52nd and Lex!
2 new tweets.
fritesnmeats – Howdy FiDi! We believe in Burger Love! Do u? Only Burger Love can keep the sky from crying. Were on Water St & Broad St. Front of Chase Bldg. And of course on a day like today, best way to get ur Burger Love and not get wet, is to call in ur order & just pick it up. 917.292.9226
2 new tweets.
CupcakeStop – CupcakeStop trucks on 99 & Madison and on 58th and 8th,shoppe inside Limelight 6 & 20 and bakery in Montclair 1 Greenwood Ave. Red Velv, Funfetti, Oreo, Chocolate Peanut Butter Swirl, Nutella Crunch, Mexican Chocolate, Cannoli and Drunken Raisin!!
EddiesPizzaNY – 52nd and 6th until 3pm then off to Upper East Side. Call ahead your order early this morning to avoid a wait. 917-439-7522. dont let the rain ruin your pizza wednesday! special today is Margarita pizza. bar $8, large $14.50
joyridetruck – TriBeCa, Joyride is on the way, aiming to be on Hudson between King and Charlton from 8:00am until 6:00pm.
CalexicoCart – Today's special is slow roasted pork in a green chile & coconut milk sauce. Enjoy!
PapaPerroneWe will be on 55th btwn Park & Mad. Wednesday's special Eggplant Parm try it on our fresh garlic bread.
2 new tweets.
KELVINSLUSH – Looking like it may be another rain out today =( Rain, rain, go away …
qbacubankitchen – No service today due to weather. C u mañana in midtown! Gracias
Hoboken/Jersey City
VeganLunchTruck – Cinnamon snail on the cooking channel. How come no one told me I sound so weird when I talk… http://bit.ly/djF84e
TheKrave – Another rainy day =( – If its just drizzling, we'll come out…but if its umbrella only weather, probably not. http://tumblr.com/xl1gokke1