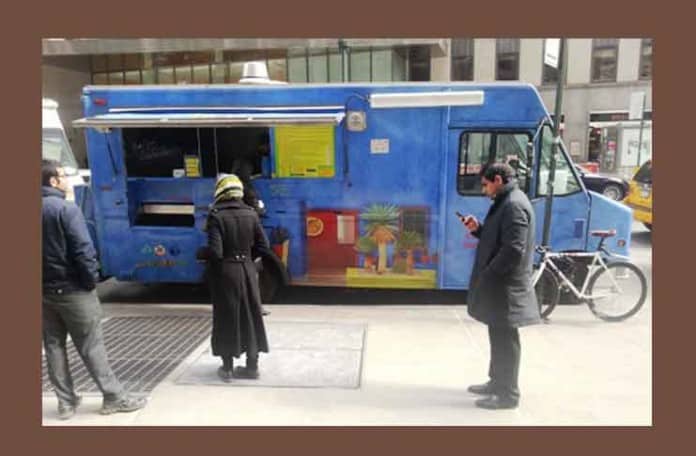 A little muggy, but fairly nice day today.  Make sure you get out a little today – and while you're out, enjoy some great street food from the street vendors on the right and the food trucks below.
It's Day 2 of Street Sweets' 1st Birthday promotion we told you about here.  They're on Hudson St just south of Houston St.  Pras from the Fugees will be at the new Cupcake Stop truck in the South Street Seaport, where they will be giving away 100 free cupcakes and t-shirts at noon, and announcing a special line of cupcakes for Haitian relief.  Bistro Truck has their poached tilapia special, one of NYSF's favorite lunches.
Some great stuff going on tonight too.  See the Big Gay Ice Cream Truck and Asia Dog tweets below.
As always, check the pink Mobile Munchies twitter feed before heading out.  These trucks sometimes have to move on a moment's notice.
BistroTruck – Good morning lunchers. Special of the day: Poached fillet of Tillapia in Extra virgin olive oil, served over basmati rice & salad; Soup du jour: tomato rice; Dessert: Rasberry mousse
RickshawTruck – Thurs 6/3: were serving from 11-3 on hanover sq. Also serving on hudson and houston stop by and say hello!
CupcakeStop – Truck on 5th & 23rd. New truck at the Seaport w/ Giveaway starting 12pm! Meet Pras from The Fugees! Shoppe inside the Limelight 6th & 20th
Jamaicandutchy – Todays lunch special at the Jamaican Dutchy is stew peas. Come on down to 51st & 7th ave 646 287 5004
waffletruck – Thursday is upon us! We're on 46 btwn 5 & 6 til 4:30 in the pm. Tell us your superhero name for 1 free dinges today.
schnitzeltruck – Come fly into the wiener schnitz clouds with us today. Boarding @ 11:30 on 48th & 6th. Cruising altitude will be 30,000 miles up in the sky
StreetSweets – Another day of B'day celebrations give aways, Hudson St btw King & W.Houston 8a-3:30p then to 9th Av & 59th St 4p-7:30p more details to come
4 new tweets.
fritesnmeats – Howdy Park Ave!! We are in position between 26th & 27th. Give us a shout & avoid the line. Taking preorders until 12. 917.292.9226
nyccravings – 53rd btw park/lexington…ready by 11:10! http://bit.ly/9XH1rW
VLAIC – Cool down with Chamomile Mint Ice Tea or a Cold Brewed Iced Coffee. 23rd & 5th, 5th & 15th
2 new tweets.
CalexicoCart – Both carts are out. The special today is braised beef brisket in a roasted jalapeño sauce. Enjoy
biggayicecream – Thursday night: 7-9 at 44 Charlton St- outside WNYC. I'm there as part of @OSLmusic's "Subway Series". More: http://tinyurl.com/BGICTosl
asiadognyc – ASIADOG will be at TROPHY BAR TONIGHT! 7-10pm. $3 dogs and $4 burgers.. ahhh just like the good ol days.
Hoboken/Jersey City
TheKrave – 6/3 – 12:00-2:00, Hudson & Essex, Inside Liberty Towers Gourmet 12:00-2:00, Hudson & Harborside Pl…. http://tumblr.com/xl1awxgcd
laspicetruck – hudson and somewhere? 11:45-2:00 gourmet sandwiches today and the jamba..
TheTacoTruck – Sorry JC, no lunch today..catering for the Bored to Death crew today. http://fb.me/wX3NxI61