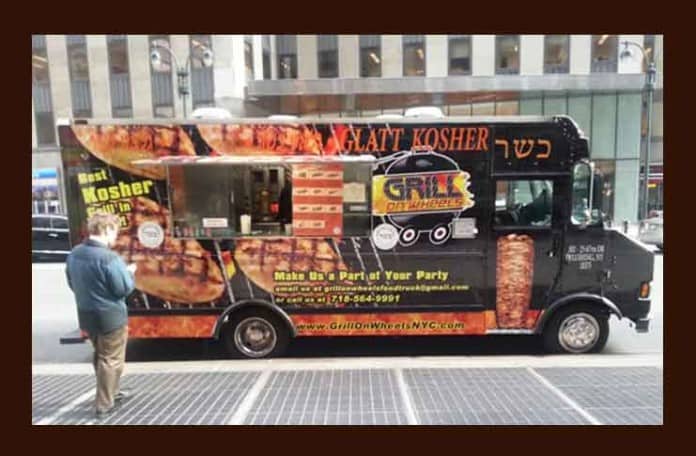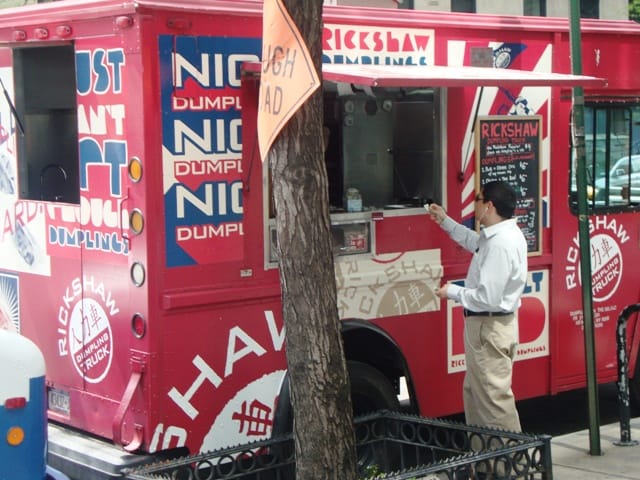 Once again, it's the calm before the storm, with an estimated 2-4 inches of snow due tonight and into tomorrow morning.  If that happens, we don't expect to have a Mobile Munchies post or a street food lunch tomorrow.
Wafels & Dinges is branching out with another savory dish – a spicy maple sausage & gravy wafel, topped w chopped chives.  They already have a pulled pork wafel that we really enjoyed, but it's going to be tough for us to get there soon, so if anyone tries this dish, please let us know how it is (and take a picture too).
Papa Perrone is out with the flu, but otherwise, all the trucks are out today.
As always, check the Mobile Munchies twitter feed before heading out, in case anyone had to move at the last minute.
RickshawTruck Thu 1/20: It's a special day! Szechuan dumplings in Midtown (50 b/w 6&7). Duck dumplings at Columbia (114&Bway) and Soho (Hudson&King). 11-3
waffletruck Spicy maple sausage & gravy wafel, topped w chopped chives.  Thursday! 46th btw 5 & 6th till 4:28pm. Les carts: Vedette at Central Park Zoo (5th Ave & 60th) and Goesting at NY Times building (40th btw 7 & 8). In protest of what are Belgian men letting their beard grow?? For 1 free dinges.
TaimMobile We are on 40th and 6th today by Bryant park ! Today we have harissa falafel as the daily special ! See you at lunch
SweeteryNYC Gd morning, Sweetery is at Hudson & King st with new varieties of scones & muffins loaf cakes, all are a must try! Sweetery's new items-Winter Strawberry & Bacon Cheddar Chive scones;Pumpkin, & Cran/orange muffins; Pumpkin & Apple loaves
UncleGussys Thrilling Thursday specials Pork chops marinated to bliss lol Served with lemon potatoes and a delightful Greek salad. Mom made her famous lentil soup Real good stuff;) Begging Almost forgot cousin Tony made us some blueberry cheesecake 😉
BistroTruck On our way…16th St & 5th Ave
Mexicue Water & Broad! Open at noon!!
fritesnmeats Lunch today on 116th & BROADWAY. Sorry people no parking on Amsterdam. preorder 9172929226. burger of the week THE ITALIAN JOB. come get some homemade killa chicken noodle soup and dessert treats
schnitzeltruck Morning everyone:) we'll be on 52nd & 6th from 11:30-2:00. Time for schnitzification. Come come getcha some:) restaurant is taking shape:))
ETRAVAGANZA Carne asada tacos on a blue corn tortilla!!!!tasty.
joyridetruck Mid-town East, come get your am coffee on in style! We are brewing beautiful coffee here at 52nd and Lex.
cakeandshake Tropicalia-Our Latest Creation-Tahitian Vanilla Cake with Pineapple Mousse and Salted Caramel Frosting. It is so good! Breakfast Treat! Our Newest Savory Cake – SPINADA!! Spinach, Peas, Sofrito in a Crispy Dough Cake! Delicious!
CupcakeStop CupcakeStop is back to visit our friends at the Flatiron, Parked on 5th and 23rd today!
EddiesPizzaNY Happy thursday. 52nd btwn 3rd and lex until 3pm. We have Hawaiian Pie, Hero's, Soup and more! Call ahead your order 917-439-7522
cupcakecrewnyc Today the Crew parked on 6Ave. and W18th st. with 8 more great flavors. Come by and dazzle your tastebuds with a taste of "LOVE"Cupcake CrewTodays Flavors:Cinnamon Vanilla Pecan,Choc Raz,Peppermint Chocolate,Red Velvet,Raz Cheesecake,Peanutbutter Cup,Choc Orange & Cranbrry Pecan!
KorillaBBQ Heading to midtown east for lunch Stay tuned for exact location and times.
PapaPerrone The Papa has the flu and won't be able to make it in sorry guys. We will be back once he gets better.
Hoboken/Jersey City
TheKrave 201-737-8211 For Jersey City Delivery and Pick up! – 12:00-2:00 Hudson and Harborside Pl. 5:30-9:00 Columbus…
http://tumblr.com/xl11azuoeb