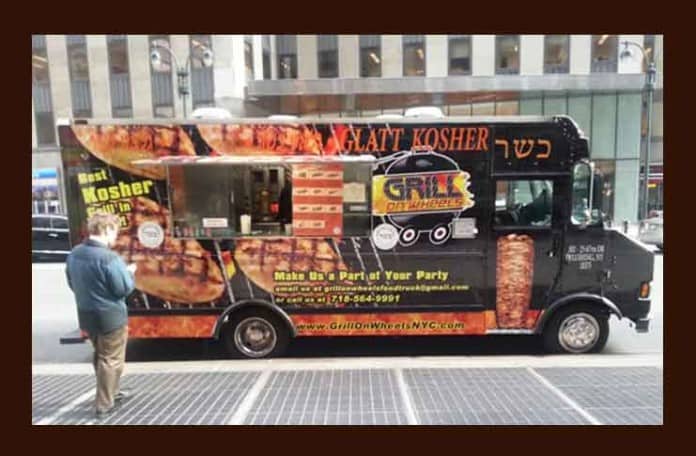 Another gorgeous day in Gotham.  Perfect for some alfresco dining.  The best food carts are to the right and the best food trucks are below. Enjoy!
nyccravings – Come for an early lunch at 53rd btw park and lex! Ready by 11:00!
StreetSweets – Street Sweets will b on Hudson St btw King & W Houston all day. We will b starting night time hours soon, tell us where u would like to c us
waffletruck – Happy Thursday! We're on 46 btwn 5 & 6 til about 4:30pm. Give us your "Lost" theories for 1 free dinges. If you haven't seen it, make it up.
schnitzeltruck – It's Thursday? Dsssssam!! Means we gotta stock up on the schnitz:) gonna be on 48th and 6tg.. C u there u schnitz fiends!! 😉
RickshawTruck – Thursday…day after hump day! FiDi: Hanover Square and also serving at Chelsea Market: 9av bet 15 + 16. Come and get it! 11a-3p. Hey Hudson Street dumpling lovers. we will be coming over to you guys on friday (tomorrow) instead of today (Thur). See you then!
fritesnmeats – Hey Hey FiDi! We're on Water & Broad. Taking preorders until 1130. Give us a shout & dont wait on line. 917.292.9226
CupcakeStop – 5th & 23rd: Red Velvet,Chocolate Oreo Crumb,Vanilla Chocolate, Coconut Cream,Banana Baked Oatmeal,Carrot Cake and White Chocolate Raspberry!
1 new tweet.
CalexicoCart – Both carts are out and the special today is spicy ground beef. Come and get some.
hrtschallenger – http://twitpic.com/1e1umx – Our friends from LA are having a show in NYC. We will be there with the truck, come if you can!
New Jersey Food Trucks
thekrave – 4/8 Schedule – Lunch #1: 12:00-2:00, Hudson & Essex, Inside Liberty Towers Gourmet Lunch #2: 12:00-2:15,…
laspicetruck – hudson & york 11:30-2:30 gourmet sliders and the LST jambalaya. dessert chocolate ganache, coconut bavorise in a cup. come show your support for the "Little White truck" the New York Times is coming today, C u there
1 new tweet.
TheTacoTruck – Lunch in Jersey City today @ York St & Hudson St from 11:30-2:30. Call ahead 201.577.4214
As always, check the pink Mobile Munchies twitter feed to the right for the most up-to-date information.