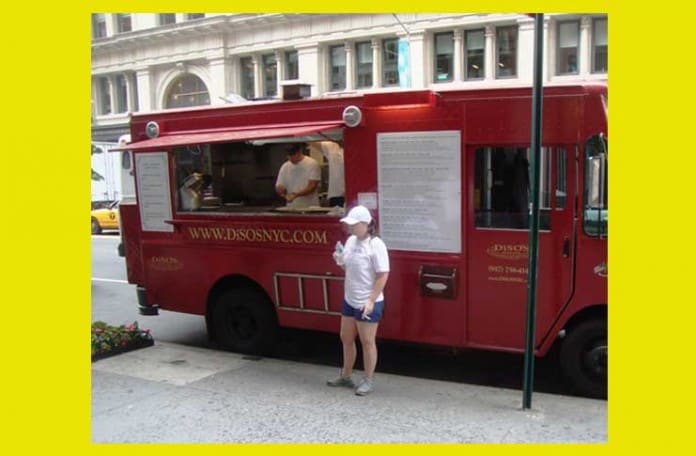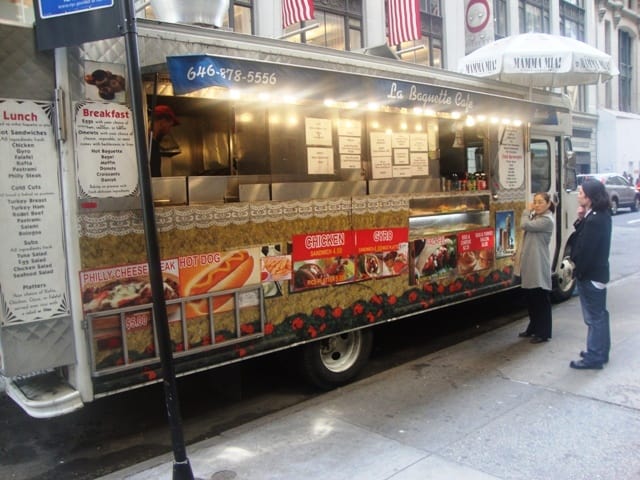 Some of the vendors are taking off for Columbus Day, but the trucks below are working.  Should be a nice day out for some great New York Street Food.
As always, for the most up to date information, check the Mobile Munchies twitter feed before heading out.
cakeandshake Glorious Day! Met is open and so are we for your sweet needs!
biandangnyc We're here on thr corner of governeur la and front St!!! Serving from 11:30 to 2pm !!!
gcnyc1 Gorilla Cheese NYC We'll be at 55 & 6 today from 11-3 & again on Thurs 2x the cheesy goodness this week. Bacon falafel melt is so special – bacon is inside the falafel ball.
bigdsgrub Lunch at 46th & Vanderbilt, no breakfast or dinner service today. RT @CloudyFish: @bigdsgrub breakfast today?
waffletruck LeTruck will be @ broadway/113th st from 8-4:30. Madison sq market dinges is open 11-9. Bierbeek cart is out at columbus circle til 10pm-ish. Goesting cart will be @ Mercer/W4th til 10pm-ish. Vedette @ 60th/5th ave til sundown. Kotmadam @ great lawn of central park 11-til dusk. Red dinges alert! Secret password: sing a song about monday(s) to your wafel chef for a free dinges on your wafel. Shhhh. It's super secret.
EddiesPizzaNY This wks special: Fig Pizza w/Makers Mark Marinated Caramelized Onions 10″ Bar Pie: $10 Large: $17