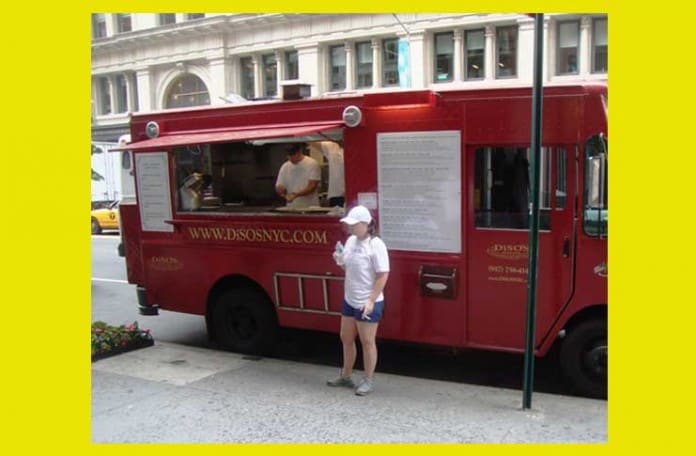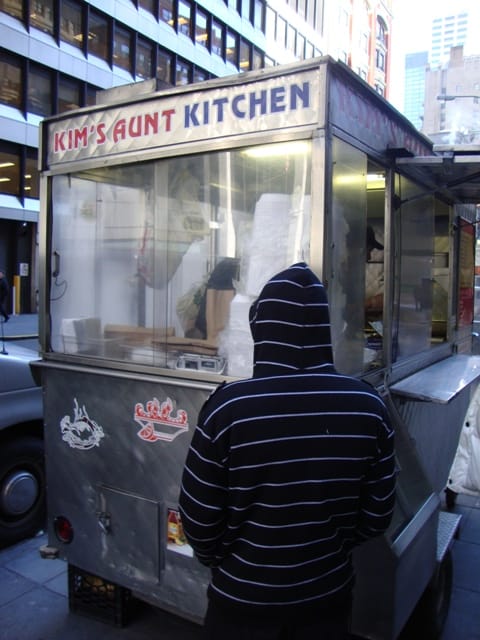 We're expecting some rain later, but some of the vendors will be around for lunch today and certainly over the long, beautiful weekend.  Several of the trucks will also be at the Electric Zoo music festival on Randall's Island Sat & Sun.  As always, check the pink Mobile Munchies twitter feed on our homepage for the latest locations.
Best wishes to my sis, who is having surgery today and reads NYSF regularly.
Wishing everyone a great Labor Day holiday weekend.
3 new tweets.
nyccravings – King & Hudson! Ready by 11:30!
fritesnmeats – Howdy do FiDi! Gettin' ur Labor Day Wknd off with Burger Love. Were on Water & Broad. Today is Sassy Friday! Get any Burger with Frites & get a Free Sassy Frites Sauce! Just say "Gimme Some Sass"! Easy as that.
EddiesPizzaNY – flatiron! we are on our way to park ave btwn 26th and 27th. Last day for chicken cutlet w garlic special! Call ahead order…9174397522.  get your eddie's fix before we head to the hamptons…
waffletruck – Happy FridaYAY! We're on 52 btwn 6 & 7 til 4:30pm. Act like you're being blown away by a hurricane for 1 free dinges today.  Riverside Parkians – up and running again – in your backyard, down at 68th St. stairs. Till about 9:30pm tonight. Just for you.
CupcakeStop – Today you'll find the CupcakeStop trucks on 99th & Madison and 7th & 29th,our shoppe inside the Limelight 6th & 20th and bakery in Montclair. Today's NYC Menu features, Apple Pie a la Mode, Cappuccino, Oreo Crumb, Red Velvet, Chocolate PB Swirl and more!
ETRAVAGANZA – Happy friday chorizo egg n cheese on our. Healthy 7 grain. Hello amigos.don't forget gettin your tacos, burros quesadillas, before u holiday weekend
Hoboken/Jersey City
TheKrave – Schedule – pending severity of hurricane – Hudson and Harborside, 12:00-2:00 Columbus and Marin, 5:30-8:30
laspicetruck – hudson and york 11:45 -2:00 come try the cajun grilled chix sandwich today! dessert: choco and praline and coconut and pineapple…
VeganLunchTruck – Alright, the verdict is in. I wil NOT be bringing the truck in to Hoboken today. With the storm warning in…
Closed Today
KELVINSLUSH – We're closed today (boo Earl) but remember whoever tweets us the best Kelvin motto wins 10 free slushies! Winner announced Sunday 9/5. See you Saturday in the City and Sunday on Governors Island!
qbacubankitchen – taking admin day off truck…c u next week! have a happy holiday!
StreetSweets – Street Sweets isn't out Fri. gearing up 4 a huge weekend @ Electric Zoo Music concert on Randall"s Is.
joyridetruck – Joyride is keeping away from the rain today, catching up on some office work.
VLAIC – 5th & 23rd truck being repaired today 🙁 sorry 🙁
GuerrillaIC – Weekend flavor: Shalom/Salaam – Olive oil and honey ice cream topped with candied lemon peel & pistachio. See you at @hesterstfair on Sat!