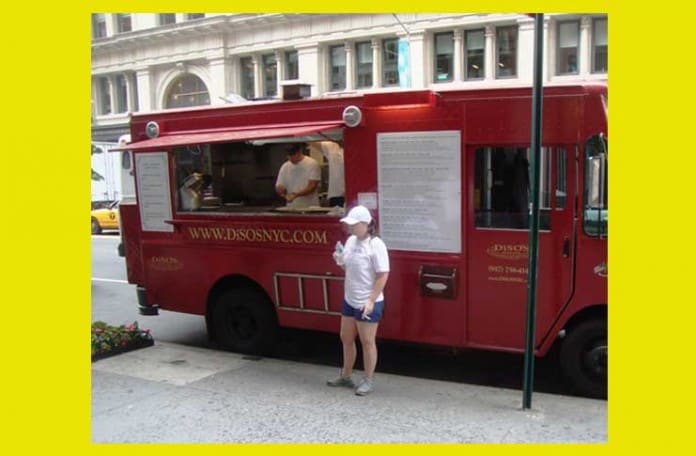 It's a gorgeous Friday. Make sure you get out and enjoy some great street food from the vendors on the right and the trucks below.
Don't forget to check the pink Mobile Munchies twitter feed before heading out. You never know when a truck will have to move at the last minute.  Schnitzel & Things had a flat tire this morning, but it's now fixed and they will be in Dumbo. Go Burger is starting weekday service and is downtown on Maiden Lane.
Also, vote for your favorite vendor in order to help determine the 2010 Vendy Award nominees.
There will be no Today's Lunch feature today, but we will be back to a full schedule next week.
GOBurger – Maiden Ln from Water-South S come get your lunch you wanted us down here now you got us
RickshawTruck – Fridays are our total favs. Come celebrate with us! Midtown west 45th and 6th! Also chelsea 15th and 9th!
nyccravings – We're on Hudson and King waiting for a spot to open up. Prepping up now.
fritesnmeats – U know u want Burger Love but u dont want to wait 4 Burger Love. Avoid the line! reorders taken til 1130. 9172929226. Were on Park & 26/27
schnitzeltruck – If we're making it out anywhere it's gonna in DUMBO.. DUMBO we might be there by noon. Spread word.
CupcakeStop – Broadway & Spring: Red Velv,Funfetti,Nutella,Oreo,Van Choc,Cookie Dough,Choc Choc,Van Van,German Choc,PB Choc Chip & Boston Cream! .
waffletruck – Hello fantastical Friday friends! We're on 52 btwn 6 & 7 til 4:30pm. Give us your best bow and arrow shot=1 free dinges.
BistroTruck – TGIF's Couscous royal today…
StreetSweets – Street Sweets will be on 50th st just west of 6th Ave (btw 6th & 7th Av) from 8am until 5p. BistroTruck – TGIF's Couscous royal today…
New Jersey Food Trucks
VeganLunchTruck – Todays forcast has called for scattered thunderstorms and chances of hail. I will be back in Hoboken tomorrow.
laspicetruck – LST truck isn't working today, catering for 40 people 9C tavern and desserts for a prep wedding dinner sun! and LPT desserts sat, sun. C u