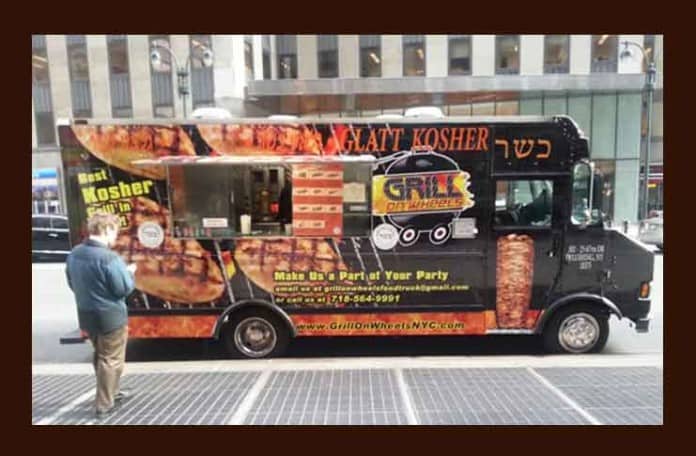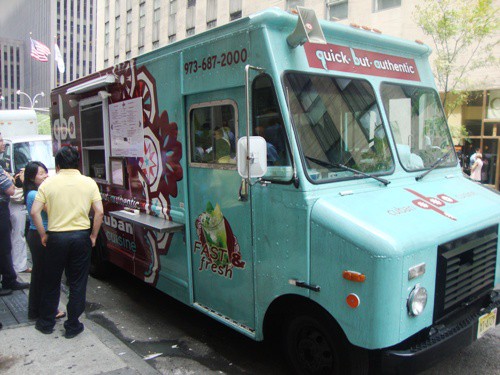 Looks like the rain will hold out until after lunch today.  That means it's a great day for enjoying some New York Street Food from the vendors on the right and the trucks below.
As always, check the pink Mobile Munchies twitter feed on our homepage before heading out in case anyone had to move at the last minute.
qbacubankitchen – 11:30-1:30 lunch 44th st near 5th ave! Come get ur Cuban on! Gracias y buen provecho
StreetSweets – Street Sweets will b in Front of Fed Hall near The NY Stock Exch shooting a segment for CNBC The Wall St Journal Report,& we expect 2 b open
RickshawTruck – Make Friday super epic with dumplings!! MIDTOWN: 45th & 6th and Chelsea: 15th and 9th. You're on the clock!!! 11a-3p!
juicepirate – juice truck gearing up to work Williamsburg today! Hold of the rain, the people need fresh juice!
fritesnmeats – Howdy folks. Fox News taking up our midtown location tdy. So were heading to FiDi! We'll be on Water St & Broad St. Sorry Midtown, c ya Tues
EddiesPizzaNY – Happy friday (7/23) we r on 26th and park! Start off your weekend with a pesto pizza!
nyccravings – Hudson btw King and W. Houston! Ready in 10 minutes!
JiannettosPizza – early jump today, ready for lunch by 11! Call us to inquire on how to have the Pizza Truck at your next party! 917-753-0819
schnitzeltruck – 52nd and lex you ready to be schnitzified? We'll be open @ 11:30. Preorder @ 347-772-7341
CupcakeStop – No 33rd and 7th today due to No Parking so we're on Broadway and Spring and Madison and 99th. Also in the Limelight and in Montclair NJ!
waffletruck – It's Friggin' Friday! We're on 52 btwn 6 & 7 til 4:30pm. Do your best "hog call" for 1 free dinges today. Suuuuuweeeeeee!
joyridetruck – Joyride is on its way. See you soon at 52nd and 6th (SW corner). We're going to be @ 52&6th next week as well!
quickstopkosher – Today we will be @park ave corner 24 str from 8:15-2pm .  Today from 12-2 free (moshe's falafel) tasting let's go.
LilyLollys – Its a beautiful day, come down from your offices and treat yourself to Pistachio and Rose today, Lemon Buttermilk on the way.
ElDiabloTacos – Modest Mouse tonight Williamsburg Waterfront come & eat tacos!
KELVINSLUSH – Stay tuned here for details. We'll be on the streets this weekend! Thanks to NewYorkStreetFood.com for the Dessert Alert: http://tinyurl.com/24879pr.
Hoboken/Jersey City
laspicetruck – hudson & york 11:45-2:00 today chicken and mushroom dumpling! come get you some
VeganLunchTruck – Open for breakfast and lunch on Sinatra and 3rd. Come check out our new menu items!