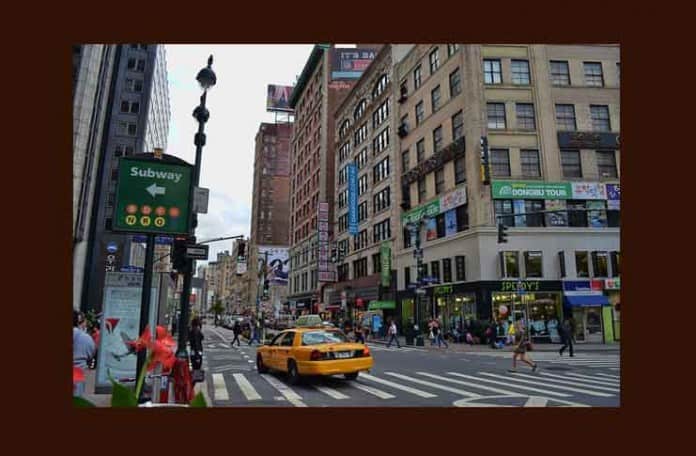 Since I first reviewed Rafiqi's back in March, there have been many more of their carts seen on the street, and new ones seem to be popping up all over the place.   I can't keep track of them all – there must be at least 10 Rafiqi's at this point, which makes putting them on our map an ever-evolving challenge.
I recently noticed one on the north side of Union Square, at the NE corner of 17th & Broadway.  Rafiqi's is probably the largest food cart vendor in New York, but are they one of the best?  Find out after the jump.  Today's Lunch is the chicken/gyro combo over rice for $5.50.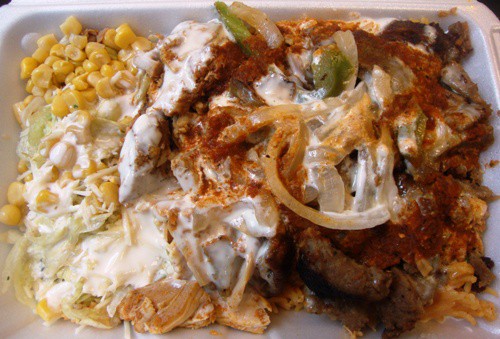 Rafiqi's tries to differentiate themselves by offering up an assortment of toppings at no extra charge.  You can have lettuce, tomato, corn, olives, black beans, green peppers, onions and cheese as toppings, in addition to white sauce, hot sauce and bbq sauce.  I got onions, peppers, white sauce and hot sauce on the meat over rice and ordered a small salad with lettuce, corn and cheese on the side.
Upon opening lunch, the first thing I did was taste a piece of gyro meat and a piece of chicken by themselves.  The chicken was moist and tender, and it was mostly white meat in the platter.  I could tell the chicken was rubbed with some spices, but couldn't tell you exactly what, although paprika seemed to be in there.  And there was not one bite of funky chicken (cartilage, fat, etc)  in the lunch.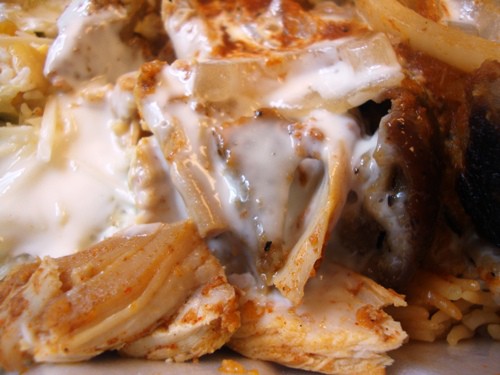 The gyro meat was a bit salty, but with the white sauce and hot sauce, it was ok.  Some of the gyro meat was charred on one side, which was nice, and the grilled onions and peppers on top were a nice addition.
The rice was a thinner basmati-type rice with carrots and peas mixed in, which I liked.  And the sauces were pretty good too.  Although the white sauce was mayo-based, it was a little better than the standard halal cart white sauce, although it wasn't as good as a yogurt-based sauce.  Their hot sauce was definitely hot and plentiful.
Today's Lunch gets an 8 out of 10.  Rafiqi's provides a decent lunch at a decent price.  Is it the best street food in New York?  Probably not, but it's certainly an acceptable option when you're not sure where to go for lunch.  There's even a minute-long Rafiqi's YouTube video with a little on their history (below).