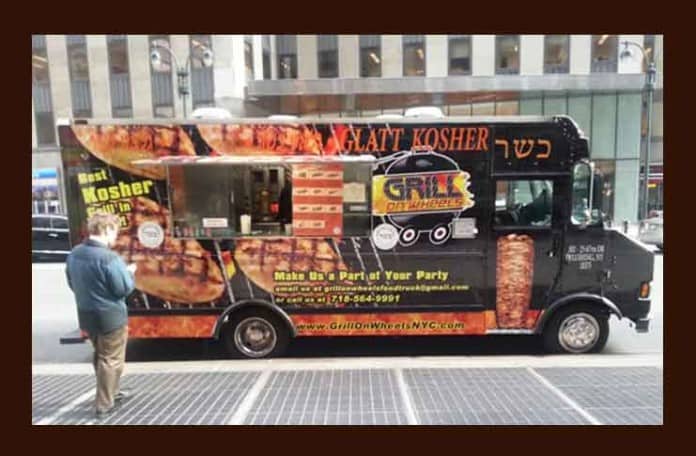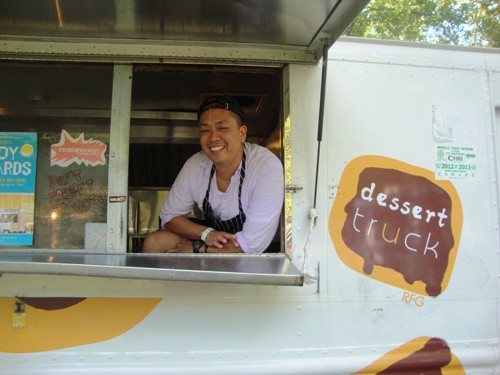 It's a beautiful day, heading into a beautiful, long weekend.  Enjoy some great New York Street Food from the vendors on the right and the truck below. Wafels & Dinges has a new special, the Berry Spangled Banner, just in time for the holiday.
As always, check the Mobile Munchies twitter feed before heading out, in case anyone had to move at the last minute.
waffletruck De Wafel Troook is @ 49th st + 3rd Ave. till 4:27. De City Cartz; De Bierbeek Cart is @ De Guggenheim til 8:08p De Goesting Cart is @ 52nd between 6th and 7th. De Central Park Carts; De Vedette Cart @ 60th + 5th til 7:09p. De Kotmadam Cart is on De Great Lawn til 8:08p. Try out our 4th of July weekend special starting today! – The Berry Spangled Banner Wafel – thedinges.blogspot.com/2011/07/4th-of… FREE DINGES for flapping your arms like a Belgian racing pigeon as you order.
LukesLobsterNY
Back uptown today. 57th and 8th ave. SW corner. Looking to validate my existence in the universe today, help me actualize! 🙂
Chefsamirtruck Comme Ci, Comme Ça is on 36th St between Broadway & 6th Ave today! Special of the day: BADEMJAN WRAP ($6) Spinach Wrap with hummus, baba ghanoush, mixed greens, tomato, curly parsley
KorillaBBQ Kick off ur long weekend with Korillas in Flatiron (25th & Park) and Chelsea (26th & 11th Ave.). Stay tuned for times/last minutes changes.
KimchiTruck Good morning! Friday's lunch – 46th & Lex 11:30-2:30.
TribecaTaco In Soho on Broadway between Spring and Prince
EddiesPizzaNY Happy Friday everyone ~ Truck is on Hudson and King for lunch until 4PM and the Cart will be slinging pies from… http://fb.me/E0Rp2Cg5gcnyc1 Gorilla Cheese NYC in Hellz Kitch..Today, 39th just east of 9th…come het ur cheese on….
CrispOnWheels we're going to be on 46th and 6th today. cc @alexlerian hope you can make it.
PapaPerrone 55th Btwn Park&Mad. Italian sausage today hot &sweet. Try it on our fresh garlic bread. 3 cheese riceball,Sicilian riceball &veggie riceball
cupcakecrewnyc HAPPY #FOURTHOFJULYWEEKEND! TODAY, truck parked on HANOVER SQUARE btwn Water & Pearl…TODAY'S SPECIAL: BUY ONE FULL SIZE, GET ONE FREE! TODAY'S FLAVORS: Red Velvet, Samoa, Snowball, 7 Layer Rainbow, Hazelnut Surprise, USA Pride, Vanilla Raspberry!
SweeteryNYC Happy get away day Hudson/King St, start the long wkend off right w/a stop @ our mobile bake shop, we'er here til 11:15 than off 2 Park/52st