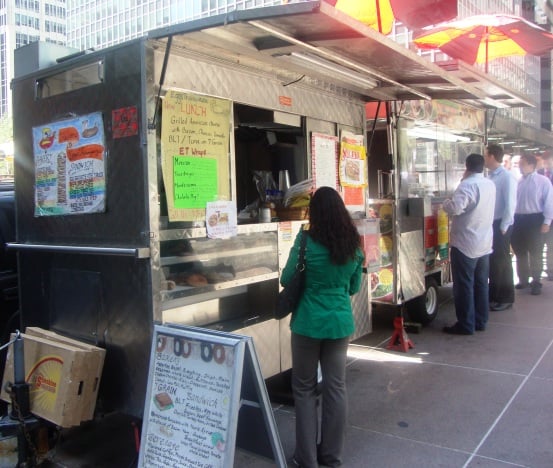 It looks like the rain will hold off until after lunch so you can enjoy some great New York Street Food from the vendors on the right and the trucks below.
As always, make sure to check the Mobile Munchies twitter feed before heading out, in case anyone had to move at the last minute.
KorillaBBQ Come and get it! @foodnetwork is treating the first 100 people to arrive to free food today at secret location! #foodtrucks . At 11AM, check out @FoodNetwork to find where the secret location will be!2nd truck is headed to FiDi for lunch. Front & Gouverneur Ready around 12:00, stay posted See you soon!
New Jersey
VeganLunchTruck The Cinnamon Snail Parked on Sinatra and first in Hoboken until 3:30. We have smoked chili seitan, raspberry lemonade, peanutbutter… fb.me/180EmaHLT
TheKrave Friday – 12:00-2:00 Hudson and Harborside Pl. 5:30-9:00 Columbus and Marin tumblr.com/xl146uvkn7
qbacubankitchen join truck at Kid's Jazz House Fest-Nishuane Park! jazzhousekids.org