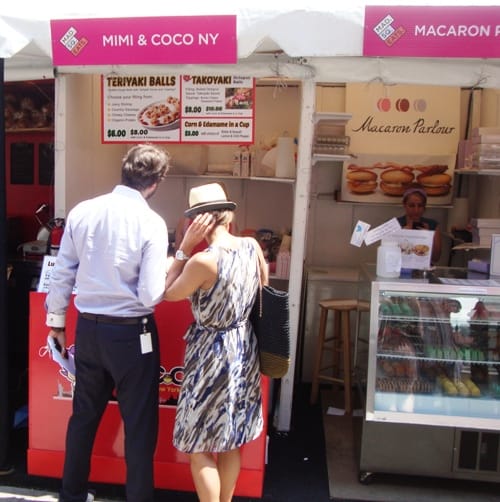 One of the market vendors we've been wanting to try is Mimi & Coco's. They've been at some of the events we told you about, but haven't had a chance to try them yet. Madison Square Eats was as good an excuse as any.
Mimi & Coco's serves teriyaki balls and takoyaki, which are octopus balls. We've had takoyaki a couple of times, but never had teriyaki balls, which come in 4 varieties.
One of the lunch specials Mimi & Coco's offers is 8 teriyaki balls and a cup of corn and edamame for $8, and that's what we got.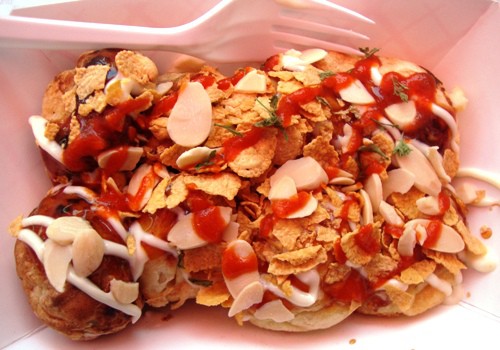 It was fun watching them pour batter and put fillings into the little muffin-type tins, then turn them over as they cooked.
Once the teriyaki balls were cooked, they were put into a paper boat and topped with teriyaki sauce, slivered almonds and crushed corn flakes cereal. For an extra kick, they ask if you want sriracha sauce on top. Don't mind if we do.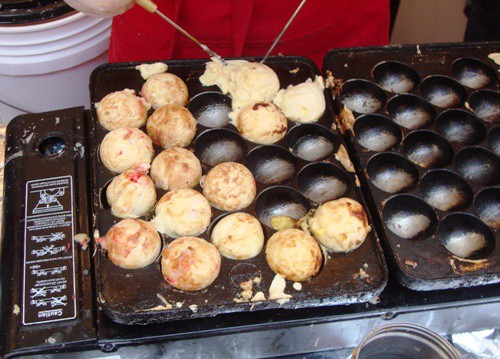 The 4 types of teriyaki balls were sausage, potato, cheese and shrimp.
Our favorites were the shrimp, the cheese, and the sausage, in that order. We weren't crazy about the potato.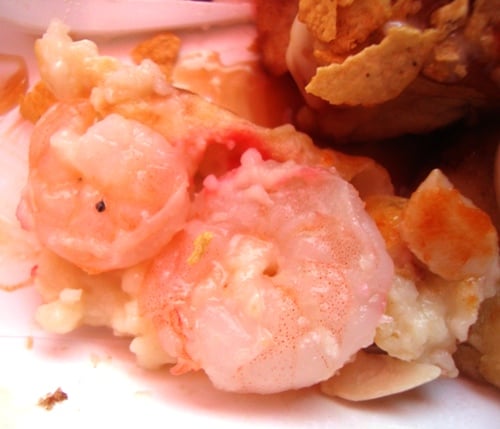 Battered shrimp is tough to beat, and there were 2 pieces of shrimp in each ball, not just one. Yum!
The cheese and batter combo was nice and gooey to eat. You just had to be careful not to burn your mouth.
The teriyaki sauce on top imparted a little sweetness to the sriracha's spiciness, the corn flakes added some crunchy texture, and there was another white sauce that was probably a Japanese mayo-type sauce,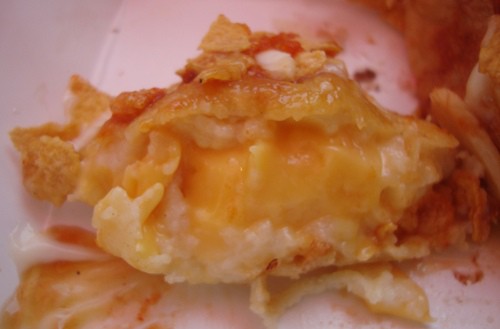 The corn and edamame side dish was really good too. It was served cold, and was quite refreshing.
You get a choice of butter & sea salt or lemon & chili pepper.  We got the latter, but the lemon didn't really come through. The chili pepper did, making this side dish cold and spicy, which is an interesting combo.
We've been wanting to try Mimi & Coco's for a while, and we weren't disappointed. Lunch was very enjoyable.
You can check out Mimi & Coco's website here, twitter is here and facebook is here. They are at Madison Square Eats through the end of May, and at other local markets too, such as Smorgasburg on Saturdays.