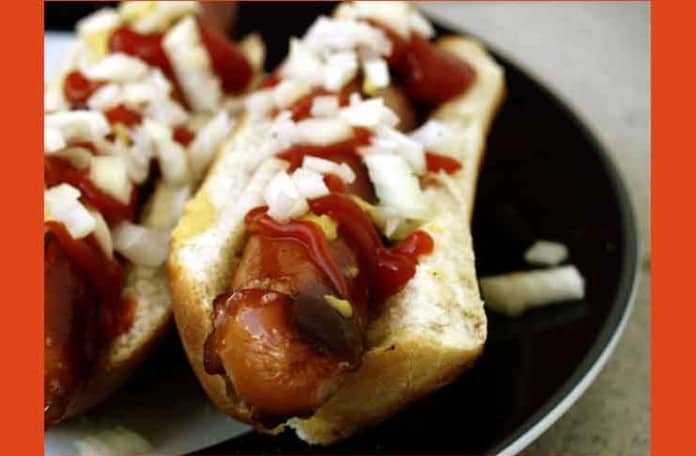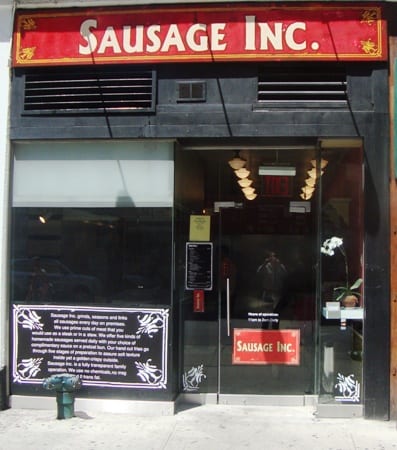 I was walking up University Place from 12th St to Union Square when I saw a new storefront called Sausage Inc at #106 (12-13 St).  If you know me, you know how much I love sausage, wurst, or and any kind of meat in tube form (as Anthony Bourdain so eloquently puts it).  Definitely had to stop in to check this place out.
If I remember correctly, this location used to be Wok To Walk, which I tried once and was less than impressed.  Sausage Inc sounds like it could be a great improvement.
They have 6 different types of interesting sausages, 6 types of sauces, some sides and condiments, and seating for no more than 8-10 people.  This could be another addition to our Honorary Street Food category.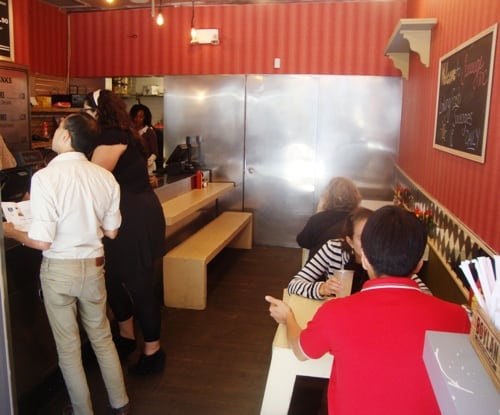 Since it was my first time there, I asked the counterperson what she recommended, and she said a Farmer's Sausage, which is chunky beef, bacon & herbs ($5.51 before tax).  I added an order of handcut fries ($3.22 before tax), then walked over to the sauces to put together a set to go.
Every sausage is served on a pretzel bun (!) and comes with sauteed onions.  As you enter the store, you walk past a giant griddle with various sausages and onions grilling.  That certainly whet my appetite.

The sausage itself was big and quite beefy tasting.  The herbs came through just fine, but the bacon was not as obvious, with only a slight bacony flavor.  You didn't really need the bacon anyway – this sausage was just fine with beef and herbs.
The pretzel bun was a nice surprise.  It had a soft pretzel taste and texture, and went really well with the heavy sausage and grilled onions.  Much better than a standard sausage roll.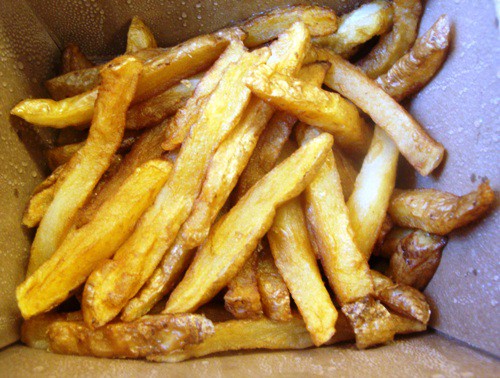 The fries had a nice, deep-fried flavor, but were too soft by the time I got back to the office.  Maybe they would have been better eaten right away in the store.
The sauces were good, and included a sweet chili sauce, chipotle mayo, cilantro pesto, cheese fondue, rosemary garlic aioli and a smoked bbq sauce.  My favorites were the rosemary garlic aioli, sweet chili sauce and smoked bbq sauce, but I put cheese sauce on the fries too.
Today's Lunch at Sausage Inc was delicious.  I will definitely be going back to try some of their other sausages like Blanco (pork & basil), Chipolata (pork & chipotle) and Thanksgiving (turkey, stuffing and cranberry).  They even have veggie sausages if that's your thing.
Sausage Inc will gladly be added to our Honorary Street Food directory and map.  I hope you enjoy it as much as I did.