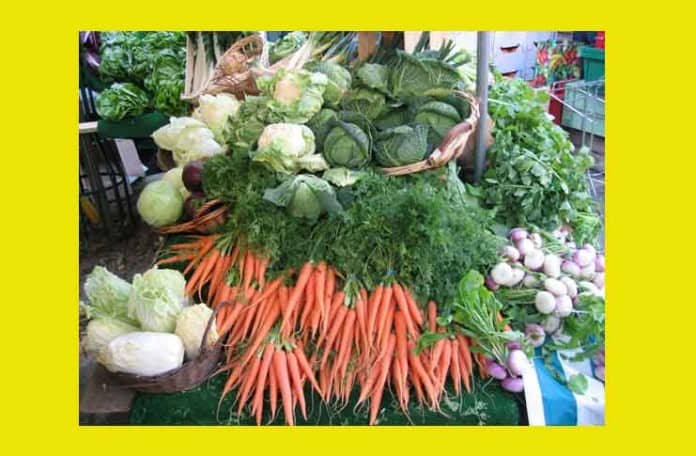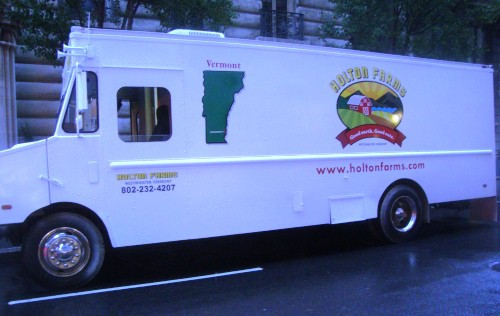 I heard about a new food truck in town called Holton Farms that brings food into New York straight from the farms of Vermont.  We're always on the lookout for the freshest food and veggies, so I stopped by their truck last week to see what they were all about.  It was during a rainstorm and they had just closed up the truck, so I had a chance to get speak with Adam Foreman at length.
Holton Farms is a CSA (Community Supported Agriculture) farm.  The usual CSA model is an arrangement between the farmer and customer that provides cash in advance to the farmer during the planting season when there is no cash flow to operate the farm and pay for big expenses such as seed, fertilizer, rent and labor.  In return for their support, CSA members are given weekly boxes of produce or other farm products produced by the farm throughout the season, usually from June through October in the Northeast.
Holton Farms calls theirs CSA Select to differentiate them from other CSAs, where the customer has little or no say in what they receive each week.  With CSA Select, members order only what they want, when they want.  With more than 10 farms in the southern Vermont area partnered together in the Holton Farms CSA, the Holton Farms truck can offer nearly 100 different products.  Check out their partner farms here.
According to Adam, they have mostly organic veggies, meat, poultry, ice cream, maple syrup, cheese and some fruit.  (There is a limited assortment of fruit that is all seasonal and only a few are organic).  They offer both organic and conventional products.  Not all of these products are available at all times, but the menu below gives you a pretty good idea of their offerings last week, although the board got a little messed up from the rain.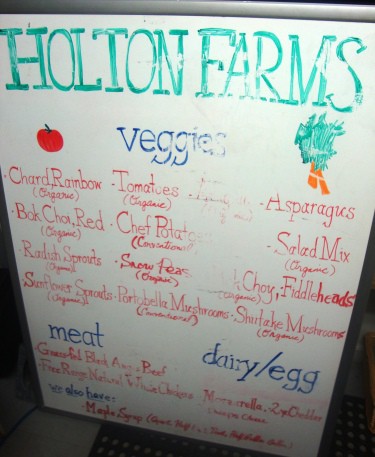 Holton Farms cannot sell to retail customers from the truck, but they have three different food plan levels: The Flex Plan costs $250, the Individual Plan costs $500 and the Family Plan costs $1,000.  Since they are new to New York, they are also offering an additional 5% of food credit if you join the Flex Plan, an additional 10% of you join the Individual Plan and an additional 15% of food credit if you join the Family Plan.  This means $150 of free groceries at the top level.
I know what we spend every week for groceries in my house, and $150 of free, fresh groceries is a great deal simply for laying out grocery money up front.  Once signed up, you receive access to their online grocery store which shows what is available for the week and what farm the product comes from.
The Holton Farms truck is in the city 7 days a week and currently stops at 18 different locations throughout the city.  They also expect to be in 2 farmers markets by July, although they can't say which ones yet.
Holton Farms is also considering a retail space in La Marqueta on 115th St and Park Ave, but it is not definite.  However, it is consistent with their commitment to bringing affordable, fresh food to under-served neighborhoods.  A portion of each purchase also goes to subsidizing prices for lower income families throughout New York City.
After Adam told me in detail about Holton Farms, I told him about New York Street Food.  Since they are fairly new and still getting the word out about Holton Farms, he offered to give New York Street Food readers an additional 5% discount off the cost of a membership.  Simply use the code HFNYSF when you sign up, which can be done here where it says Sign Up Now.
Under the Family Plan, with the Holton Farms credit and the NYSF discount, you get $1,150 worth of food for $950.  Not only is this a great deal, but the food is all natural, fresh off the farm, and reasonably priced to begin with.  We realize this is a lot of money to lay out up front, so check out the Holton Farms website here for additional information about their business or call them at 1-800-575-9050.  The Holton family has been farming southern Vermont for over 200 years, so they aren't going anywhere.
Below is a picture of the truck from another day with their wares displayed.  The produce looks wonderful!