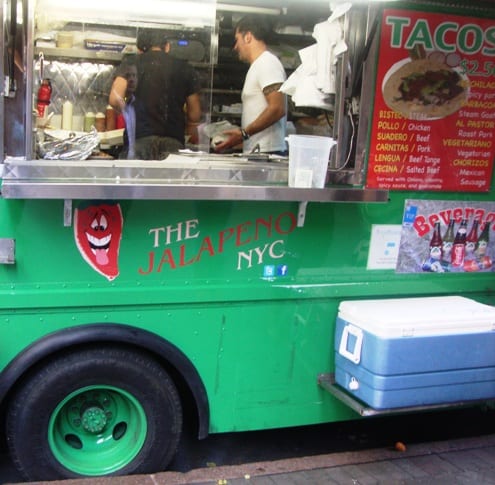 It's a tough world out there, especially serving lunch to New Yorkers. If you don't bring your "A" game, don't expect to last long. You may be able to get people to try your food once, but good luck getting them to return…and most businesses rely on repeat customers to be successful.
Even though they had a cute logo, the food and service at the Jalapeño NYC truck left something to be desired. When they could no longer sustain the business, they closed and sold the truck to Tacos Morelos, who already had two food trucks.
Tacos Morelos didn't change much on the truck, keeping the green paint job, as well as the Jalapeño NYC logo. They just added Tacos Morelos signs and menus.
That could have been a problem, with the reputation of the Jalapeño NYC truck not being so great, but they had a steady stream of customers at Wall & Pearl St, where they park this truck most weekdays for lunch.
Not being particularly hungry, we ordered two tacos  instead of our usual three. Based on their recommendation, and our statement about liking spicy food, we got enchilada (spicy pork) and tinga (spicy chicken). Every taco at Tacos Morelos is $2.50.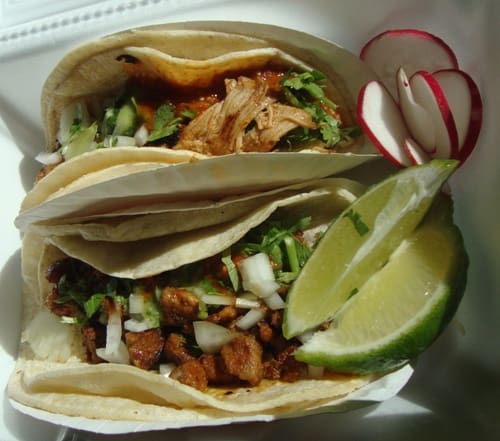 Each taco at Tacos Morelos is served on two corn tortillas, and comes with fresh cilantro, onions, radish slices and lime wedges.
The food was piping hot when we opened the lunch container.
The chicken in the tinga taco was shredded just like in pulled chicken, and it was very moist and tender. The tinga taco came with a spicy red sauce, as well as all the toppings described above.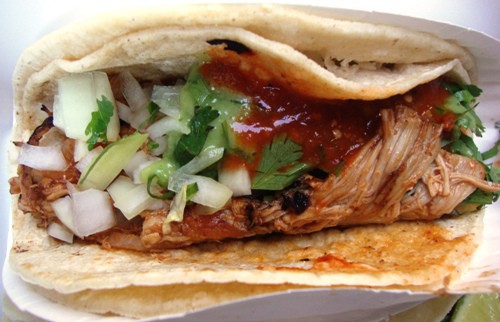 The tinga taco was spicy and good, but it was a little saucier than we expected or wanted. A little less sauce would have been more to our liking.
Moving on to the enchilada, the meat in the spicy pork taco was grilled, as opposed to the chicken, which seemed stewed. The pork had a nice flavor, and it came with a green spicy sauce that was lighter than the red sauce on the chicken. We can see why he recommended the spicy pork taco first.
We're not sure if it was the brand, or just how we felt that day, but the tortillas had a pronounced corn taste. We wish more tortillas had a stronger corn flavor like these did. It probably also helped that two tortillas were used on each taco instead of one.
As we mentioned, Tacos Morelos now has 3 trucks around town: one in Williamsburg, one by Ave A & 2nd St, and the old Jalapeño NYC truck on Wall & Pearl St for lunch. They are still experimenting with evening locations, but we ran across them in the West Village one Saturday night on 7th Ave & 11th St, so keep your eyes open.
Are these the best tacos in NYC? Probably not, but Tacos Morelos can be counted on for a solid meal (or snack) at a good price. Sometimes, that's just what the doctor ordered.