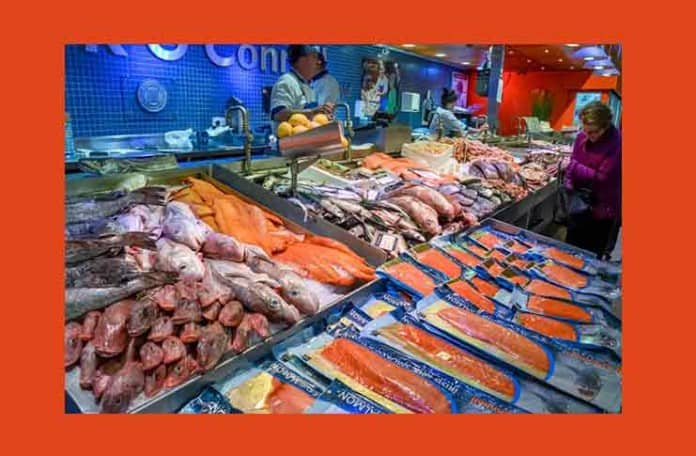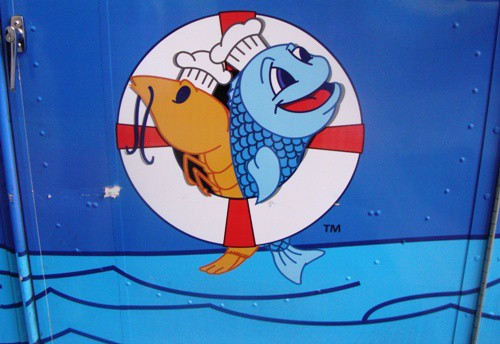 The Fishing Shrimp truck is a fairly new food truck that I trucked out to Ditmas Park, Brooklyn when they first opened – but now they are coming into Manhattan a few times a week, making my life much easier.
I recently caught up with them and decided to get fried shrimp & chips for lunch, which costs $11.  Although I try to stay under $10 for lunch, I love seafood, and will spend more than $10 for fried shrimp, lobster rolls, or other dishes along these lines.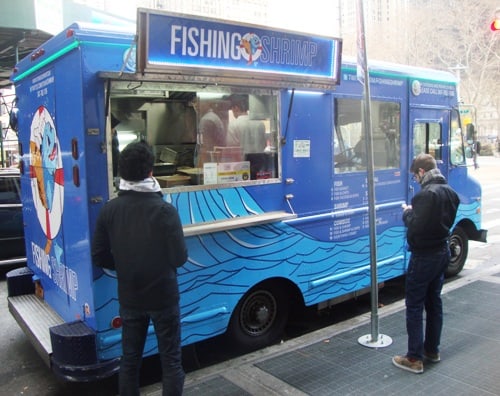 The Fishing Shrimp truck does not have a large menu.  It consist mainly of fried fish and/or shrimp, chips, and a few other dishes such as fish tacos, seafood soup, and Bahamian cracked conch and conch fritters, which the chef told me were his grandmother's recipes.
Not all the dishes were on the menu painted on the side of the truck, so I would suggest asking for a printed menu card. There were a couple of items on the card not on the truck menu, such as conch fritters and seafood soup.
I ordered the shrimp and chips, which only took about 5 minutes to arrive piping hot. You can get tartar sauce, hot sauce and ketchup for free.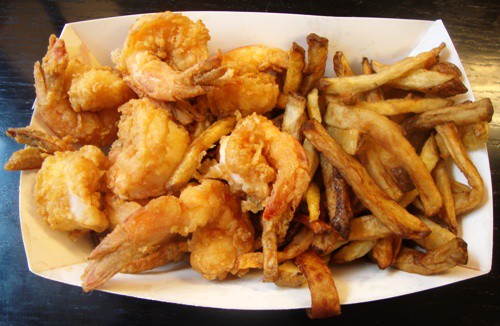 There were nine (9) nice-sized shrimp in the container.  They weren't jumbo shrimp, but they were thick and a good two bites each.
The shrimp were lightly breaded, which meant each bite was mostly sweet, succulent shrimp with a little breading.  I hate when you order fried shrimp and it's all breading.  That was definitely not the case here.
I'm a tartar sauce kind of guy, and theirs was good.  When I make tartar sauce at home, I usually add more pickle relish than they did, but it was still a nice condiment that added to the taste of the shrimp.
The chips were on the well-done side, but they were not crispy.  They were on the soft side.  In my opinion, good but not great.
Towards the bottom of the container, it got a little oily, but for fried shrimp and chips, there was not a lot.
I definitely want to go back and try the fish tacos and the conch fritters.
If you want to try the Fishing Shrimp truck, you can follow them on twitter here, or on our Mobile Munchies twitter feed here.