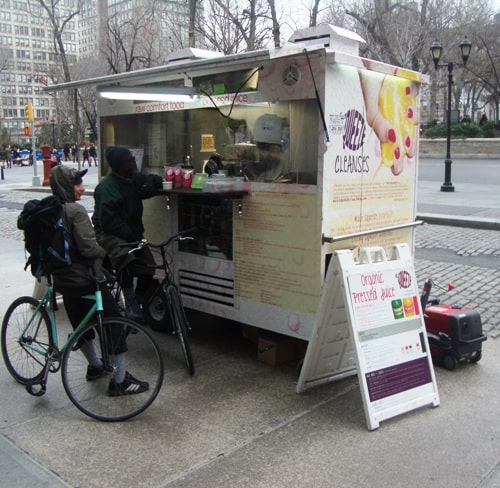 One of the newer street vendors in NYC is The Squeeze. They started with a food truck last May, then added a cart in November. The truck has been parking in Tribeca, and the cart has been parked on Union Square West between 14-15 St.
The Squeeze sells "raw comfort food", cold pressed juices, booster shots, cleanses, and a few other healthy goodies.
On our first visit to The Squeeze, we had a vegan hot dog with kimchi topping. That was not one of our more enjoyable lunches, but we seem to have found the sweet spot on our second visit.
We ordered a "moc 'n cheese" for $7, and since it was a cold day (to say the least), also got an order of chunky veggie soup for $5.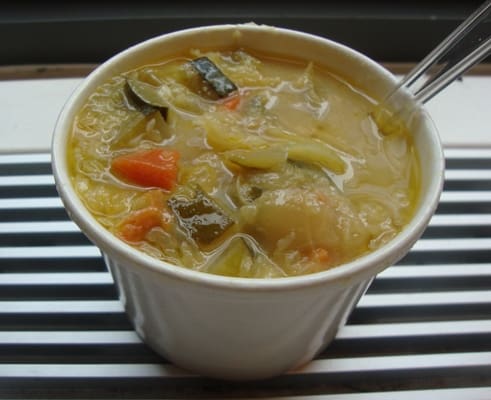 We started with the soup, and chunky veggie soup was not an understatement.
The portion size was small for $5, but the soup was jam-packed with veggies. The main vegetables were carrots, zucchini and cabbage, which nearly filled the cup to its brim.
The vegetable broth was tasty too. There was a very slight sweetness to the broth, and a rich vegetable flavor.
There were 3 different soups available at The Squeeze, and they all looked good. We almost got nutmeg cauliflower, but one of the guys on the bikes in the top photo heartily endorsed the chunky veggie soup, and he was right. It was excellent.
We almost got the moc 'n cheese on our first visit, and made sure to get it this time.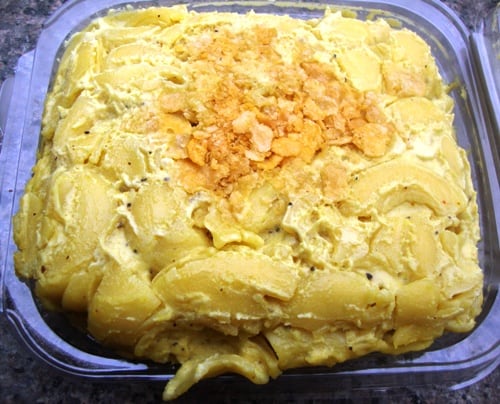 The macaroni was made with quinoa pasta, which didn't taste much different to us than pasta made with flour, eggs and water. The texture was pretty similar too, albeit on the soft side.
The cheese sauce was made with raw cashew cheese, and it had a fairly strong cheesy flavor. We're not too up on vegan food, but this dish was tasty and filling, two of the more important traits to us.
There were even some cereal flakes in the center of the dish to add some crunch.
Glad we went back for a second visit, because it was definitely more enjoyable than the first.
You can follow The Squeeze on Twitter here, and their Facebook is here. You can also check out the full menu on their website here.