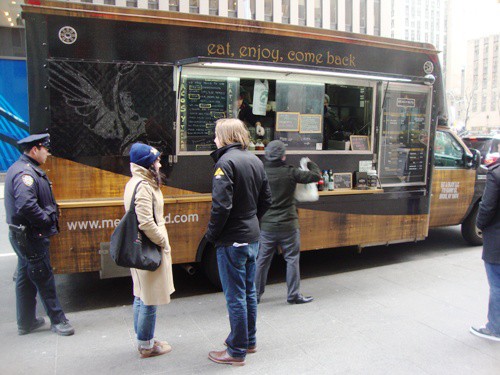 Ever tried an extra spicy Bistec Torta ? Well, as you know – Mexico Blvd was a welcome addition to the NYC food truck scene when they first came out about a year ago. There are a number of old-school Mexican food trucks around the city, but Mexico Blvd is a bit different.
They couple authentic Mexican cuisine with the new food truck business model of an eye-catching truck, bold flavors, and the twitter-centric world of these newfangled food trucks.
They don't have a large menu, but what they do (tacos and tortas), they do well. We were in the mood for a sandwich, so we ordered a bistec torta, with extra spicy sauce on the side.
We enjoyed their guacamole once before, so we ordered a torta combo for $10, which comes with guac and chips. You can get the Bistec Torta by itself for $8.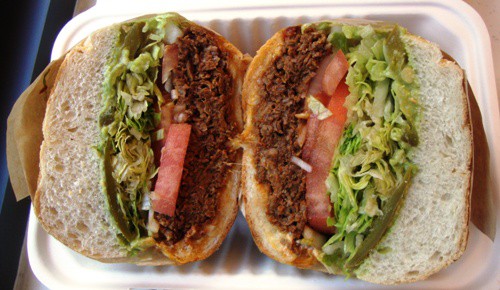 The Bistec Torta (beef) at Mexico Blvd is marinated in a "drunken sauce", as it's called on the menu. That means it's marinated in beer, which they told us helps the taste of the chilis get deeper into the beef. We totally understand. Beer relaxes us too 🙂
On the Bistec Torta sandwich were lettuce, tomato, jalapenos, onions, a light spread of guacamole, and that besotted beef. It wasn't ground beef like you get at the lower-end Mexican places, but shredded top round beef, which had a very nice taste from the beer and chili marinade.
At Mexico Blvd, they use fresh ingredients, so the lettuce and tomato are nice and crisp. The roll is quite large, but soft. The sauce did soak into the bottom of the bread, but not enough to make it messy. What we did to compensate was to eat the torta upside down. This gave us plenty of bread on the bottom of the sandwich.
By the way, the "extra spicy" sauce at Mexico Blvd is one of the hottest around. Use it sparingly.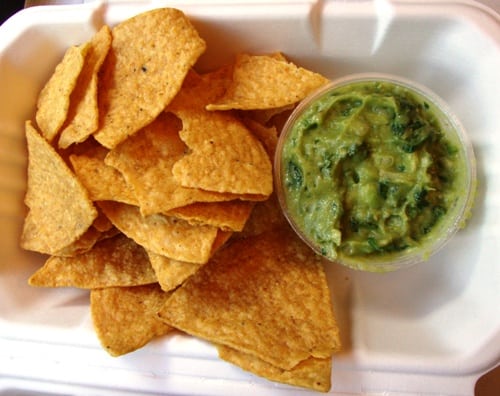 There are a couple of things we like about the guac and chips. First of all, no tomatoes in the guac gets a big thumbs up from us. They also put in plenty of fresh, chopped cilantro.
The chips are a step up from the usual run-of-the-mill tortilla chips you so often get. They are dusted with chili powder and lime, which picks up the flavor considerably.
As you can tell, we are big fans of Mexico Blvd. They just reintroduced flautas onto their menu this week, so we'll probably be going back soon to try those.
Mexico Blvd hits various areas of Manhattan for lunch, and they also go to Dumbo regularly. In addition, they recently started serving dinner in Astoria.
The best way to keep up with their schedule is on Twitter here or on our Mobile Munchies Twitter feed. If you like well-flavored and prepared Mexican food, they are worth tracking down.