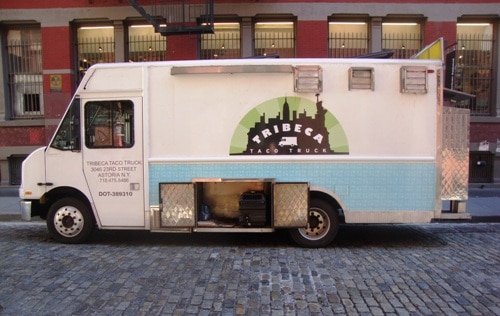 As we mentioned yesterday, the Tribeca Taco Truck is back (in Soho, of course) and they are in expansion mode.  They will have 2 trucks and a cart on the street within the next month or two, and Chef Percy has some great menu ideas he told me about for the future (possibly duck, shrimp, lamb, portobello mushrooms, jicama and more).
You'll be seeing a lot of them around, so here's a sampling of tacos we got on our visit a couple of days ago.  You can get anything on the menu in tacos ($3 each), burritos ($5-$7) or quesadillas ($5-$6).  You can also get lettuce, tomato, onions and cilantro on any taco, which come with fresh lime too.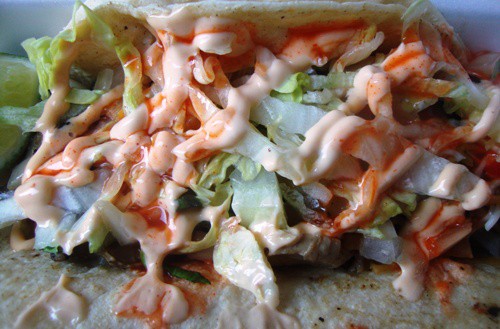 In my opinion, the sauces at Tribeca Taco Truck are one of the things that elevates them over the crowd, so I asked them to give me whatever sauces they recommended on each taco.  They also use 2 tortillas on each taco, which is a rule all taco trucks should live by.
The Daily Special was grilled mushrooms, cilantro and onions, which was my first taco.  I asked for lettuce, onions and cilantro, and they topped it with a chipotle mayo and picante rojo sauce.  It was creamy and spicy, with soft mushrooms and crispy lettuce and onions.  It was very good, and if you want something spicy, ask for the picante rojo sauce.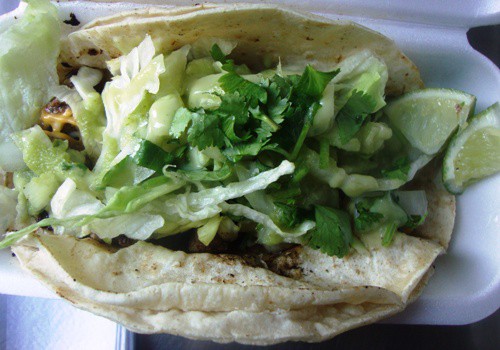 The next taco was Carne Asada, which had plenty of nice sized chunks of tender beef and the aforementioned cilantro, lettuce, onions and a little shredded cheese.  They put avocado sauce on this taco, and it was delicious.  The sauce was light and creamy, and there was a lot of meat in this taco that you can't really see in the photo.  Believe me, it was loaded with meat.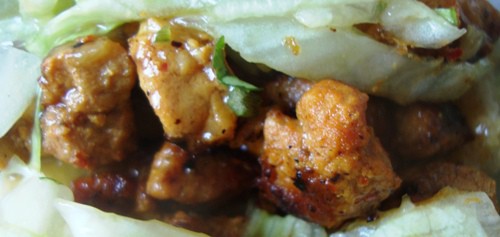 The last taco was probably my favorite – a spicy pork taco with spicy mango sauce.  Not only do I like spicy food, but the combination of juicy pieces of grilled pork and the fruitiness of the spicy mango sauce was excellent.
In two visits, I haven't gotten anything less than excellent at Tribeca Taco Truck, but I have some personal favorites.  The spicy mango sauce is really good, and the pineapple BBQ sauce I got on a previous visit was a knockout.  The picante rojo has a real nice kick too.
I look forward to trying some other things at the Tribeca Taco Truck.  The chipotle marinated tofu and grilled cactus both look interesting, and I haven't tried a burrito or quesadilla yet.  You can find them on twitter here or on our Mobile Munchies twitter feed.  Their schedule is still a little irregular, but they will be fixtures on the NYC streets very soon.
So much to try, so little time.