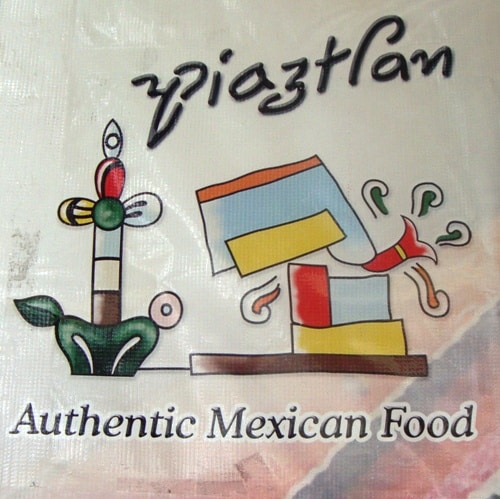 When the 2012 Vendy Cup Finalists were announced last week, the Piaztlan Food Truck was one of the vendors. Based on their reputation, Piaztlan have been in the NYSF Directory for a while, but we didn't actually have the pleasure of trying their food until last weekend.
Piaztlan Food Truck is owned and run by Eleazar Perez and her family. We asked her daughter Patricia, who was working the window, if we could take a photo of her and her mother, but she said they were not comfortable in front of the camera. She said is was tough enough for them to film the recent Vendy Cup Finalists video, so we told Patricia that we'll concentrate on the food.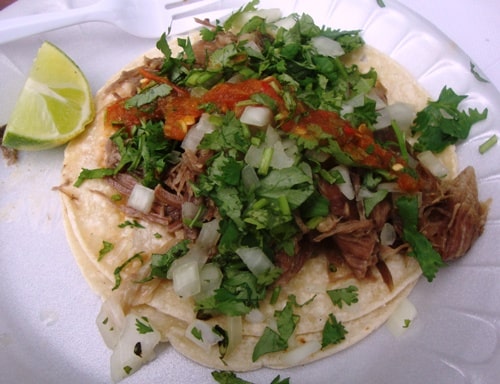 Piaztlan's specialty is tacos, although you can get flautas and tostadas too. We asked what tacos they suggested, and Patricia said goat and carne asada, which we got for $3.50 each. Later on, we went back for a tostada for $3 too.
The tacos came out with the desired meats, two tortillas each, fresh onion, cilantro, lime, and on the carne asada taco, tomato.
There were three salsas to choose from, a mild green one and two spicy red salsas. They also had pickled jalapenos as a freebie. We ladled on a little of one of the spicy red salsas, squeezed on lime, and went to town.
The "barbacoa de chivo" was slow-cooked pulled goat meat, and not only was there a lot of it, but the meat was as tender as can be.  We haven't had a lot of goat, but when we have, it's often tough. I don't know how long they cooked the meat, but it was really soft and tender.
Add a little onion, fresh cilantro, lime juice and salsa, and you have the makings of a delicious taco.
The carne asada taco was similar to the other taco in terms of the tortillas and toppings, but there were two (!) pieces of grilled beef folded over in the taco. That made it difficult to pick up…but we managed.
You can also see the pickled jalapenos on the plate in the photo above, which we added to the taco before eating it.
The carne asada wasn't as tender as the goat, but it was seasoned well and had that great grilled taste. It's not that the carne asada was tough, it's just that it had the consistency of grilled meat versus slow-cooked meat. This was an enjoyable taco too.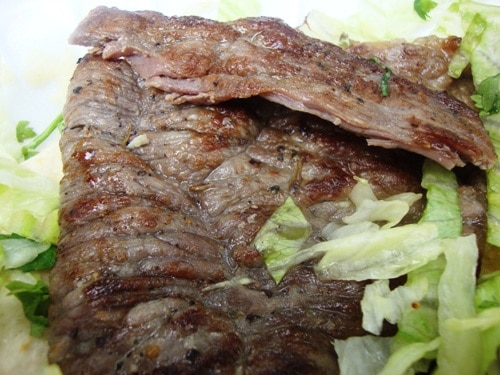 These tacos were so stuffed, after two we were pretty full. Good thing they used two tortillas on each, or there definitely would have been breakage. However, we still wanted to try one more small item to get a more rounded picture.
We decided to get an al pastor tostada for $3. Tostadas are flat, deep-fried tortillas with beans, lettuce, sour cream, meat or veggies and cheese.
Al pastor is described on the menu here as pork marinated with dried chilis. It has nothing in common with the al pastor tacos we've had from other vendors that had pineapple in the taco. There wasn't a pineapple anywhere on this menu.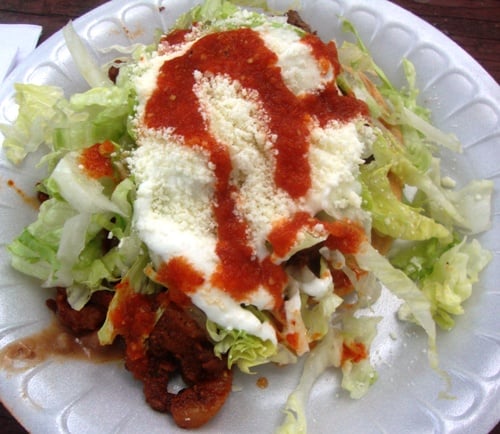 The tostada was a little tricky to eat, but they had forks and knives at the truck. There was no way to pick up this tostada to eat it.
The lettuce, beans, sour cream and crumbled cheese were a completely different dish from the minimalist tacos, which just had onions and cilantro.
The refried beans, sour cream and cheese gave this dish a creamier and heavier feel and taste, but it was still very enjoyable. One of the pork pieces was kind of fatty, but that was the only piece of meat all day at Piaztlan that was. Every other bite was excellent.
Piaztlan Food Truck is at the Red Hook Ballfields every Sat & Sun from 10am-8pm from May through October. For more information, their facebook is here and their twitter is here. You can also see their official Vendy Finalist video here, which was made by Liza de Guia of Food Curated.
Last we checked, Vendy tickets were still available here, but they won't last long, so buy them now if you want to go. We guarantee you won't see them on Groupon.
Oh, we almost forgot, the horchata from Piaztlan was awesome! If you haven't had it before, Mexican-style horchata is made with milk, vanilla, cinnamon and rice. We love cinnamon, which came through nicely, and this was a very refreshing drink on a hot day.