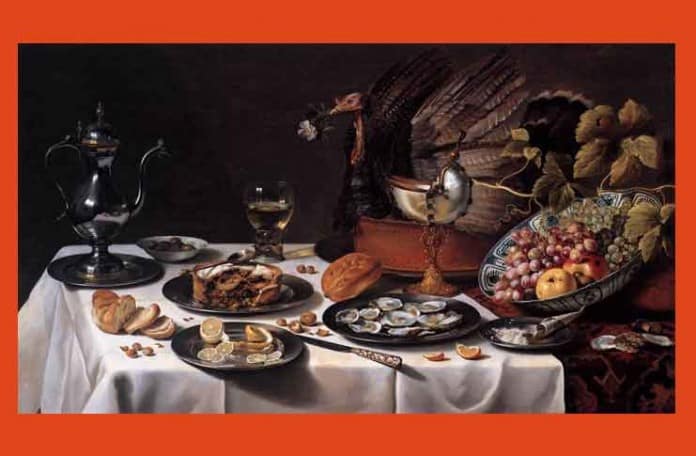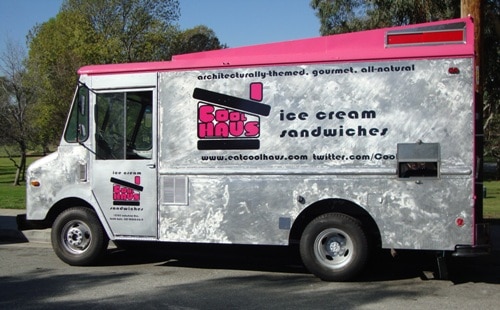 One of the stops I had to make in LA was Coolhaus, who are best known for their architecturally themed ice cream sandwiches.  Back in September, when I saw they were coming to NY in Spring 2011, I did a short post about it, which Natasha from Coolhaus noticed and wrote to thank me.
I asked Natasha to keep me informed of any developments with the Coolhaus NY truck, and told her I was coming to LA in January.  She said to stop by when I was in LA.
Coolhaus wasn't at any of the multiple truck gatherings I went to for dinner this week, but they were on Valleyheart on my last day with the Grill 'Em All truck.  If you recall, I had a lunch appointment that day, but walked over for a few minutes to meet the people at Grill 'Em All and Coolhaus.
While I couldn't eat a burger and fries before my business lunch, I decided to sneak in an ice cream sandwich from Coolhaus because it was probably my last chance before heading home.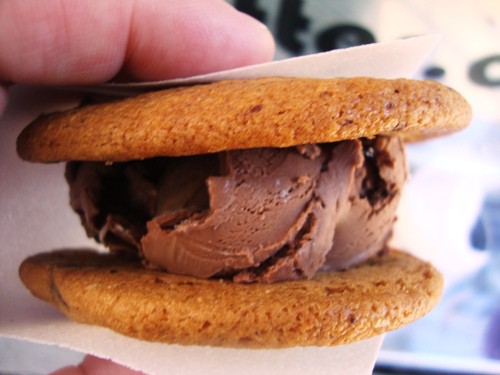 I walked up and introduced myself to Scott at the Coolhaus truck and told him about my conversations with Natasha, who he said was back in the office.  Scott asked what I liked, and I said chocolate.  He asked if I like spicy things, which was a resounding yes.
I told Scott I had a business lunch, so to just give me a sample.  He put a small scoop of Mexican chocolate on a chocolate chip cookie, then put another cookie on top at a slight angle and handed it to me with a wrapper to keep things clean.
Scott told me the scoops are usually larger, but I asked for a small one, which was fine because Natasha also told him to give it to me on the haus (ouch!).  I didn't find out until later that the wrappers are edible so I can't tell you how it tasted, but it is certainly environmentally friendly.
Before I describe the ice cream sandwich, let me tell you about the Coolhaus name.  It's actually a triple-entendre referencing the Bauhaus art movement, the Dutch architect Rem Koolhaas and the "cool house" created by the cookies (floor & ceiling) and ice cream (the inside of the house).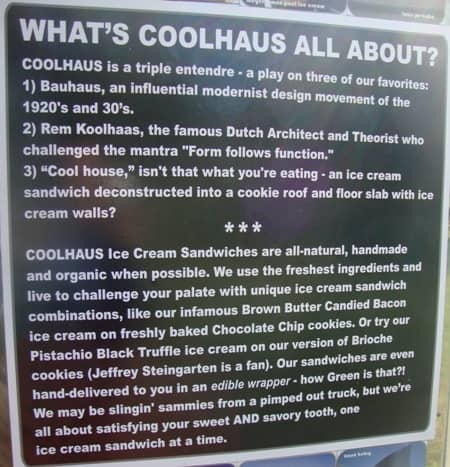 The chocolate chip cookies had been freshly baked on the truck, and still had a slight warmth to them.  The cookies were firm, but not crisp, so I was able to take bites without all the ice cream smushing out the sides of the sandwich.
There's nothing like an ice cream sandwich made with freshly baked cookies.  The cookies were really good, but the Mexican chocolate ice cream was awesome!  It had a deep, rich chocolate taste with a little bit of spiciness.  It wasn't nearly as spicy as some of the food I had this week (I'm talking to you Streets of Thailand), but this is dessert, and a small amount of spiciness is appropriate.
I was happy to get over to Coolhaus before going home, and I'm really looking forward to their New York arrival in the spring.  New York will be their third location.
Coolhaus also has a truck in Austin, where I'm heading in mid-March for the SXSW Music Festival.  If I need dessert in Austin, I know where to go.