A new food truck hit the NYC streets last week, MUNCHIE MOBILE TRUCK, and we stopped by yesterday for a NYSF First Look.
The Munchie Mobile Truck is owned and run by 3 NYU students, one of whom worked on two other food trucks that you know.   They have 1/3 lb burgers, half a dozen different grilled cheese sandwiches, 5 types of pancake dishes (all day) and a few other sandwiches that defy categorization – other than they are all great munchies for stoners.
Even though they looked great, I've had a lot of burgers and grilled cheese lately and wanted something different.  One of the specialty sandwiches caught my eye, Kiss Of The Dragon, which cost $9.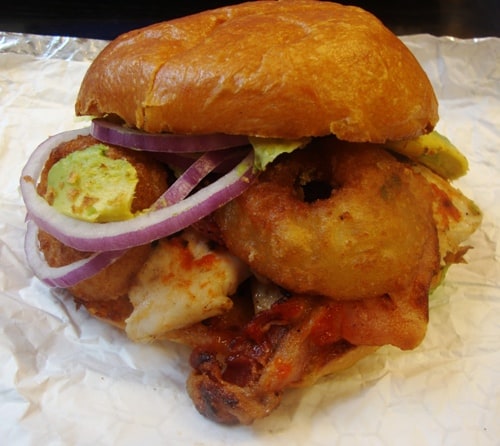 The Kiss Of The Dragon starts with either a grilled or fried chicken breast.  I got grilled.  That's topped with bacon, red onion, avocado slices and two big, fat onion rings.  Sriracha sauce and sweet chili sauce were added as condiments.
Now this sounds like a mish-mosh of lots of different things (which it was), but somehow it all came together.  Each ingredient came through and added something to the sandwich.  Surprisingly, none of the ingredients were buried in the mix.
This was a very enjoyable lunch, although for the record I wasn't high.  If I was, it would have been even better!
I will definitely be going back to try some of their other dishes.  There are some good looking burgers, grilled cheese and pancakes, but what really intrigue me are the Mega Munches.
Check out the Fat Kitty and Gangsta's Paradise on the menu here.  That's some serious munchies food.  You know the truck is geared for students when there's Red Bull on the drinks menu!
You can find the Munchie Mobile Truck on twitter here or on our Mobile Munchies twitter feed.  I get the feeling these guys are going to be pretty popular pretty quickly, so check them out before the lines get too long.