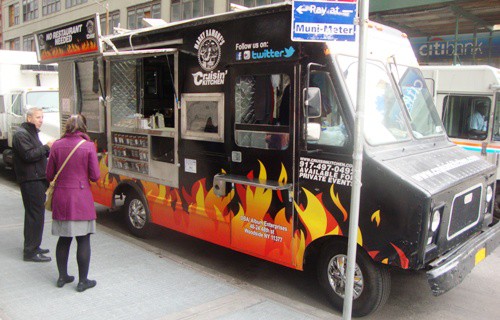 Yesterday we told you about a new food truck in NYC called Marky Ramone's Cruisin' Kitchen.  They serve 4 different types of meatballs, and we had a chance to stop by yesterday on 24th St & 5th Ave during their first day of operation in the city.
For our first visit to the truck, we had to try the Italian meatballs because Marky Ramone has his own marinara sauce available online and at 10 different stores in the tri-state area.  They also sell it at the truck for $7 a jar.
You can get any of the 4 types of meatballs on a roll or "in a boat" for $7.  We decided to get the Italian meatballs on a ciabatta roll.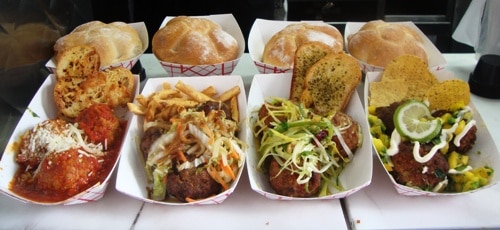 Unwrapping the sandwich, there were two giant meatballs cut in half with Marky's tomato sauce and grated parmesan cheese.
The meatballs had a nice Italian flavoring, with various herbs and garlic in the ground beef.  The balls were still a bit large for the roll, which was really soft.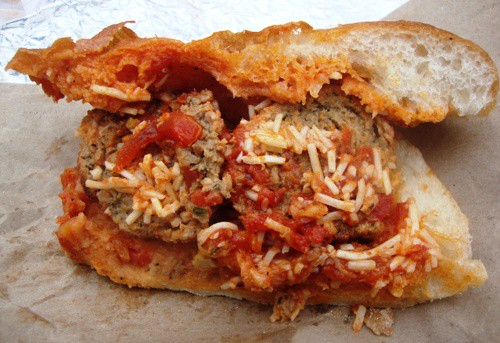 The tomato sauce not only had small chunks of tomato, but  there must have been a little crushed red pepper in the sauce, because there was a tiny bit of spiciness too.  Between the big balls and tomato sauce, the bottom of the roll got messy, but it was really tasty.
The other flavor that came through loud and clear was the parmesan cheese.  By using a medium sized grater instead of a fine grater, the flavor and texture of the cheese was more pronounced in the sandwich.
Now that we've tried the classic Italian meatball sandwich, we have to check out the other meatballs – Asian (pork), Mexican (ground chorizo) and American (turkey).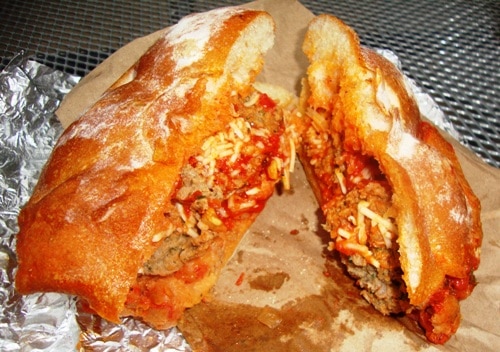 You can find Marky Ramone's Cruisin' Kitchen on twitter here or on our Mobile Munchies twitter feed.  We have added them to the NYSF Directory on the right as well.
The chef and driving force behind Marky Ramone's Cruisin' Kitchen, Keith Album, did tell me they probably wouldn't hit the high-traffic areas of Midtown and the Financial District until he can get help on the truck.  Keith was doing it all by himself, other than taking orders and handling cash.
If you have a NYC mobile vendors license and would like to contact Keith about working on the truck, please email keith@cruisinkitchen.com.