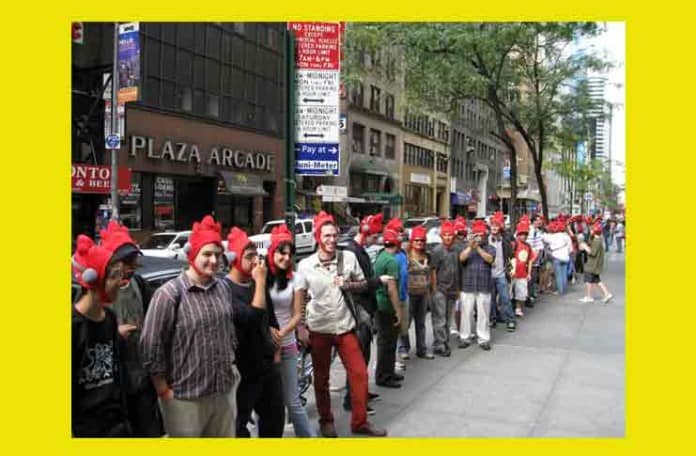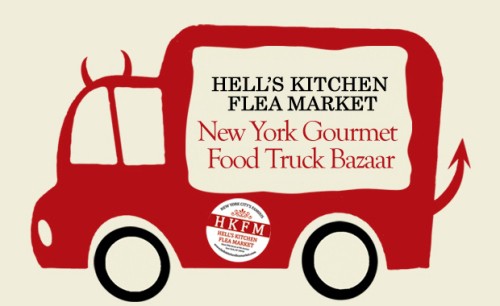 New and repeat food truck festivals are taking place this weekend in NYC and Boston.
In an encore performance of a very successful debut, the Hell's Kitchen Flea Market is having another Gourmet Food Truck Bazaar…and Boston is holding it's 1st Annual Food Truck Festival.
Eat, Shop, Love!  This weekend spend a leisurely Sunday eating and shopping at the Hell's Kitchen Flea Market.  Check out a few of our favorite gourmet food trucks.
The Line Up: Rickshaw Dumpling Truck, The Krave Truck, Bistro Truck, Go Burger, Big Gay Ice Cream Truck
And don't forget the amazing treasure finds from our  vintage flea market vendors!  Sunday, August 8, 2010 from 11am to 4pm
Hell's Kitchen Flea Market – West 39th Street between 9th and 10th Avenue. [website]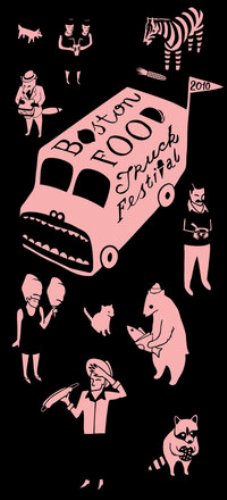 If you thought Boston didn't have a food truck scene?  Well, the revolution starts NOW.  In conjunction with SoWa Sundays (and merci to a micro-grant from FEAST), citysearch boston will pull all the stops to ensure that — for at least one afternoon — local food trucks will stand together in solidarity and thing-on-a-stick-y.
The first annual Food Truck Festival in Boston is being held this Sunday (8th)  – where vroom vroom meets nomnomnom.  Confirmed participants include:  speed's hot dogs, m&m ribs, lincoln street coffee, dragon mobile disco, taza chococycle, south end pita, boston frosty, fillbelly's, cupcakory, herrara's mexican grill, food truck nation, equal exchange coffee trike, grillo's pickles, the sausage guy, roxy's grilled cheese, b. good and trolley dogs.
The festival is at SoWa Food & Produce at 500 Harrison Ave, South End, Boston from 10 a.m. to 4 p.m. [facebook page]