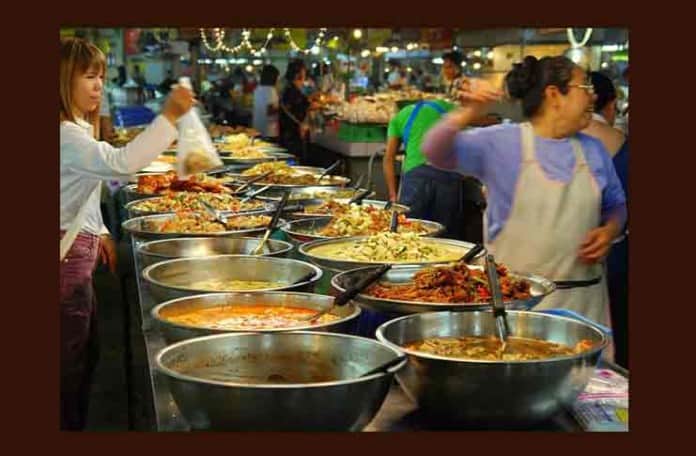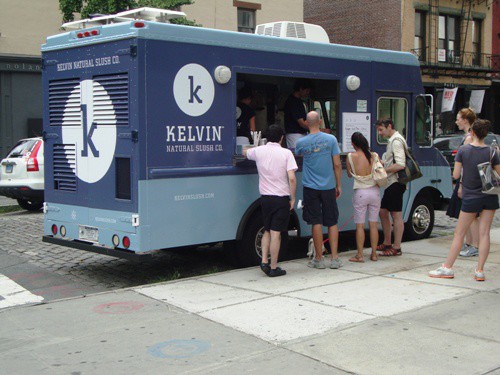 It was another day with temperatures over 90 degrees (Sunday) – a perfect day to try the new Kelvin Natural Slush Co truck.  They were in the Meatpacking District on Gansevoort St just off Hudson St, not too far from where I live.  By the time I walked about 15 blocks to the truck, a cold icy slushy was just what the doctor ordered.
The concept is simple.  Choose your base slush (ginger, iced tea and citrus today), choose your mix-in (mostly fruits, but also mint, basil and flaxseed oil today).  And you can also get an ice cream float for $2 extra.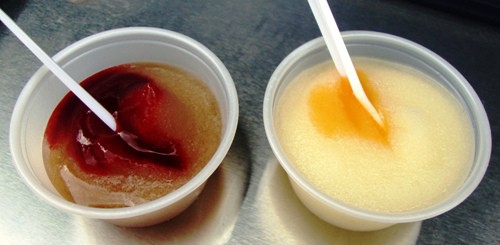 Since this was a new truck and they were offering samples of everything, I asked for samples of iced tea & raspberry (left) and citrus & apricot (right).  The iced tea and raspberry was excellent.  I often make iced tea and add fruit juice at home.  This was similar, but nice and icy!  The citrus and apricot had that sweet & sour thing and was good too, but I'm not as big on tart tastes.
Once these were done, I ordered a medium-sized ginger slush with mint ($4).  Guess I wasn't the only one, because they ran out of mint not long after I ordered and they had to make more.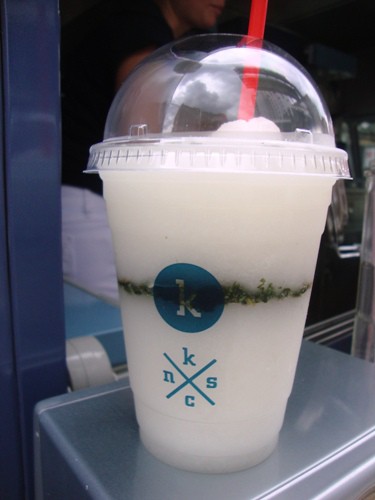 You know how sometimes fresh ginger can be spicy – well about halfway through, the spiciness kicked in.  It was delicious.  The mint tempered the spiciness a little, but it was still spicy – and delicious.  Did I mention it was delicious?
Sometimes on very hot and humid days, ice cream is too heavy and creamy for my stomach.  The Kelvin Natural Slush Co is perfect for when you want a cold, icy, refreshing treat but don't want any milk or cream. It's certainly healthier than ice cream – and just as tasty.
We have added Kelvin Slush to the New York Street Food directory and our Mobile Munchies twitter feed, although you can follow them directly on twitter here.  Hope you enjoy it as much as I did.