A funny thing happened on our way back from Madison Square Eats yesterday. We ran across an old, beat-up truck serving delicious frozen lemonade.
The truck is called Del's NYC, and after a little research (thanks Gothamist), we found out these guys are HUGE in Rhode Island. According to the sign, they have been "Serving happiness in a cup since 1948" and are currently located in Newport, RI.
On the truck was a sign called The Story, which recounts how the recipe was invented in Naples, Italy in 1840 by the current owner's great grandfather.
We normally prefer the flavor of watermelon over lemon, but when Del's logo is a frosted lemon, we got the hint and ordered a small frozen lemonade for $3.50. A medium is $4.25 and large is $5.00.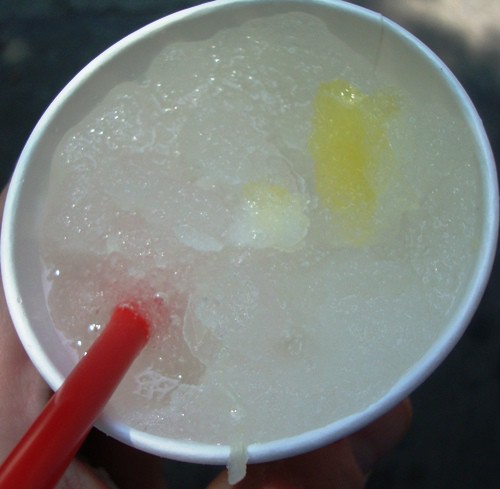 Del's Frozen Lemonade is served with a stroon (a straw with a spoon on the end. We just made that word up.)
The contents of the cup was slushy, and we kept stirring the slush, sipping juice through the straw, and stirring again. The slush didn't melt fast enough, and we ended up using the spoon part to eat of the icy lemonade while it melted.
People in the know about Del's are already aware of this fact, but we had no idea – there were pieces of lemon peel mixed into the frozen lemonade. This didn't make it overly tart. In fact, this had just the right mixture of sweet and tart.
This was perfect for the 84 degrees it reached at lunch yesterday. And the lemon peel made it feel like we got a prize in some bites.
You can find Del's NYC truck on twitter here or on our Mobile Munchies twitter feed.
We're still curious about the frozen watermelon too.